Learn more about how you can help your loved ones with in home care.
Some people have difficulty remembering everything that they need to bring to their scheduled doctor visits.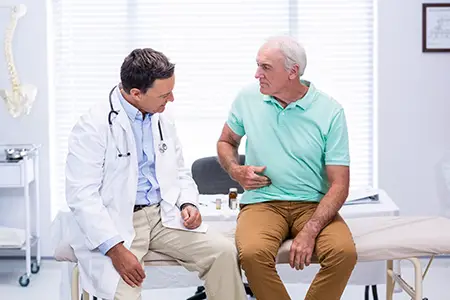 Many individuals become nervous as a result, and this makes it even more likely that the patient will forget important details about their health and treatment plan discussed with their primary care physician.
Lots of people must see multiple specialists and other healthcare professionals due to their specific illness, chronic diseases or other health related conditions. There are some helpful and ingenious ways to prepare for seeing your family physician, other specialist doctors and any other appointment regarding your health.
Below are 10 important things to bring along to every doctor's appointment:

1. Organized by Priority List of Questions for Appointment & Other Concerns to Discuss with Doctor
It is best to write down any questions regarding your current health. Organize these questions in importance order with the highest priority ones on top. This is an easy way to ensure that your most concerning questions will be answered. The list can also prompt additional questions and necessary to reveal information both from the doctor's perspective and the patient's.

2. A Complete Compilation of Medical Records, Past Medical History & Other Doctor's Office Information
Compile a complete file of your current and past medical records with specific medical history data. Include family history and your normal blood pressure and other vital sign readings. This can help to ensure that the doctor has an accurate picture of your health condition, any treatments done, lab work results and more. Any other doctor or specialists seen should also be included in this compilation. Have a list with other medical provider contact information.

3. All Current & Past Medications Information with Schedule to Be Taken and/or Prescription Bottles
Every doctor or healthcare provider that you see needs to know all of the drugs that are currently being taken.
Some important details to convey include:
Name of Med
Why it Was Ordered – Many Drugs Are Used for More Than One Thing
Dosage Information
Time Schedule for Each
Doctor's Name Who Ordered the Medication
Last Filled Date
Pharmacy Used & Contact Info
Past Drugs Tried & Reasons Stopped
Any Allergies to Meds, Treatments and Other
Some individuals and many doctors prefer that the medications are brought to the office inside each one's bottle from the pharmacy. These should be placed into a strong zip-lock seal bag. Having the drugs right there can give doctors an idea of whether the patient is taking them properly or if refills will be needed soon.
Be sure to include over-the-counter drugs, vitamins, supplements and treatments preferably in its original package. These drugs are not FDA regulated generally, and many interact with commonly prescribed drugs and may cause serious side effects or death.

4. Up-to-Date Insurance Cards with Info & Current Contact Details
Always have your most current insurance cards with each one's contact info included to ensure payment for the doctor's services, ordered treatments and prescriptions will be paid in a timely manner.
Some insurances require pre-authorizations or lower-cost generic drugs. Inquire about co-payments and billing beforehand.

5. Bring Along Someone Trusted Like a Family Member or Close Friend
Everyone should seriously consider bringing along someone who is trusted to a doctor visit. This could be a family member, a close friend or neighbor. Having another person to hear the important medical information that the doctor discusses can make remembering details later easier.
Most doctors have these support people wait outside the exam room for privacy concerns unless the person needs specific assistance. The office nurse can also be asked ahead of time to remain while the doctor is explaining his/her findings. Some patients feel more comfortable asking clarifications of instructions from the nurse.

6. Cell Phone Fully-Charged to Access Online Medical/Pharmacy Information with Headphones for Music/Audio Listening
Having a cell phone fully-charged in order to quickly access any online medical or pharmacy information is another fantastic idea. Have important things backed up with paper copies in case the Wifi service is spotty, doctor's office doesn't allow cell phones turned on or in case the battery dies. Take along headphones to listen to favorite music or to stream movies.

7. Day Planner or Symptom Journal
It is a good idea to use a day planner on a regular basis. Some people like to also have a symptom journal where they can detail their day-to-day treatments, what the circumstances were and so forth. This gives a detailed and accurate accounting that can give the physician a better idea of your health problems.

8. Book, Small Crossword or Other Puzzle Magazine & Other Waiting Room Distractions
Having something pleasant to keep your mind occupied in busy waiting rooms can make the wait better. Bring along a book, eye-glasses or magnifying lens, small puzzle magazine and other distraction items.

9. Bottled Water & Healthy Snacks
Even with scheduled appointment-times, it is not uncommon to have a delay on busy patient days. Health emergency situations, doctor hold-ups, wait for lab/test results and more can extend an expected appointment. Consider bringing along bottled water and easy-to-eat healthy snacks like granola bars for fast energy boosts, but check with office staff first. If not allowed, have ready in your car or step outside.

10. Details & Pictures of Wounds, Treatments & Signs of Infection Concerns & Granulation Tissue
Patients with serious wounds from surgery, health conditions or other reason should take pictures during the healing stages at home including granulation tissue presence to bring along for initial or follow-up visits. This gives a more accurate view. List any possible signs-of-infection to prompt further doctor evaluation. Adverse symptoms are not always present during appointments. Snapshots from your phone work great.
More Ways to Prepare for an Upcoming Doctor Appointment
There are some other practical and simple ways to better prepare for an upcoming doctor's appointment. Dress comfortably in looser clothing, comfy shoes and remove most jewelry before leaving home to avoid losing them. Consider keeping a to-go-doctor-visit bag with some of the above and below items for faster preparation time on day of the visit.
Some more practical doctor visit preparation measures include:
Face Mask if Ill or Prone to Illness like Cancer or Autoimmune Diseases
Sturdy Tote with Easy-Hold Handles to Carry Everything
Laminate Health History, Medications & Insurance Cards for Easy-Grab Use
Small Notepad & Pen
Wear Comfortable Clothes, Easy-On-Off Shoes and Sweater if Chilly
Taking time to properly prepare before each doctor visit can make appointments easier-to-manage and less stressful. Having the necessary health documentation and other related details close-at-hand ensures better overall care. Questions for appointment, review of treatment plan, explanation of current blood pressure & other vital sign readings and what to do for signs of infection are examples of things-to-know before leaving.
Primary care doctors and other specialists are less likely to forget something, prescribe the wrong medication or misjudge your healthcare situation by having these important details clearly marked and available. Most doctors require an initial first-patient medical form, and some require referrals from other doctors.
Call ahead to ensure that you will have everything needed, and arrange transportation. Browse https://www.inhomecare.com for more related details.