Emergency rooms report an estimated 235,000 number of bathroom falls with injuries each year.
Seniors account for approximately 81% of these falls. Providing a safer bathroom for seniors is imperative to decrease risks of serious fall injuries.
Consider implementing these 10 tips for creating a safer bathroom for a senior loved one.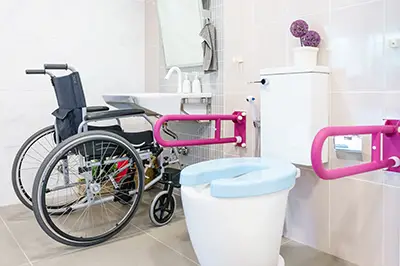 1. Raise the Toilet Seat Height with Toilet Seat Aids
Toilet seat aids can be a great help to seniors in the bathroom. The vast majority of senior bathroom falls in the bathroom involve the toilet. Raising the toilet seat higher with special safety toilet seat aids can dramatically lower the potential for dangerous fall injuries.
2. Replace Reg. Towel Bars w/ Safety Grip/Lift/Assist Bars by Toilet & Near Shower/Tub
Some seniors that have difficulty standing or walking around the bathroom will grab onto nearby items to steady themselves.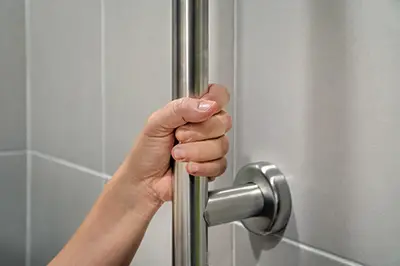 Many senior fall incidents are due to this dangerous move. These bars can break or detach from the wall causing the elder to lose balance and fall. Safer bathtub bars and bath grippers are a better choice.
To provide a safer bathroom for seniors, invest in some ingenious bathroom safety equipment like a sturdy toilet frame for elderly individuals with difficulties getting on and off the toilet. Some have bendable arms to easily store when not in use. Others mount to the wall or the toilet itself. Many are portable units that can be slipped over top of the toilet seat area when needed.
It is possible to find innovative and safe bathroom safety aids like heavy-duty bathtub bars or bath grippers for safer support. These safety bars can also be placed near the toilet, and many individuals prefer a toilet frame for elderly users. Replace the older regular towel bars with ones that are made as safety lift/grip bars to lesson common falls risks in the bathroom setting.
3. Ensure Proper Lighting in the Bathroom for Elders
Some seniors are prone to visual difficulties due to cataracts and other eye ailments. It can be difficult for them to see properly in dark bathrooms. Overhead lighting is typically not adequate as this casts shadows and increases glare.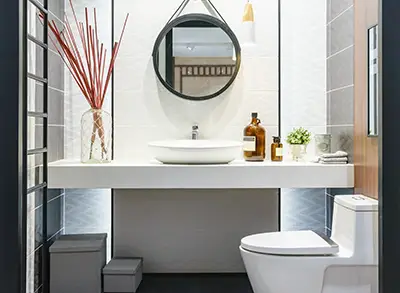 Consider these measures instead:
Layered Lighting Throughout Room

Motion Activated Lights & Nightlights Along Bathroom Path & Inside BR

Use Contrasting Colors in BR – Easier To Distinguish Area Differences

Use Matte Rather Than Glossy Finishes that Glare
4. Install Senior Tub/Shower w/ Walk-In Door & No Curb
Lots of people with joint, bone, muscle pain or stiffness have difficulty climbing into and out of regular tubs or tub/shower units that have to be stepped over.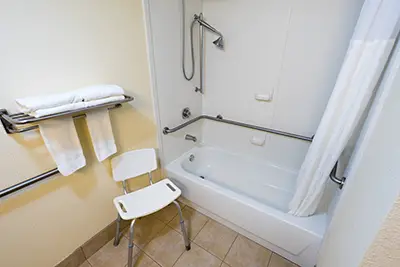 Add the risks from slippery surfaces, and the chances for a serious fall becomes immensely greater. A good alternative is to install an adult bath tub with walk-in doors and no bottom curb to step over.
Caregivers and seniors can find the best showers for elderly use and adult bath tub or adult shower/tub combo units through retailers that sell these types of safety bathroom safety equipment, showering aids and other bathroom supplies. Local bathroom contractors also can fit a new senior bathtub/shower right over the existing one in many cases for a reasonable cost.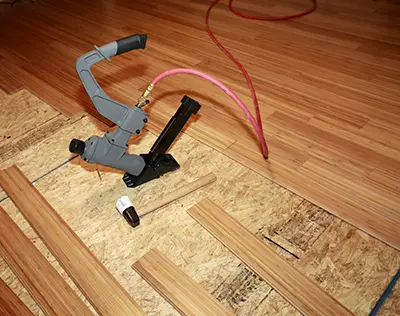 5. Consider Bamboo/Cork Flooring, or Textured Non-Slip Tiles for Floors & Bottom of Shower/Tub
Installing thick/padded carpeting in the bathroom is a safe alternative to slippery floor materials like linoleum and tiles. This increases risk for mold though. Consider installing natural bamboo or cork flooring. While pricier, these provide natural slip-resistance, are easy-to-maintain and look gorgeous. Purchase textured non-slip tile options for floors and on bottoms of showers/tubs.
6. Use Shower/Tub Transfer Bench. Or Add Shower Chair. Include Hand-Held Shower Head.
Consider other fantastic senior shower equipment and safety tub accessories designed to allow safer bathing/showering experiences. Installing a simple hand-held shower head that the elderly individual can use in a seated position can allow the senior to maintain bathroom/bathing independence longer without compromising their safety.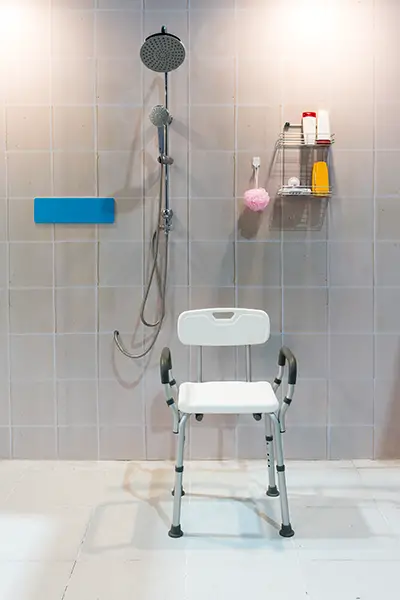 Other helpful shower tools include a sturdier and steady bathtub chair also called a bathtub safety seat. These are found at hardware and home improvement stores, medical supply/equipment companies and at department stores that sell bathroom-related equipment and supplies. Make sure that any bathtub chair or bathtub safety seat being considered can hold the individual's weight.
Handy tub transfer benches can be placed beside the tub. This should have rubber coated feet to protect floor surfaces and provide anti-slip use. The senior can sit and swing their legs over the tub side or shower curb from a safer sitting position. Properly installed and positioned bath grippers and bathtub bars can offer the desired support during transfers.
7. Remove Throw Rugs. Replace w/ Non-Skid Backed Safety Rugs
Slippery surfaces caused by wet floors can be hazardous for seniors in bathrooms. Many elders like to use throw rugs in their baths. Some seniors knit/crochet or otherwise craft their own small throw rugs for their homes. Many of these common bathroom accessory items do not have a non-skid backing making them extremely prone to slipping easily.
A simple remedy is to remove throw rugs and replace them with ones that do have thicker non-skid backing for increased bathroom safety. Craft/fabric supply stores often sell easy-to-apply anti-slip rubber backing products intended for use on homemade rugs and non-backed carpets.
8. Add Non-Skid Suction-Cup Backed Shower/Tub Mats
Other very useful shower equipment, shower tools and tub accessories include non-skid suction-cup backed shower and/or tub mats. These are typically crafted from rubber and should be placed within easy-reach beside bathtubs/showers to encourage use. Self-stick rubber adhesive-strips may be applied to the tub and shower floor surfaces. Some of the impressive best showers for elderly users have textured bottom/floor surfaces already built right into the design for added convenience and safety. These are terrific for kids use as well.
9. Organize Supplies Within Easy-Reach, and Decrease Bathroom Clutter
Caregivers looking for ways to improve the safety of seniors in their bathrooms can find novel showering aids to help. A sturdy shower caddie can get toiletries and bathroom supplies close for easy-access. Avoid suction-cupped wall mounted ones, as they tend to loosen and fall.
Consider installing soap, shampoo, lotion and conditioner dispensers inside the shower and by the sink. Using anti-slip adhesive strips on sink edges helps decrease fall risks from gripping wet sinks or from wet hand slips. Clearly marking water faucet handles for hot/cold, installing foot-lever water controls and turning down the hot water tank temperature are all good recommended measures to ensure a safer bathroom for your senior.
Other useful bathroom organizers include:
Vanity w/ Seat, Lighted Mirror, Pull-Out Drawers and Tuck-Away Stool

Turnstile Caddie for Small Space Use & Easy-Reach-Access

Wall Mounted Sinks for W/C or Walker Room

Recessed Shelving at Senior's Height
10. Additional Senior Safety Tips for Baths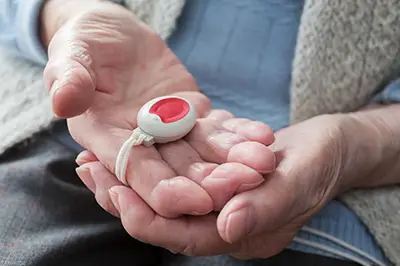 Give Senior Waterproof Emergency-Call Pendant

Install Panic Buttons

Provide Ample Room

Consider Outward-Swinging BR Door
Providing a safe bathroom for seniors can decrease falls and injuries. These small safety improvement recommendations can extend an elder's personal hygiene independence and save lives. Learn more at InHomeCare.com online.