Emergency rooms report an estimated 235,000 number of bathroom falls with injuries each year.
Seniors account for approximately 81% of these falls. Providing a safer bathroom for seniors is imperative to decrease risks of serious fall injuries.
Consider implementing these 10 tips for creating a safer bathroom for a senior loved one.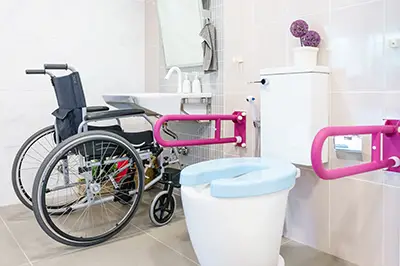 1. Raise the Toilet Seat Height with Toilet Seat Aids
Toilet seat aids can be a great help to seniors in the bathroom. The vast majority of senior bathroom falls in the bathroom involve the toilet. Raising the toilet seat higher with special safety toilet seat aids can dramatically lower the potential for dangerous fall injuries.
2. Replace Reg. Towel Bars w/ Safety Grip/Lift/Assist Bars by Toilet & Near Shower/Tub
Some seniors that have difficulty standing or walking around the bathroom will grab onto nearby items to steady themselves.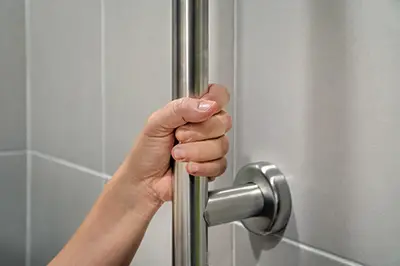 Many senior fall incidents are due to this dangerous move. These bars can break or detach from the wall causing the elder to lose balance and fall. Safer bathtub bars and bath grippers are a better choice.
To provide a safer bathroom for seniors, invest in some ingenious bathroom safety equipment like a sturdy toilet frame for elderly individuals with difficulties getting on and off the toilet. Some have bendable arms to easily store when not in use. Others mount to the wall or the toilet itself. Many are portable units that can be slipped over top of the toilet seat area when