Seniors have lived full robust lives in a world and society very different from today.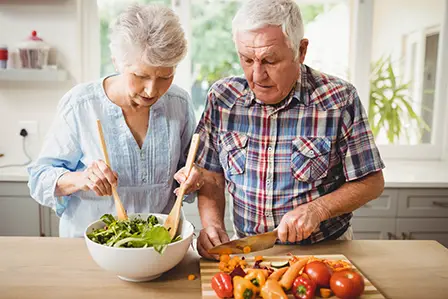 As you are now retired and gotten older, you have now found ordinary household tasks rather difficult and even impossible or dangerous. You may feel your strong independent lifestyle threatened.  The ability to stay as independent as possible is very important to many seniors.
Thankfully, many aids for seniors are available. With a little help from products for seniors living at home you can remain independent longer. You've been resourceful all your life because you had to be and now is not the time to stop. Continue to be resourceful by using tools for seniors. Be sure to tell your loved ones about all the useful gifts for the elderly that will make your life easier. They will be grateful for the tips so they can give you useful gifts.
Preparing your own favorite foods is understandably one of the most important aspects of independent living. Everyone has their own unique tastes and foods they have become accustomed to. The thought of having to eat your meals without your favorite foods prepared in the way you like is a great concern. Kitchen gadgets for elderly are at the top of the list so you can enjoy cooking your own meals just the way you like them.
Products for Seniors Living at Home
Because preparing and cooking foods sometimes require lengthy periods of standing, this kitchen stool for elderly may be just the ticket for you.  You can prepare your foods while seated. A slanted padded seat makes it easy to sit down and get back up. The padded back adds to your comfort as you prepare your own meals. Arm rests are removable if you don't need them, and the width and height are adjustable on this adaptive equipment. This kitchen stool for elderly will help ease your backaches and get you off of your painful feet so you can prepare your own meals.

One of the most important aids for seniors are devices for safely taking your medications. When you are taking several medications it can become quite confusing to keep track of when to take them. With this pill dispenser for elderly you can set four daily automatic alarms that tell you when to take your medication and a button to push when you have taken that dose. This easy-to-use pill dispenser will assure you that you are taking your prescribed medications at the required time. Your aids for seniors must include a safe and reliable method to take your medications.

Commercial plastic bags containing everything from the tasty chips you love to snack on to the plastic bag containing handy gadgets for seniors are often tough to get open. Don't struggle any longer trying to open those bags with a scissor, punching a hole in the bag, or twisting and pulling on the bag. Simply place this bag opener on the top of the bag. Then just squeeze and pull.  This little item is one of the favorite kitchen gadgets for seniors.

Even if you are limited to the use of one hand, one handed assistive devices can keep you safe in your own kitchen. This handy meal preparation board will hold your vegetables and fruits securely so you can peel, slice, or chop these foods for your favorite recipe. It also holds breads securely so you can spread your favorite jam on the bread. The cutting edges are protected to prevent you from cutting yourself. Easy to clean removable parts are safe in the dishwasher. The board's suction pads will keep the board from sliding out from under you, and you can even hold a large mixing bowl in place with this adaptive equipment for seniors. It is one of the best arthritis kitchen aids. One handed assistive devices like this will help perform a multitude of food preparation tasks.

Many convenient foods come in a can. Some have the new convenient pull tab, but many do not. If you don't have a good can opener, your independent cooking will be limited, so one of the best tools for seniors is this battery operated can opener. It safely opens cans from the side of the can with only the touch of a button. Since it operates with two AA batteries, it does not need to be near a wall outlet. Your kitchen gadgets for elderly and arthritis kitchen aids must include a safe and reliable can opener.

Not only seniors have trouble opening those jars of pickles and jams. Many people struggle to loosen the grip of jar lids. So having an easy reliable solution is paramount for seniors who often have lost hand and wrist strength. The best automatic jar opener must be convenient and easy to use, even for trembling hands or hands stiffened with arthritis. Just place this automatic jar opener correctly on top of the lid and push the button. It opens many jar sizes, and can also open those annoying child safe pill bottles.

Adaptive equipment to make eating a little easier works great for those of you whose dinner plate won't stay in place. The removable suction pad base keeps your plate from sliding and you can eat your meals with confidence. The dishwasher safe plate is divided to keep your foods separate that will prevent your dry foods from becoming soggy through contact with the moist foods.

The best microwave for seniors has less buttons so is easier to use. Many microwave ovens have many control buttons that are usually not necessary and often confusing for a senior who is preparing simple meals. This microwave has a minimum of control buttons on the bottom of the unit that easily sits on a countertop, and the turntable is large enough for a full dinner plate.

One of the favorite products for seniors living at home is this salad chopper that comes with a bowl. Chopping a variety of vegetables for a salad has never been easier for seniors living at home. The bowl and chopping blades are designed to work together for reliable and efficient cutting of your vegetables. The removable parts are safe in the dishwasher. You can enjoy serving your friends your homemade salad that can make up to six servings.

Many seniors like to boil water for their favorite tea, but there is always the risks of the pot boiling over, boiling dry, or a kettle that has become too heavy. A lightweight covered kettle is among the gadgets for seniors that makes this task safe and convenient. It holds only one liter which keeps it light. The kettle stops automatically when water starts boiling so it will not boil dry.

There are many useful gifts for the elderly. A cut resistant glove is sure to be a treasured gift that will protect the hands of seniors from accidentally cutting their fingers. The hi-tech flexible and washable glove can be worn on either hand and comes in a range of sizes. No senior working alone in the kitchen should be without these wonderful kind of kitchen gadgets for elderly.