How much do you know about home care services?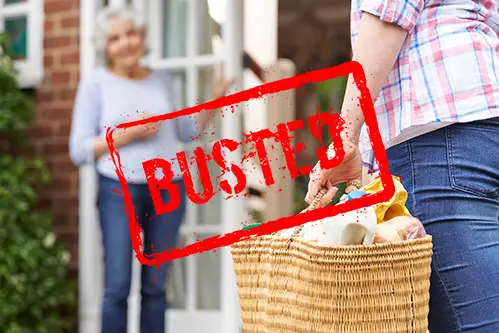 These services are the most misunderstood of all senior care options. Yet, home care might be the best option for you or your loved ones.
Unfortunately, many myths are surrounding this type of care. That is because it is a flexible solution with many different options available for seniors. It accommodates seniors who need a few hours of companionship and those that require full time living assistance and intensive hospice care. Before dismissing this type of senior living, it is essential to understand its basics. And, that is the purpose of this post – to debunk some of the common home care myths.

Myth:

It is expensive
Most people assume that in-home caregiving services are costly. But, the truth is that it is more affordable than other forms of senior living, mainly because it is an hourly service.
The cost of in-home care is dependent on the number of hours the attendant spends with the senior. According to a survey about 22% of their clients use caregiving services for less than four hours a week. Another 20% use these services between 4 and 8 hours a week.
Also, the cost is dependent on the kind of services the attendant provides. Another survey revealed that the national average for these services is $4,000 per month. That amount translates to about $20 per hour. Those seniors who do not require a health aide pay cheaper.
Now, let's compare that to the cost of nursing institutions. According to Senior Living, the cost of a private room in a nursing home is $253 per day. That translates to an annual cost of more than $82,000. Assisted living facilities are also arguably more expensive than in-home care. The cost of assisted living averages at $119 a day.
Home caregiving services for seniors is not covered by health insurance. However, some modern long-term care policies cover these services.

Myth:

It does not provide the same quality of care as institutions
Institutions have benefits such as around-the-clock care and meal services. But, that is not to say in-home caregivers do not provide the same quality of services. In fact, caregivers offer more personalized care. And, the senior remains in the same familiar environment they have lived in for years.
The level of care provided is dependent on the needs of the senior. Some need assistance with daily activities such as cooking, cleaning, laundry, and fetching groceries. Other needs more intensive care such as help grooming while others require hospice care. Whatever level of care your loved one needs, you will find a caregiver who can provide it at home.

Myth:

In-home caregiving services are the same
Home caregiving services are not all the same. Ideally, these services can be grouped into three categories –independent caregivers, independent contractors with a registry, and agency employees.
Agencies hire caregivers after a rigorous screening. As such agency employees are well-trained, bonded and insured. You pay the agency, not the caregiver. The role of the agency is handling employment obligations and performance issues of the employees.
The independent contractor with a registry is recruited by a registry. Such caregivers are thoroughly screened and well trained. The registry bears no responsibility. They only refer caregivers to seniors. Therefore, the senior, or their loved ones, assumes the role of the employer. They are responsible for hiring, scheduling, and performance issues. The independent caregiver is responsible for marketing themselves. The senior will be responsible for screening them to see if they have relevant training and experience.
Of all these three options, an agency employee is a good option. The hiring process is easier, and since you are not the employer, there are not many responsibilities. Furthermore, agencies provide their employees with additional training, support, and continuing education.

Myth:

It is only for the very sick seniors
Traditionally, in-home care was for people who were ill or recovering from severe injury and surgical procedures. However, in-home caregiving services provide two types of care:
Medical home care:

A licensed health aide offers this type of care. Seniors with drug prescriptions and those that require medical services such as physical therapy, speech therapy, mobility training, and pain management need this type of care.

Non-medical home care:

Trained caregivers provide this type of senior care. It includes companionship and daily activities such as shopping and house chores.

Myth:

It does not meet long-term needs
Most people view in-home care as a temporary solution before seeking a more 'permanent' solution such as a nursing home. But, if you find the right attendant or team of caregivers, then in-home care can become a permanent solution. The main reason some people consider it a temporary solution is due to the medical care part. But some caregivers are trained health professionals qualified to provide medical home care.
Remember, you get to choose the attendant. However, finding the ideal one will take some experimentation. If an attendant is not giving the quality of the services you need, you can replace them. Ultimately, you will get the final say into the caregiving provider you want to form a lasting relationship with.

Myth:

You do not need caregiving services when you have family
Most people find taking care of an elderly member of the family to be rewarding. However, it is also emotionally and physically overwhelming. Therefore, you might still need to hire an in-home attendant.
Hiring caregivers does not mean you stop caring for your loved one. It merely provides you with a break. If you overwork yourself when taking care of an elderly loved one, you might overwhelm yourself to an extent you start to loathe them.

Myth:

Home care prevents individuals from being social
The social aspect is a definite benefit of homes for the elderly. Living as a group guarantees that the senior will have a social life. But, thinking that in-home care services do not allow seniors a social life is ill-guided. Caregivers do not change the senior's standard routine from before all at once. The senior will, therefore, maintain the same social interactions from before. So, unless the senior did not have a social life, in-home care does not change their social interactions.
In fact, the senior might be able to become more social than before. Remember, the caregivers provide companionship. Also, the attendant will transport the senior to social gatherings of their choosing.
Gather as much information about home care services as possible before deciding if it is right for you. The most important thing is not to deny your loved one a chance at personalized care based on home care myths.