Daily living for seniors is chock-full of small moments. There are moments of joy, moments of reflection, and sometimes, moments of adventure.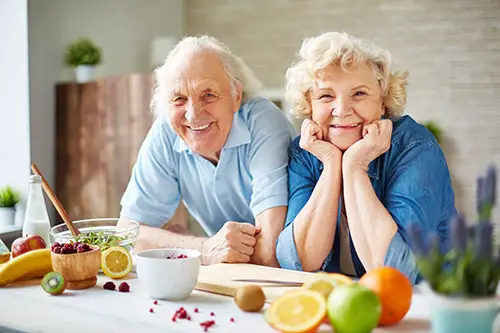 Inevitably, there are even frustrating moments, usually resulting from limitations.
It's common for everyday tasks to become a little more difficult as people age, and if you are less seasoned, you should strive to be considerate and accommodating, remembering that one day you will be a senior citizen, as well.
This doesn't necessarily require exerting more time, effort, additional commitment or massive amounts of money.
In fact, it can boil down to several bucks here and there. Believe it or not, there are some very valuable and inventive senior aids, technology, tools and smart devices for seniors that won't break your bank. Here are nine of them.

HandyBar
Generally speaking, as a person gets well up in years, flexibility eventually goes out of the window. A breakdown of soft tissue, muscle mass and bones is to be expected. Those symptoms often graduate to arthritis and other ailments and conditions.
From there, that individual slows down by default. Getting around just isn't the same as it was decades prior.
With that said, you have to keep in mind that just because it's easy for you to maneuver in and out of buildings, rooms and automobiles effortlessly doesn't mean it's easy for your elders.
So, on those days when it's a hassle for them to get in and out of the car, what should they be expected to do? Waiting for you or another individual to assist them can be exasperating, possibly on both ends. A better solution is something like the Stander HandyBar.
It's considered an automotive safety tool and is ideal for daily living and everyday travels. Entering or exiting a vehicle becomes fall-proof if used properly. It also comes with other safety gadgets, such as a window breaker and a seatbelt cutter, which is mostly for emergencies.
This nifty little thingamabob really does come in handy, and you can purchase it for under $30 at applicable retailers.
There are other bonuses.
No-slip ergonomic grip

350 pound weight capacity

Built-in window breaker

Seatbelt cutter

Fits Driver and Passenger Side Doors

No Assembly Required

Lifetime Guarantee

DMI Deluxe Swivel Pivot Disc Seat Cushion
Under $20, the DMI Deluxe Swivel Pivot Disc Seat Cushion is simple but pretty cutting-edge. It allows users to transform immobile seats or chairs into swiveling ones. Seniors can rotate in their chairs without the dread of back aches or hip pain. It's namely used in automobiles without bucket seats but is specially designed for getting up and out of chairs.
It is one of the best senior care products on the market.
Cushion swivels 360 degrees

Great for home, office or travel

Provides pain relief

Provides support and comfort for ball of foot

Supports up to 300 pounds

Machine washable

Removable

Easy movement in either direction

Walker Bag
Forget the fancy technology. Grab this hands-free bag and go. It's made out of nylon and fits all walker styles. Its adjustable fasteners make it stable, attaching securely to the walker. This bag is washable and convenient and effectively carries electronics, clothing, glasses, snacks and medical supplies. Yes, at the end of the day, it can be used for medication management. It takes the load off your loved one for only about 15 bucks.
60-day money back guarantee

Keeps necessities at hand

Compatible with bariatric walkers

Compatible with standard walkers

Compatible with dual-point folding walkers

Has large inner compartment

Zipper closure

Jumbo Large Print Wall Calendar 2019
Not to paint with a broad brush, but eyesight in your 20s is rarely, if ever, the same as when you're 60 plus. It just isn't, because seasons change and so do eyes.
Many common ocular diseases and conditions often develop over time, including, but not limited to, glaucoma, cataracts and macular degeneration. These can result from diabetes, high blood pressure, smoking and overexposure to the sun; UV rays can do damage to the eyes.
Then again, it's not always a matter of some major illness or disorder. Eye problems can be as straightforward as one slowly experiencing unwanted changes in his or her vision. At that point, to rectify the situation, he or she will often seek out gigantic prints.
Due to the oversize typography, this calendar, for example, will help seniors keep track of their schedules without causing them to squint and strain their eyes. It works well for dementia patients and maybe even those with Alzheimer's disease or any other cognitive impairment, encouraging them to keep track of dates, times and events, ultimately jogging their memories.
The Jumbo Large Print Wall Calendar is less than $20.
Here's more about its layout:
Hole-punched for easy hanging

11×17 page size (closed)

22×17 page size (open)

Spiral bound

Landscape formatting

Designated area for notes and appointments

Wireless Locator Set
Excellent for seniors and non-seniors alike, this special locator is clever and advantageous. Attach assigned FOBS to purses, wallets, keys, glasses, canes, TV remotes, and even pets. If any of these items get misplaced or go missing altogether, push the controller to locate them. A high-pitched screech will sound off, and before long, whatever you're looking for will be found.
In a sense, it could double as one of those emergency alert devices. This gizmo is a godsend for seniors with memory issues. Moreover, it affords them more time to focus on what matters most. Not bad for $16.
Comes with four individual key FOBS

Portable

No need to install any correlated apps

Comes with remote control

Receiver makes noises while locating

Receiver flashes while locating

Remote control noise gets up to 75-90dB

FOBS come in two different colors

Works long distance

Hardwearing

JIMITE Personal Alarm
More than likely one of the cheapest emergency alert devices in the world, the JIMITE personal alarm scores big points. This is one of the most amazing senior aids on the market. Devised to ward off the bad guys, your senior will be in safe hands with one of these. Currently available for under a dollar, shipping costs may vary. By the way, there are numerous additional perks.
User-friendly

Designed for all ages

Inconspicuous to potential intruders or attackers

120 dB volume levels

Battery included

Partially waterproof

Lightweight

LED flashlight attached

Siren sounds for 30 minutes unless pin reinserted

Attractive colors and styling

Ceramic Flower Aromatherapy Diffuser
Health challenges can be annoying and very scary, so seniors need a time and a place where they can regularly go to unwind and bask in quietness and tranquility. Meditation and aromatherapy happen to be fantastic outlets. The ceramic flower diffuser brings world-class aromatherapy to your loved one. Patients with dementia, high blood pressure, Alzheimer's disease or cognitive impairment may obtain solace after one use.
Besides that, there's this:
No batteries or electricity required

Emits the user's chosen scent

Clay Flower

Makes a beautiful decoration

Squatty Potty The Original Bathroom Toilet Stool
Give your precious senior his or her favorite magazine and a reason to hang out on the toilet seat and love it. It may sound strange, but the masses have spoken. The Squatty Potty Toilet Stool is a luxury for those who want to do a "number two" comfortably and achieve noteworthy colon health. For around $25, your senior can get the most relaxing and thorough experience—on the otherwise uncomfortable—toilet seat, any day, any time.
The list goes on and on about the stool's marvelous advantages:
Doctor recommended

Family-oriented

Strong and sturdy

Easy to clean

Compatible with any standard toilet

Compatible with any comfort height toilet

Provides proper elevation for better colon elimination

Great for a variety of squatters

Can hold up to 350 pounds

Compacted enough to be placed under the commode

Large 7 Day Weekly Pill Organizer
Seniors never have to go a day confused about what capsule to take and when to take it. This pill organizer keeps them on track, all morning and evening long. They won't have to stress themselves, wondering if they took their medication early that afternoon or not. It's an uncomplicated medication management storage place.
Here are the remaining pluses:
Helps sort vitamins

Helps sort medicine

Can fit an assortment of pill sizes, such as capsules, tablets and gelcaps

Braille markings

Designed for visually impaired

Removable planner
As we've discovered, it's not always the high-priced senior care products that make the biggest difference. Sometimes, it's the unassuming and inexpensive merchandise or the discounted and smart devices for seniors that do. Creating kinder, warmer and securer moments for your senior is easier—and cheaper—than ever. You both will be happy you did.
Think of it this way: You hold the key to ensuring that someone else's life is enriched and more qualitative. So, what are you waiting for? Make your senior's day.