A healthy home and kitchen are vital for the safety and wellbeing of everyone in your home whether you're a young couple just getting started or an elderly person living on your own.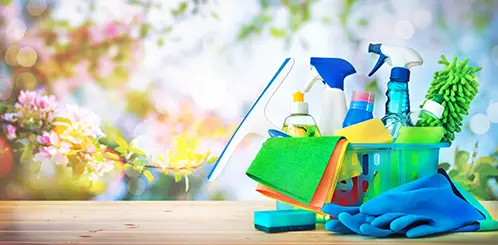 A clean home is a simple step in living and maintaining a healthy home. Medical studies show that you benefit both physically and mentally from living in a clean house. For example, an organized home is one in which you feel more comfortable and relaxed. On the other hand, a cluttered home can make your mind feel cluttered. It can cause stress and anxiety.
You aren't looking to eat off your floors, but you do want to maintain a home that's sanitary and healthy. If you're the loved one of a senior who might need some help maintaining their home in a healthier manner, these tips and tricks should help you both understand the importance of living on a clean home. It's not just pretty. It's also good for you.
How A Clean Home is Good for Your Health
Regular cleaning can have a positive effect on your mental and physical health.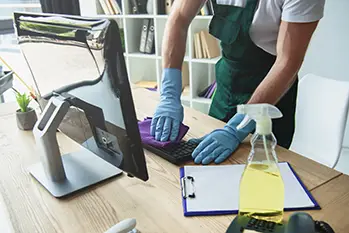 Your physical health improves when you live in a healthier home. A clean home is less likely to contain mold and other allergens. It's less likely to be contaminated with other germs and health concerns. A clean home is less likely to make you come down with flu-like symptoms.
Now that you're asking what flu-like symptoms have to do with a clean home, you should know that everything you or anyone else in your home comes into contact with in the outside world makes its way into your home. That means you're bringing in flu-like germs and much more. Regular cleaning minimizes those things, and it keeps your home healthier.
Your mental health is better when you're not surrounded by clutter all the time. You know where to find things, you aren't wasting time looking for things, and you feel more in control of your own life. There is nothing quite like living in a home where clutter is not a problem because it helps you feel more confident and capable. It's that simple.
Which Areas of the Home are Most Important to Keep Clean?
Your health is your biggest asset. It helps you live longer. It helps you live a higher quality of life, and it's good for you. If you're not big on deep cleaning, you're not alone. However, there are some things you simply cannot ignore. Did you know, for example, that everyone keeps their home differently?
There are people who clean their home daily. There are people who go through and straighten up daily, but they only handle deep cleaning weekly. There are still those who only clean when they know they are having guests, and there are those who only clean when they realize their home has reached the point of no return.
These are the most important rooms and areas of your home to clean and sanitize regularly.
– The kitchen
– The bathrooms
– The linens on beds
– The floors
– The tables and counters
These certainly aren't the only rooms and areas in your home you need to keep clean, but they do top the list as the most important.
Cleaning Your Kitchen
While no one is saying you need to deep clean your home once a day, it is important that you keep certain areas of your home clean regularly. You can wait to clean the guest room and the extra bath once a week or every few weeks. Your kitchen, however, is a different story.
The kitchen might be the single most important room in your home to keep clean because it's the room you use regularly. It's also the room in which you prepare your food. Cross contamination is more prevalent in this room than any other. A healthy home and kitchen go hand in hand, which means there are certain things you should clean in your kitchen every day.
Here is a list of what kitchen surfaces you should clean daily:
– The counters
– The dishes
– The floors
– The sink
Cleaning out the fridge and pantry are things you can do monthly. However, you must always wipe down your counters when you use them. They should be cleaned before you cook and after you cook to maintain the best health status. Be sure you're cleaning your countertops as advised based on the type of counters you have. For example, cleaning copper countertops is not the same process as cleaning granite. Cleaning copper countertops requires a special cleaner, which is not the same cleaner you use for other materials. Know what you have, and know how to sanitize it properly.
Cleaning Your Bathrooms
You don't need to clean the tub or shower more than weekly, but you should wipe down counters, sinks, and toilets every day or two.