In 2015, American Hospital Association published a report on the topic of the hospital discharge process, noting that there was about a 17.5% reduction in hospital readmission, most of the patients being elderly.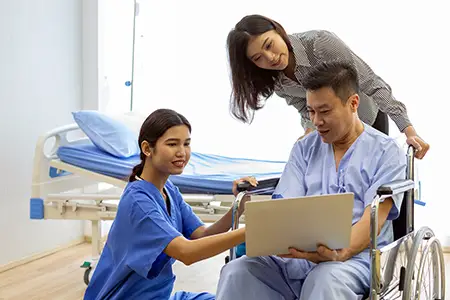 In 2017, the University of Pittsburgh Health Policy Institute discovered that hospitals which involved unpaid caregivers or family members in the discharge planning process leads to a 25% reduction when it comes to the risk of elderly patients getting readmitted to the hospital in the span of 90 days, and 24% reduction of readmission within 180 days. The 2017 study has been published in the Journal of the American Geriatrics Society, and is considered to be the first study to quantify the post-discharge impact that caregiver integration has on costs and resource utilization.
Generally, when healthcare patients get discharged, they picture themselves spending time recuperating at home until they feel better, but the situation is different for elderly. After they get discharged, not having the same nurse care coordination means that the elderly will have to keep up with their medications and appointments in order to ensure that their condition improves. When it comes to readmissions for elderly patients, it is not only stressful, but it can take a toll on the overall health of the patient. If they spend more time in the hospital, it increases the risk of developing serious illnesses – like pneumonia.
Partnering With Local Providers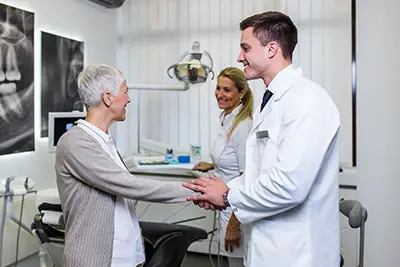 It's important to take certain steps when it comes to reducing hospital readmissions for the elderly, as the transition of care is an important period and primary family care plays a big role. The easiest one is to form a partnership with the local hospital as well as provider. This will help make the recovery process much smoother, as they would be able to find physicians, hospitals, and home healthcare teams that could provide treatment – in addition, they would have the patient's medical records, which is important when taking into consideration which treatment option is ideal – for example caregivers for dementia patients will act different with a patient compared to one suffering from a different illness. Hospital case managers can be contacted in order to discuss the state of the patient after discharge.
Following Doctor's Orders – Medication and Checkups
A main issue that leads to patients being readmitted is failing to follow what the doctor or hospital case managers ordered after discharge. The New England Journal of Medicine notes that half of all patients that have been hospitalized have not seen a doctor after they went home, which increases the risk to setbacks that could threaten the recovery – such as greater pain, infections, etc.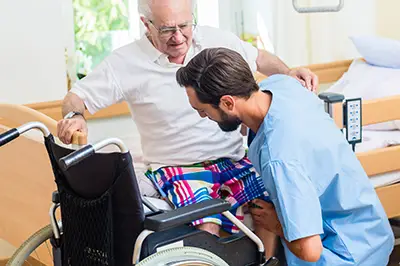 While in the hospital the patient might have been able to benefit from nurse care coordination, once they are discharged, keeping up with everything is important. Caregivers play a huge role in this scenario, as they can help schedule, transport, and also assist the elderly through all their medical appointments. Depending on what they suffer from (for example, caregivers for dementia patients might take a different approach as opposed to someone suffering from physical pain), caregivers could help the elderly feel comfortable when going to the doctor and make them feel safe if they have difficulties moving.
Moreover, caregivers can not only help get the elderly back into the medical office, but they can also make sure to take notes when it comes to the doctor's instructions in order to not only keep the family up to date on the condition but also monitor the elderly's routine and progress. Caregivers will make sure to follow the instructions given by the doctor and help the senior with their therapy as well as other tasks that could help them improve their health.
Keeping up with their medication is another important thing to take into consideration on the topic of avoiding readmission. While recovering, seniors might have a handle a lot of medications that deals with various symptoms – depending on how serious the original condition was. In order to be safe, it's essential for them to take their medication on time and at the proper dosage, as the doctor instructed. Given the number of pills they'll have to take, things might get confusing and stressful, which could lead to them missing dosages or taking the wrong medication.
One easy solution to this problem is for the caregiver or a family member to pick up the prescription and ask that the bottles be easy to open and the labels be large. They can then make sure that the senior takes their medication precisely as the doctor prescribed for as long as necessary. It should also be noted that some medication needs to be consumed before or after the meal, as these aspects are also important when taking medications.
Paying Attention to Side Effects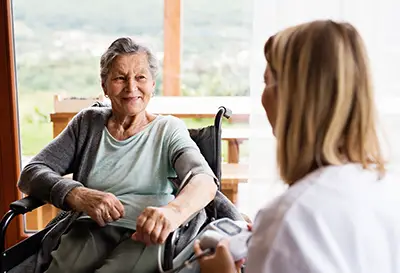 The caregiver of family member in charge should also pay attention to side effects and the way they impact the senior's mood, comfort, and health. In case changes are notices, they should be reported to manager in order to make proper adjustment. Dosages and times when medication was taken should be documented, as this could easily avoid confusion and will make sure that every pill is taken accordingly.
Once healthcare patients get discharged, they will be dealing with various aspects of discomfort – such as wounds being infected or irritated, medication causing side effects, changes in sleep and mood, etc. The caregiver has to pay attention to these changes, and spot potential risks that could increase the changes of things turning for the worst – such as environmental hazards.
The Post Acute Care Unit and Its Benefits
In some cases, if the patients don't have to stay in the hospital as a result of acute issues, they can get discharged to a post acute care unit, where they receive necessary attention. This can be beneficial as the likelihood of being readmitted to the hospital is lower, with the seniors being monitored closely. Experienced professionals are available and will assist the elderly with tasks and answer questions – with the setting resembling a home, and activities and services being provided for long-term stays.
Emotional Support
Having a caregiver around can not only help the senior with the tasks required to improve their physical health after the hospital discharge process, they can also help provide emotional support as well as encouragement. Not having the strength or mobility necessary to do certain tasks can be frustrating and add more stress, which is why finding a way to encourage them in a way that is meaningful can help ease their distress and keep them comfortable through the recovery process.
Readmission Might Be Unavoidable
It's important to note that in some cases, even after using these strategies in the day-to-day routine, hospital readmission cannot be avoided. Certain patients could get back to the hospital either for the same initial issue or as a result of a condition that is not related to the original one. However, primary family care and implementing those strategies in order to make the transition of care easier can have a deep impact in reducing hospital readmissions, as many issues can be prevented. Having professional caregivers could ease the situation, as in some cases senior and their families might not be prepared for the challenges they will have to face in order to make sure that the senior will not get back in the hospital bed.
Juleen Roadkowski, the lead author of the 2017 research piece, noted that hospital discharge planning is important when it comes to helping family members understand the tasks they have to fulfill.