Many seniors are opting to stay in their own homes or are living with family members instead of moving to nursing home settings. Those working in home care can help their clients stay physically, mentally and emotionally fit by incorporating some fun activities for adults into their daily routines.

Caregivers can find terrific activities for elderly clients that can keep them engaged socially, stimulated cognitively and keep them physically healthy whether the senior is active in their community or is dealing with limited mobility.

Below are some creative and practical senior activities that home care providers can use to help their clients achieve their highest potential and quality of life. These activities not only help to improve a senior's overall health and well-being, the activities serve to meet the client's cognitive, emotional, physical and social health needs as well.

 

Physical Activities for Seniors & Others

Like everyone else on the planet, seniors should strive to get more regular exercise to stay healthy and happy. There are some fun physical activities for seniors that caregivers can implement into their client's everyday care routines.

Caregivers working with seniors in a home setting do not have to make their client's exercise sessions difficult or boring. Before settling on a healthy physical exercise plan, it helps to ask the client and/or their family members for physical activity preferences and ideas in order to personalize the routines and make them more enjoyable for the elder.

These physical activity ideas can be modified to meet limited mobility requirements, adapted to do indoors or outside and many can also be done in a group or with family members to meet the client's socialization needs too. This personal touch care can include fun stress activities and creative senior outings ideas that are client specific.

Ideas to increase senior physical activity include:
Yoga

Swimming

Dancing

Bike Riding

Hobbies – Golf, Gardening or Cooking

Going to a Fitness Center or Using Home Exercise Equipment

Taking Leisurely Nature Walks

Hiking – While Bird Watching or Observing Local Wildlife

Taking the Pet Dog to the Park

Sightseeing Around Town or Someplace New
Walking is considered one of the easiest to perform exercises by leading fitness experts, and it can be used with any age group. This activity can be done indoors or out. For an energizing indoor exercise session perfect for a rainy day, consider popping in an upbeat exercise video and get your senior client motivated to move by joining in and keeping it lively.
Getting outside on pleasant days can boost feelings of well-being and spark motivation to engage in all that life has to offer. Consider taking your senior client out for scenic nature walks in nearby parks, on walks around the neighborhood or stroll the town's shopping districts. Other walking places include visiting museums, walking through a shopping mall and touring local historic homes or other landmarks.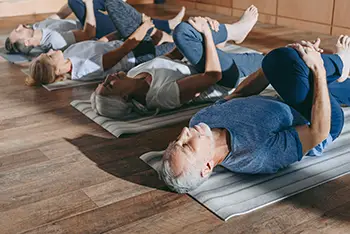 Hint: Walking can be modified depending on the person's physical abilities. For seniors in better physical shape, changing up the routine by brisk walking, jogging or adding free weights can make this activity more challenging.
There are other types of fun senior outdoor activities that includes golf, bike riding and horseback riding. Others include hiking local trails, walking along the beach and joining in outdoor pursuits with friends or family like tennis, basketball or hide-and-seek with the grandchildren.
Excellent Limited Mobility Exercises
Some seniors develop health issues that can make moving and walking painful or difficult. It is still important for caregivers to try to motivate their elder clients to try moving more. Sitting or lying in one spot or position for hours can increase joint stiffness, body pain and depressed feelings often leading to loss of muscle mass and decreased flexibility.
By encouraging exercises, a caregiver helps to maintain or improve their client's overall health, body strength, range-of-motion and balance.
Caregivers can modify their client's exercise program in those confined to a wheelchair by utilizing some innovative chair exercises.
Some ideas for chair exercises include:
Yoga – Focusing on Upper Body

Group Games – Toss Beach Ball, Bean Bags & Other Items

Utilize Stretch Motions to Increase Flexibility & Reduce Stiffness

Get an Armchair Exercise Video
There are many other effective and easy-to-do limited mobility exercises that caregivers can find online along with more suitable senior outdoor activities and simple indoor home activities as well.
Caregiver Tip: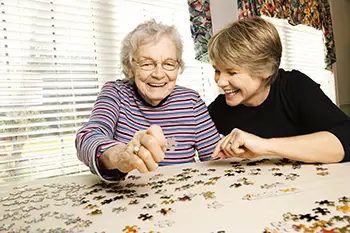 If your senior client is reluctant to perform any physical exercises, assess the client and inquire if they are in pain, feel sad or seem anxious at the thought of moving more. These emotions are common for older individuals.
Taking steps to find out why the client is reluctant and finding practical ways to resolve or at least improve those problems can help the client reach their personal fitness goals. Encouraging exercises that are appropriate and safe for your senior client and adding some fun stress activities can alleviate some of the client's anxieties and inner turmoil emotions like anger, fear and frustration.
Cognitive Activities for Seniors
Everyone is urged to keep their brains healthy and stimulated by doing things known to help cognitive abilities. There are a number of fun activities for adults that can keep brain function at the person's highest potential.
Ideas on cognitive activities for elderly clients include:
Puzzles

Photography

Art – Drawing, Painting & Pottery

Crafts – Sewing, Crocheting, Knitting & Woodworking

Learn Something New – Language or Watch Travel Shows

Reading – Books, Magazines, Newspaper & Audio Books

Music – Playing Instrument or Listening

Creating Scrapbooks, Recipe Collection & Family Photos

Adult Coloring
There are many various home activities for seniors that caregivers can take advantage of when making a client activity plan. Individualizing these elder activity plans can put that personal and holistic touch home care clients and their families deeply appreciate and fully deserve.
Social Activities for Seniors
It is important for seniors to have socialization opportunities. This can help keep the senior's quality-of-life higher.
Consider:
Book Clubs

Classes – Dance, College Auditing & Art Lessons

Senior Community Events

Invite Friends & Neighbors Over

Shopping Trips

Senior Trips & Socials

Family Game Nights/Movie Nights

Cards & Board Games

Senior Video Ideas – Home Travel Videos/Movies or Family Video Game Nights

Current Events

Group Trips to Concert & Other Senior Outings Ideas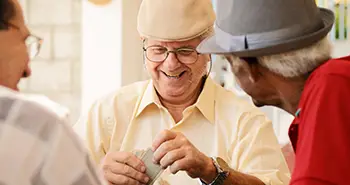 Senior video ideas can include setting up Snapchat, Skype and other social media platforms to use as creative senior activities that promote socialization. Stay in touch home care style by utilizing Internet communication technologies that are revolutionizing how families, friends and caregivers are staying in contact.
This is an excellent way to involve the entire family in the care process, and seniors are amazed to discover this method of talking face-to-face even though they live far apart.
By increasing opportunities for enjoyable elder activity, the home caregiver can not only provide their senior clients the basic care typically expected, they can strive to provide that personal touch care that all seniors deserve.
Visit https://www.inhomecare.com.