Wintertime can present more challenges for your elderly care recipients.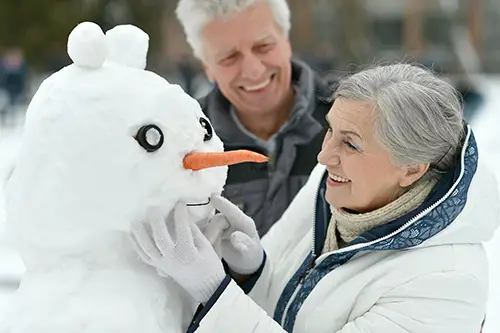 Take steps early to ensure that they will be safe should a winter storm cause them to be stuck at home until the the storm passes. Power outages are common during a larger wintertime snow and/or ice-storm. High winds, heavy snowfall and dangerous ice build-up on power lines are just some of the reasons why these outages can occur.
In this article, we will cover how you can help your senior client prepare for, and get through, the winter.
Helping Your Senior Set Up Wintertime Emergency Contacts
It is critical to set up wintertime emergency contacts for your elderly clients to ensure that they will have someone nearby for any additional health or other problems. Call the family members, talk to nearby neighbors, check evacuation routes near your client's home and find out if there are close shelters if power is knocked out for an extended period.
Some other emergency contact preparation ideas include:
Write a Clear, Large & Readable List of Emergency Contact Numbers

Place the List in a Readily Accessible Spot – On Kitchen Table, By Phone or At Bedside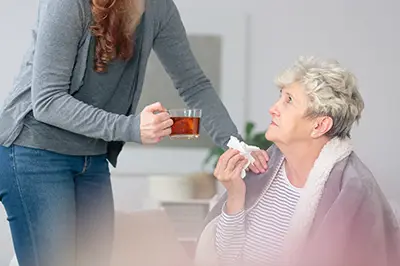 Ensure the Client's Glasses and/or a Magnifying Glass is Near the Phone

Program Emergency Contacts Into Cell Phone on Speed Dial

Be Sure to Educate Your Client Regarding Weather Evacuation Details

Set Up Regular Check Ins in Case Your Company's Caregiver Can't Get There

Have Numbers for Local Senior Citizen Center, Power Company

Consider Providing a Cell Phone if Client Doesn't Have One for Emergency Use
Stock Up for Emergency Supplies in Case of Winter Storms
It is crucial to stock up for emergency supplies in case the area gets a damaging winter storm. Check the food supply. Be sure to have easy-to-prepare foods like sandwich makings, microwave meals, canned food and bottled water in case the power goes out.
Some other emergency supplies include:
Working Flashlights with Fresh Batteries in Accessible Places

Alternate & Safe Heat Source

Plenty of Warm Blankets

Toiletries like Toilet Paper, Soap

Battery Operated Lights or Solar Powered

Personal Care Products

Check & Pick Up Medications Early
Dress Properly for the Winter Season. How Do Elderly Men Keep Ears Warm in the Winter? What to Wear in 65 Degree Weather?
How cold is it? Cold temperatures can be deceptive at first. Have an accurate thermometer to determine the actual temperature. Remember that wind gusts can make the air temp feel much colder.