For a variety of reasons, home care is currently poised to be and play a key role in the coming years as the center of health care.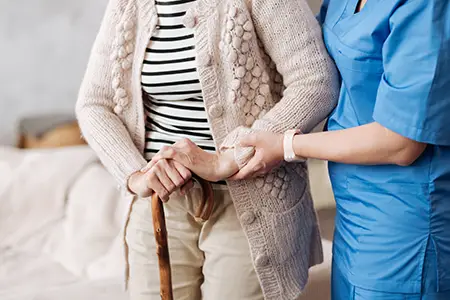 Changes is our country's demographics over the past few decades is showing a continued trend towards elders living longer and desiring to age in place at home. Health care systems need to anticipate the growing need for a better coordinated home health care system to ensure that there are adequately trained and equipped home healthcare workers and a feasible method of collecting payments for this anticipated future senior home-based care.
The elderly population is only going to grow larger putting a strain on every community's current healthcare systems to keep up with the growing home healthcare demand in years to come.

Why the Growing Need for Effective Senior Home Healthcare Options Needs to Be Addressed Immediately
It is crucial for healthcare and community leaders to come together now to effectively plan for, identify potential future senior home care challenges, find workable solutions and implement the necessary changes in home based healthcare for seniors.
This is essential to ensure every senior patient's health and well-being while supporting home healthcare providers in having the necessary advanced training and resources in order to provide this home based care safely, efficiently and at the highest quality possible.
It is also important to support senior patient's family members in understanding their options in healthcare and educating the public to enable seniors, concerned family members, doctors, other healthcare workers and other community members involved in any aspect of senior care to be better able to make informed decisions related to future senior health care needs.

Necessity of Changing Our Current Senior Healthcare Systems to Transition Smoothly to More Practical Home Based Care Systems
Healthcare, like other areas affecting human life, should change with the times to ensure adequate healthcare options to suit each person's unique healthcare needs going forward. Relying on the current senior healthcare systems to be able to smoothly transition to more practical yet effective home based care systems will not work without adequate change that includes knowledgeable healthcare, healthcare insurance/financial and community leaders input to ensure safety, success, higher quality levels of care, affordable care options and more.

Main Potential Problems with Home Care for Seniors Identified by Experts
To solve a problem, those issues leading up to the problem first need to be identified. Healthcare leaders and government agencies have enacted intense studies in an effort to prepare for the upcoming changes in senior health and home care needs for the future. Several key issues have been identified, and a nationwide call to action is currently underway to resolve these issues.
Some of the main potential and current problems with senior home care identified include:
Increase in Older Adults VS Decreased Younger Population Groups

Traditionally Supporting Medicaid & Medicare Through Taxes

Need for Medicare/Medicaid Reform by Cutting Costs Without Sacrificing

Healthcare Needs of Older Individuals

Latest Groups Entering Retirement Years Having More Chronic Type Health

Conditions

Ineffective Healthcare Payment Delivery Based Finance/Insurance System

Rising Costs of Healthcare Nationwide

Changes in How Seniors & Their Families View Future Living & Care Needs &

Desires

How Medicare/Medicaid Reform Measures Are Driving Healthcare Changes
In an effort to curb the ever rising costs of healthcare, major insurance groups and agencies like Medicare and Medicaid are implementing strategic cost cutting and other reform measures that are a major factor currently driving the current healthcare changes being seen across the country.
In order for healthcare institutions and agencies to collect payment for their services, many are forced to limit the length, type and extent of healthcare services to stay profitable. Even non-profit healthcare institutions need to keep their finances and bottom lines in the black in order to stay afloat in this complicated healthcare environment seen today.

Some Crucial Changes in Healthcare Reform Changes Everyone Should Be Aware of
Every American should be aware of some of these crucial changes in healthcare reform changes that could affect their future options in accessible, affordable and higher quality healthcare especially with senior population groups.
Several common changes and Medicare/Medicaid plus overall healthcare reforms being implemented in most communities include:
Shorter Overall Hospital Stays Even for Post-Surgical & Acute Healthcare

Crisis Events

Increased Use of Medical Technologies

Drive to More Preventative Type Healthcare Services

Long-Term Management of Chronic Healthcare Conditions in Home Care

Environments

More Need for Community Based Senior Home Care Options & Solutions

What These Changes Mean for Existing Senior Care Facilities & Home Care Agencies
While presenting greater challenges, these changes in healthcare services can be a wonderful opportunity for existing and future home care agencies and senior care facilities to improve and increase their services.
Some of the unique challenges that these senior care agencies face include the following:
Need for More Advanced Trained Healthcare Personnel like Registered

Nurses

Need for Better Training & Retention of Employees in Home Care Settings

Necessity for Streamlined Cost-Cutting Measures & Advanced Technologies to I

mplement this More Acute, Chronic & Higher Level of Healthcare in a Home

Setting

Required Changes in Business Tactics to Stay Competitive & Successful

Benefits of More Home Based Senior Healthcare Services for Communities
If done properly, there can be some major benefits of more home based senior healthcare services for entire communities. Being able to access high-quality home care services in the same communities where seniors have lived their lives benefits families, local healthcare providers, community services and can even increase the local economy by the need for more and continued need for trained and experienced healthcare workers of many training levels.
Some important changes in the delivery of home based senior care services include:
Improvement in The Patient Service Experience – Involves Need for Assessing,

Measuring & Providing Higher Quality & Satisfaction for Each Senior Patient &

Their Family Members

Can Dramatically Reduce Per Capita (Patient Driven) Costs for Healthcare

Overall

Helps to Improve Every Person's Overall Health Status Throughout Life &

Senior Years

How These Changes in Delivery of Elder Home-Based Healthcare Services Impact Patients & Communities in a Positive Manner
When healthcare entities, community leaders, healthcare insurance agencies and all of the related supportive services like rehabilitation facilities, medical equipment companies and so on work together to create an efficient home health care community system for the benefits of senior members and support for family and private caregivers, these communities can become stronger and reap many valuable benefits.
Healthy and fair competition is good for consumers of every business. This includes healthcare related services as well. As senior healthcare services shift to community based home care agencies and services, patients can expect greater efforts towards the healthcare consumer that includes higher customer service levels, better overall healthcare, more community support for seniors, family members and caregivers whether family, private or within home care companies.
Seniors, concerned family members, community healthcare entities and the general public should stay informed on these important home care trends and plan accordingly for future care needs. These trends can offer seniors better and more affordable care in their familiar home environments.