Home Health Care and Non-Medical Home Care Services: Is There A Difference?
If you're in the sometimes difficult position of needing to provide home care for your aging parent or loved one, you may be faced with a plethora of choices and unfamiliar terms, such as: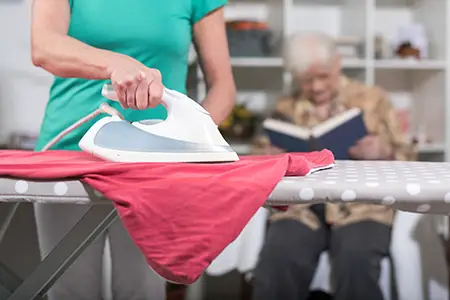 Although many of these terms may seem self-explanatory, the level of service provided can vary widely; some require medical expertise and some do not. It's important to obtain the type of expertise that's necessary for your situation so that you can provide the best care for your loved one or family member as well as be able to pay for the care.
Two of the most frequently encountered terms are home health care and non-medical home care services. Although they may sound similar, they are two completely different services.
Non-medical home care services don't require medical expertise and are available from several types of businesses.
Home health care by definition involves the clinical care and expertise of a healthcare professional and usually involves most aspects of daily life.

Non-Medical Home Care Services
Often, non-medical home care can be provided by a home health aide or a personal care aide and no medical training or licensing is required of them, although many states require a high school diploma or its equivalent. Some states permit home health aides to check the patient's vital signs or provide medication to the client as long as it's under the supervision of a nurse, physician or other healthcare provider. Most states permit home health aides to provide medication reminders to the client even though the aide has no medical expertise.
Home health aides and personal care aides provide assistance with the personal care functions of daily life, such as:
Shopping

Meal preparation

Bathing, dressing, grooming, and other activities involving personal hygiene   

Laundry and light housekeeping   

Mobility assistance   

Observing changes in physical or mental condition and informing the healthcare professional or the family   

Medication reminders   

Recording the daily intake and output of the client's diet   

Helping with daily exercise     

Maintaining a safe environment
One of the main functions of a home health aide is to provide companionship and ensure the general welfare of the client. Although the cost of a home health aide is sometimes covered by long term care insurance, the cost for this type of senior care is frequently paid by the family of the client and care may be required for as little as a few hours each day up to 24 hour care for the client.
A home health aide should encourage a positive mental outlook in the client should be upbeat and positive about the client's condition.
For a loved one who needs assistance with daily activities, a home health aide or a personal care aide can provide needed relief to a caregiver or companionship to a family member or loved one who needs assistance but isn't ready for a long term care facility or for skilled nursing care. They can work in a variety of venues, including private homes, group homes, and in the employ of a daily service provider.

Home Health Care
Home health care requires medical expertise in the form of a doctor, nurse, therapist or other licensed medical professional. Home healthcare services can be required as a result of an injury or trauma or due to the aging process, and is included in the category of skilled nursing care and clinical care.
Home healthcare includes the following services:
Specialized knowledge in areas such as dementia or Alzheimer's   

Therapy, either speech and language or physical therapy   

Occupational therapy   

Medication administration   

Monitoring vital signs   

Giving shots and placing an IV as necessary   

Catheter care   

Wound care and treatment   

Rehabilitation therapy
If your parent or loved one needs assistance that entails medical expertise, then a home health care professional may be the answer for you. Although their services are more expensive than a home health aide, they are usually covered by insurance so the out of pocket expense may be less. If an individual has a medical condition that requires more assistance than an aide can provide, the professional, medical home health care may be required regardless of the age of the client.
Home healthcare services can provide medically necessary equipment, such as:
Catheters   

Hypodermic syringes   

Wound dressing supplies   

Equipment such as oxygen tanks, hospital beds, bedpans, and shower aids   

Parenteral nutrition
The level of care provided by in home services is equivalent to that received in a hospital or skilled care nursing facility but the cost is significantly less. Statistically, those who recuperate at home or receive home healthcare services, as in the case of the elderly, have a better prognosis than those who are hospitalized for their issues. Home healthcare services are also provided for those who need hospice care.
Home healthcare services usually have a case manager who is a nurse, and who oversees and coordinates patient's entire healthcare program. The nurse case manager works under the direction of the patient's physician, and may be employed by the medical facility or an independent agency that specializes in healthcare management.

Selecting The Right Home Healthcare Provider
Before selecting a home healthcare provider for your parent or loved one, be sure to do your homework. There's no inept question when it comes to the health and well being of your loved one, so if you have questions, ask them. If you have second thoughts about a prospective provider, listen to them.
Be sure to check the agency's reputation for complaints or grievances filed with the state board.   

Make sure the agency is accredited and that they have a good reputation locally.

check with the licensing board for the individual that you select, making sure that there are no complaints lodged against them.
Although home health agencies conduct a thorough background investigation of their employees, you'll have more peace of mind if you have double-checked their assessments.