When a loved one is hospitalized, the main focus of the family is being there for their loved one to make their treatment and recovery time in the hospital the best and most effective it can be.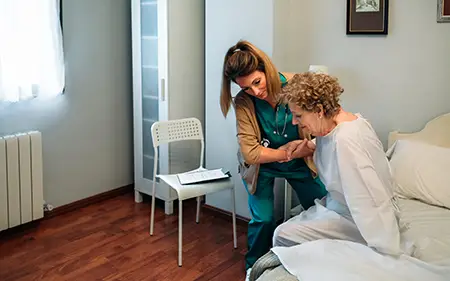 Spending time with the patient to help ease their stress, alleviate their fears, and provide for their practical needs is crucial at this time. The hospital time can demand a total focus and leave little time or energy for anything else. While lending emotional support to the patient, it will be necessary for a friend or family member, especially one with power-of-attorney, to oversee the financial aspects of the hospitalization.
As soon as the initial admission procedures are completed and the medical team has a diagnosis and treatment plan, the family member(s) need to start planning for the best in home care services for long-term care, and whether home care after hospital or transitional care will be needed.
LEAVING THE HOSPITAL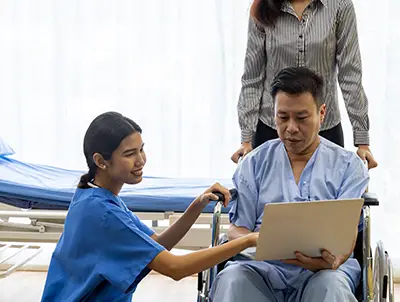 A discharge team will be ready to facilitate the transition from hospital to home. The first decision to be made is whether the patient will be transported to a rehabilitation facility for further strengthening and therapy or allowed to have home care after hospital discharge.
The patient and family should make their wishes known and ask for a comprehensive discharge and treatment plan to guide them after hospital discharge. Carefully following discharge orders optimizes the healthcare patients receive.
Some issues that need to be evaluated and planned for to assure better patient centered care outcomes include:
Obtain needed durable medical equipment such as hospital beds, walkers, bedside commodes, etc. and have them in place before discharge

Get a list of names and phone numbers of care providers the patient will be seeing after going home

Receive instruction from hospital staff in performing tasks such as changing wound dressings or administering injections to the patient at home

Ask for information about dealing with the specific condition the patient has and how to avoid future problems

Request a social worker to help with transitional care at home

Obtain complete discharge instructions and ask questions as needed
REASONS FOR TRANSFERRING TO A REHABILITATION FACILITY
Spending time in a rehabilitation facility will likely be recommended if the patient has experienced a stroke or undergone a hip replacement and needs long-term care.
The care provider may recommend up to 30 days in a facility. Medicare will pay for three to four hours a day with a physical therapist, speech therapist, or occupational therapist.
A Registered Nurse oversees patient care at rehabilitation facilities and each patient benefits from the services of Certified Nursing Assistants. If the patient's condition is serious enough to require round-the-clock skilled nursing care or if the patient is showing progress with treatment, several weeks of care in a facility may be covered by Medicare.
DISADVANTAGES OF EXTENDED STAY IN A MEDICAL FACILITY
When considering admission to a rehabilitation f