The landscape of post-acute care is constantly changing and becoming more value-oriented. With the development of home health star ratings, home health care agencies have a tool that can help them stand out to potential clients.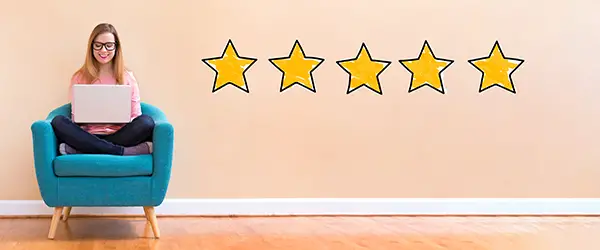 With the national average rating hovering around 3.5 stars as of July, 2018, it's clear that achieving higher scores is a priority for many agencies.
The pursuit of higher ratings can sometimes be a source of pressure, but as the former deputy administrator of CMS has explained, the rating system is designed to make home health care decisions easier for patients and their families.
It can sometimes seem that the job of tending to ratings distracts from the statement of the deputy administrator. However, by adhering to quality measures, reporting claims data properly and providing outstanding post-acute care, home health agencies can achieve higher star ratings.
Two Types of Ratings
The Quality of Patient Care Ratings
This rating type reflects outcome measures based on OASIS and Medicare claims data. If your agency is already delivering quality care, then a low rating in this area can probably be improved with better record keeping and reporting.
Patient Survey Ratings
If your agency doesn't have a patient survey rating, it's because too few clients have completed a survey. The most important aspect of this rating is client service, and encouraging all clients to complete this survey can create or improve your score.
Getting More and Better Patient Surveys
The heart of home health care is the interaction with the client and family members. When you create better, more positive client interactions, survey results can help your rating climb above the national average.
There are several ways to maintain a high level of client service.
Communicate clearly with clients.
Let them know what to expect, and deliver on that promise.
Encourage communication.
Ask for feedback. Let clients know that their thoughts and expectations are important to your agency.
Communication between staff members is important too.
When it's necessary to assign more than one caregiver to a client, make sure team members understand and use the correct methods to keep each other up to date on any changes.
Provide continuous patient service training.
This includes the following skills:
Verbal communication skills

Maintaining eye contact and smiling

Phrasing some statements as questions rather just giving commands

Asking for permission or cooperation where necessary

Always appearing busy. Explain moments when you may appear to be unengaged or idle.

Arrive on time.

Leave your cellphone alone while working.
Look at your patient billing methods
There are ways to maintain cash flow while still letting clients feel respected and appreciated.
Do you charge weekly when most of your clients receive income once a month? Is there any way to change this?

Is there a way for clients to quickly ask questions about billing? Can clients contact you through your website?

If the client has to leave a voicemail with a question, what does the voice on the outgoing message sound like? Is it welcoming? Is it discouraging and intimidating?
Address mistakes immediately, honestly and effectively
Even when every team member is committed to excellence, errors can occur. In some cases, the proper handling of a mistake can have a positive impact on client relations. The best policy is to apologize immediately and fix any problem as thoroughly as possible.
Client survey participation must be voluntary
Given the importance of these ratings, it may be tempting for employees to ask clients for a particular score, but they must not do this. It's fine to make all clients aware of the opportunity to complete the survey, but an agency must not attempt to influence a client's response.
Employees must also avoid "cherry picking" the clients most likely to give favorable responses.
All clients should be informed about the survey in a consistent manner to avoid any appearance of impropriety.
Those agencies that excel at making clients and their families feel respected and cared for will benefit from more favorable patient surveys.
Improve Patient Quality Ratings With Proper Documentation
Lower ratings don't always indicate subpar care practices. More often, these ratings are an opportunity to improve record keeping and reporting. However, a potential client won't know this if the low rating is all they see on the Home Health Compare website.
Because outcome measures are based on documentation, good record keeping is a fundamental part of an agency's plan to achieve high ratings. Conforming to quality measures and documenting activities will help to increase your ratings, often in just one reporting period.
Mere assessment of the problem and the development of a documentation plan isn't enough. Your entire staff needs to be fully trained and expected to follow record keeping guidelines. After training sessions are over, employees should still be able to access the information as needed.
There are many ways to keep this information accessible to busy employees:
Hardcopy. It's old-school but keeping basic reminders posted in areas where documenting takes place or in a nearby binder can be good.

Video. Many find that the visual experience of a webinar or other video is a great way to retain information.

Audio. A podcast or other recording can be a convenient way to reinforce training.
Information has to be not only gathered and stored correctly, but it must be submitted in a proper and timely manner.
It's also important to make sure everyone is updated on changing methods and requirements. Achieving that five-star rating requires you to keep up with OASIS changes. The CMS website provides ongoing training in several formats including webinar and PDF.
Here are some additional tips for process improvement:
Don't try to improve all quality measures within one reporting period.




Significant change is a noble goal, but achieving one or two specific goals is generally more realistic.

Implementing improvements in specific care practices may require additional training and accountability measures for your staff. The addition of too many changes at once could become overwhelming and negatively affect performance.

Making sure goals are clear and measurable will make assessment easier.

Give performance feedback in a timely manner. This will prevent delays in making necessary changes.
Improved star ratings are definitely possible with attention to the right details. It's not easy, but the results are well worth the effort.