Holidays for seniors can be difficult, especially if they are living in an assisted community.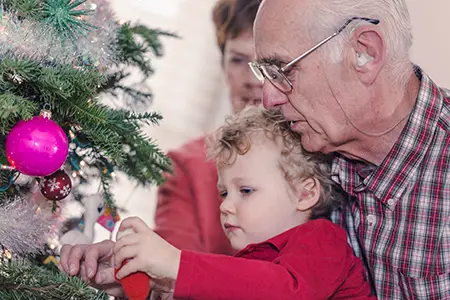 Festivities they used to be able to enjoy, may have become too difficult or strenuous for them now. That said, the holidays are all about family and spending quality time with each other. It is important to include your senior in holiday festivities as much as possible.
In this article, we will cover several ways you can bring holiday cheer to your senior loved one this season, and how to deal with holiday depression.
Holidays for Seniors
Holidays are wrapped up in gift giving, religious traditions, and eating way too much food. However, it is important to consider the seniors in our lives, and how they may get left behind in all the hustle and bustle.
Sure, we all experience stress and anxiety while preparing for the holidays. Whether it stems from last minute shopping or arranging the family get-together, we've all been there at one time or another. And, although this is a common occurrence during this time of year, holidays can be especially difficult and lonely for senior members of the family.
Due to the fact that as we age, our bodies become less mobile, seniors often have a hard time participating in family activities during parties or get-togethers. Being physically unable to enjoy the holiday festivities with your family can only amount to sadness and feelings of low self-worth.
This holiday season, make the effort to include the seniors in your life as you are planning and preparing for upcoming celebrations.
Christmas Games for Seniors
We've rounded up the top 10 best Christmas and holiday games for seniors (and family of all ages) to enjoy together this year:
Make a holiday wreath together, or, each family member can make their own. As long as everyone enjoys the time crafting together.

Make pomanders with oranges and christmas clove.

Decorate and fill stockings together. Some families enjoy assigning a family member to each person, for the stocking to be given to after it is filled.

Prompt the children in your lives to ask their elders about experiences in their earlier lives.

Listen to some of your seniors favorite tunes.

Play board games or card games. You could even make your own holiday board game.

Go christmas caroling, or sing holiday songs together as a family.

Bring out extra pillows and blankets, make popcorn or your favorite holiday treats, and have a movie night together.

Bake cookies, or another seasonal treat, all together as a family.

Have a "wrapping party" with the family. It's okay if the gifts aren't perfectly wrapped, its about the fun of getting together!
December Activities for Seniors | Holiday Activities for Seniors
The holidays are for fun traditions and spending time together, especially during the month of December. Seniors want to continue experiencing these types of festivities, even late into their lives. Here is a list of some senior-friendly holiday activities that never get old! It is important to understand, there may be limitations for some seniors to participate in these holiday activities.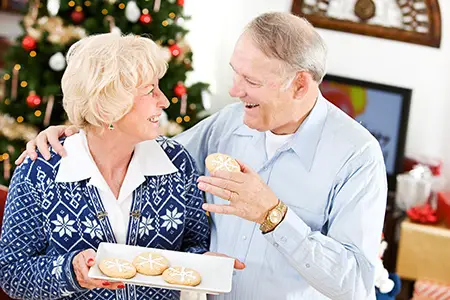 Go on a sleigh ride with hot chocolate

Create and arrange holiday-themed centerpieces

Attend a holiday craft fair or christmas tree display event

Participate in making gifts for family

Enjoy designing gingerbread houses together

Take a walk through your local library – usually these city buildings hang christmas lights for locals to enjoy

Paint a holiday window mural

Volunteer at a charity

Put together gift baskets for the needy
Holidays for Seniors in Assisted Living Facilities
The best way to avoid loneliness for seniors in assisted living during the holidays, is to make the effort and time to visit them. However, here are a few other things you can do to bring holiday cheer to your senior loved one in assisted living this year:
Encourage your senior to socialize within their community – Many, if not all, assisted living communities do their best to host special events around the holiday season. Screenings of christmas movies, special meals, and community sing-alongs all provide a positive atmosphere. You can help by encouraging your senior loved one to participate in these activities for seniors in assisted living.

Deck your seniors room out with holiday cheer! – A great way to help your loved one get into the holiday spirit, is by decorating their room. Spend time decorating together, and include a christmas tree for that extra special touch.

Host a mini-christmas celebration – For those of you who have seniors who cannot leave their facilities during the holidays, create a special mini-celebration for them! Have family come and bring holiday goodies and small gifts for your senior. In addition, it's a great idea to compile some christmas party games for senior citizens beforehand, so the whole family can enjoy the evening. This will help your senior feel included, even if they cannot come to your home.
Help for the Holidays
Sending Christmas cards to Nursing Homes
If you are seeking to spread some extra holiday cheer this year, it's a great idea to get the family together and write christmas cards for nursing homes. These can be fairly generic, if you're looking to have the cards passed around to each resident in an assisted living community. By having the family create loving christmas cards for seniors, they will be able to experience the happiness that comes from spreading cheer – even to those who they don't personally know.