Lessons in compassion, care and perseverance can be taught best through life experiences. And for me, I learned these lessons best in the more than four years that I worked as an in-home care provider.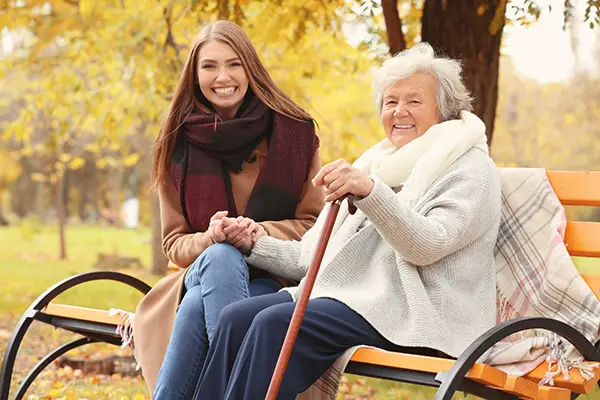 While I no longer work as a nursing assistant, the lessons that I learned providing senior care translate into the job that I work today, which is in healthcare management.
When a loved one falls ill, a family member often finds themselves filling the role of in-home care provider, even if it is something they never imagined themselves doing. However, there are often times when people who work as a caregiver, or even nursing or hospice aide, find themselves working in a role that they also never imagined they would do. That was my experience.
The beginning…
When I was in college, I had big dreams of becoming a doctor. I knew that meant that I needed to have clinical experience, so I decided that I would work as a nursing assistant in a hospital. I went through all of the necessary training, which was very much focused on being a senior caregiver and working in an assisted living or skilled nursing facility. I was certain that I would be getting a job at one of the major hospitals in the city where my college was located, so I would snicker to myself whenever our instructor talked about feeding people or changing diapers. I certainly wasn't going to be doing ANY of that!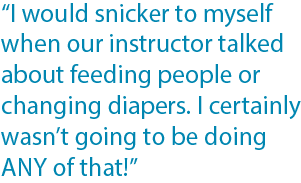 When my training ended, I felt ready to conquer the world! However, I quickly got a reality check. After applying for job after job at local hospitals, I was getting no calls back. When I called to check on the status of my application, I was told I was rejected because I didn't have enough experience. As expenses started to pile up and with a rent payment due, I realized that I had to start applying to work as an aide at nursing homes, or as an in-home aide. In retrospect, it was the best thing that could have happened to me. But at the time – I was devastated. I hadn't been paying much attention to the lessons I learned in my training, thinking they didn't apply. How was I going to work as a senior caregiver at a rehabilitation or nursing facility?
I got a job at the first home-health company where I applied, and was a little shocked. I thought a home health aide would be working only in patient's single-family homes. I quickly found out that "home" sometimes meant a room at an assisted living facility. That scared me!
However, I was pleasantly surprised when I got to the first assisted living facility that I'd ever been to, where my very first patient lived. It didn't smell, it wasn't sad, it wasn't anything like what I thought it would be. Honestly, I was afraid everyone would be sad, everyone would be dying. However, I was surprised to find a facility filled with lively patients, lovely families and a staff that was hardworking and very much a team. It was eye-opening, in a good way!
First Day On The Job…
On the first day that I was working on my own as a caregiver, everything that I learned in my CNA training and in the two weeks of intense on-the-job training went out the window. I was working a day shift, from six o'clock in the morning until the afternoon. So, it was my job to get my patient up and out of bed.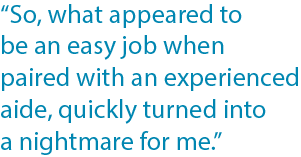 As it turned out, she was not enthusiastic about getting out of her cozy bed and warm comforter. So, what appeared to be an easy job when paired with an experienced aide, quickly turned into a nightmare for me.
For the first week or so, when my patient wasn't looking or his or her family wasn't around, I cried tears of frustrations. So many times I'd get a patient up and ready for the day, only to realize I'd forgotten to change their soiled undergarments; a task that would require me getting them back in bed or finding a Hoyer lift. The easy task of feeding a patient suddenly turned challenging when he or she would firmly tighten their lips together, refusing any food to pass. I had no one to ask for help, either. The family was often enjoying some respite while I was there, or all too often, these frail patients were living alone. I thought I had to quit. However, I needed to support myself, so I stuck with it.
It was the best decision I have ever made.
Every day, my job providing senior care became easier – and ultimately, more enjoyable.
First, I changed my shift from mornings to evenings. I found that the tasks on the evening shift were more enjoyable and that people far preferred to get into bed than out of it! I didn't like the fact that I was working alone, but I made an effort to get to know other nurses and aides who also worked with my patients, building a rapport with them through care notes, or even as we passed each other during shift change. The tips and tricks they provided in caring for my difficult patients made a world of difference! I enjoyed that the company that I worked for tried to keep consistent caregivers for each patient. The rare times that I had to fill in for a colleague or was given a patient that I'd see infrequently, those fears of mistreatment or miscommunication would fill my mind. But thankfully, that would very rarely happen. Ironically, the revolving door of patients is what I would have experienced had I achieved my "dream" of working in a hospital!
My Confidence Grew!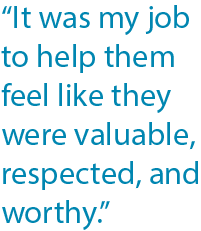 As my confidence in my job grew, so did my love for my patients. Once I understood their likes, their wants, and their needs, caring for them became easier and more enjoyable. The routine, daily tasks became easier to undertake, leaving me more time to chat with the patients and their families and form an affection and a bond that also made my work feel less like a job and more like a calling. I became a much more patient and empathetic person during my time as a senior caregiver, knowing that my patients were once just like me: healthy and happy. They didn't want to be a burden, but they also didn't want to feel like they were relinquishing control over their lives. It was my job to help them feel like they were valuable, respected and worthy.
I'd Grown To Love Being A Caregiver
Ironically, just a few months after I started working as a CNA, my coursework in college helped me decide that being a doctor was not the right fit for me. I instead decided to study business. However, I had grown to love my job as a CNA so much, I didn't quit. I worked for the same company for the entire four years that I was in school, and my business education, combined with my clinical knowledge now, has me working in the hospice industry. I am forever grateful for my experience working as a nursing assistant for senior patients.