The costs of in-home care for seniors coming in at around $6,000 or $7,500 per month, according to a recent Bank Rate article.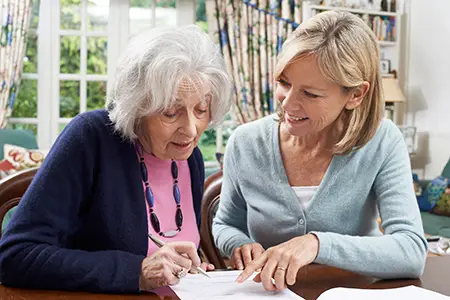 Understandably, many families who face this financial challenge feel ill-equipped to handle this burden.
If you have found yourself in this predicament, either for your own care or that of an elderly relative, take heart. The cost of in-home care doesn't have to break the bank if you know what to do to prevent it.
In this post, you will learn about 10 different ways that will help you lower the cost of in-home care for seniors that are practical and simple to use. Implementing just a couple of them could wind up saving you hundreds if not thousands of dollars over the course of the year.
What is In-Home Care?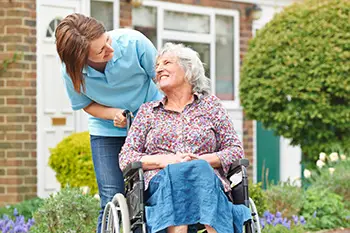 Before we proceed, it will probably be helpful for you to know what in-home care is. Yes, home care options can include the services of a nurse, physician, or a physical therapist for elderly people.
However, help at home can also include services like meal prep, laundry, errands, shopping, and other daily needs.
The following list can include any aspect of in-home care and ways to save money with in-home care. In many cases, the level of care that you or your loved one receives is on par with other more spendy home care options.

1. Use Technology to Your Advantage
Technologies like medical alert systems and food delivery services can alleviate some of the burden of in-home care.
Granted, while such services won't completely take the place of the human-to-human contact that comes from personalized in-home care, they can take care of some pretty important needs.
They also compare favorably with many caregiver rates of pay, meaning that the price per chore – in this case, shopping and errands – can be lower than the cost of having a personal care aide come into the home and perform the same duties.

2. Use Government Benefits if You Qualify
Government programs like Medicaid and Veterans Administration programs can help to assuage some of the costs associated with in-home care for seniors. Many home attendant agencies work with these organizations and others like them, making them attractive to those on a budget.
If it is you who pays for healthcare, it is in your best interest to look into programs like these.

3. Hire an Independent Caregiver
One of the simplest ways to save money for help in the home is to try to reduce caregiver rates of pay. If your medical assistant hire is breaking your personal bank, consider this: You'll pay up to 20% to 30% less for an independent caregiver than you would for a caregiver provided by an agency.
With this set up, you may pay a lower hourly fee or be able to set up some sort of price per chore to get your daily needs met, without giving up a certain level of care in the process.

4. Do Some Research
Unless it's an emergency, meaning you or your loved one has fallen or had a stroke or something like that, your plan for care shouldn't be left to chance. Instead, you should have a plan that irons out who pays for healthcare. You should also have a list of home attendant agencies and places that offer affordable home care.
Additionally, it is prudent to start saving for this eventuality many years in advance. Part of your research for this can include finding out how much the average price for in-home care is, what it will cost for you to hire, say, a physical therapist for elderly people, caregiver rates of pay, and other costs.

5. Look for Tax Breaks
It is possible to save money on in-home care costs via your tax return.
For example, if you pay your parents' long-term care insurance costs, that could become a tax deduction for you. As well, some out-of-pocket expenses like medical care help at home can also be written off your taxes.

6. Modify Your Home
A fall can not only cause serious injury to your or your loved one, it can cost you a great deal, too. Some of what makes affordable home care affordable has less to do with hiring a personal care aide and more to do with making the right adjustments to your surroundings to make them safer.
Some simple things you can do are add color strips to the stairs to help a senior better see the stairs, put handrails in the bathroom, remove extra furniture, and make sure the home space has good lighting.

7. Get Respite Care
If you need help at home but are having trouble paying for it, you'll often find that respite care programs provide services you need, but without the cost.
The VA and Alzheimer's Respite are just two of the programs that provide services for free.
If you replace 10 or 12 paid hours with your medical assistant hire for 10 or 12 free hours with a respite program, that's hundreds if not thousands you'll save.

8. Purchase Drug Prescriptions in Canada
Those living near the Northern border can get prescription drugs in Canada for less than they would pay if they bought the same drugs in the U.S. If this is an option for you, you'll definitely want to exercise it. Be sure to check if any restrictions apply.

9. State-Funded Aid Programs
Some people don't qualify for Medicaid. However, that doesn't mean that they don't have access to financial help. Many states provide assistance for services like adult day care or in-home care.
Depending on where you live, your state could provide care for Alzheimers, senior respite services, community living, and other services.

10. Reduce Your Utility/ Living Costs
Many seniors qualify for financial assistance to help pay for their utilities and other costs. Programs like LIHEAP will pay for your utilities.
Additionally, taking steps to weatherize your home and to reduce the amount of power you use can also save you money on in-home care, at least indirectly.
Final Thoughts
Reducing the cost of in-home care for seniors can feel like an uphill battle for many people facing this challenge. However, there are many programs that allow you to do just that.
Some states will help seniors modify their homes to make them more energy efficient, while programs like the Veterans Administration offers many senior-related programs. Other ways to save include using technology, getting home food delivery service, buying prescription drugs in Canada, and applying for tax breaks you may qualify for.
However, the best way to ensure that you'll be able to afford in-home care for seniors is to do your research ahead of time and make a long-term savings plan for this eventuality. These expenses are something you should talk to your financial advisor about.
The benefit of getting professional advice in this case is that it allows you to look at the issue in a less personal way. That means that you can make decisions more objectively, which will also allow you to save money in the long run.
This, coupled with the strategies outlined here, should help you save a bundle on care.