Some seniors desire to stay in their own homes as they age.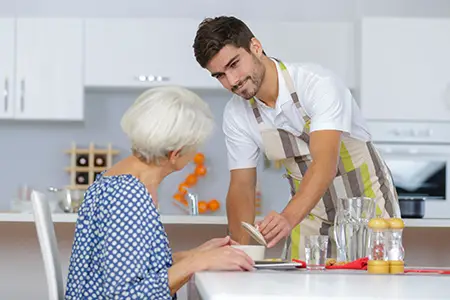 There are times when it might become necessary for a senior who lives at home to get some assistance with certain personal care, other activities and lighter household chores.
When the person does not need skilled nursing care, they may still benefit from non-medical care. In the healthcare system, certain terms tend to merge together even though the two services may be quite different.
This is the case between skilled nursing care (or medical care) versus non-medical care.
What is the Difference Between Skilled Nursing/Medical Care Versus Non-Medical Care?
Although these two levels of care are often used interchangeably, they do refer to two separate types of healthcare.
Skilled nursing or medical care is care given by a licensed healthcare professional. This could be registered nurses, licensed practical nurses and doctors. Physical, occupational and speech therapists are also healthcare professionals that give this higher level of care.
Examples of skilled medical care include:
Administer Medications

Nutritional Therapy Monitoring & Administration – Feeding Tubes etc.

Mobility Training

Assessment

IV Therapy, Injections

Wound Care & Prevention of Pressure Sores Therapies

Medical Equipment Management – Oxygen Therapy, Breathing Treatments,

Respiratory Therapy

Occupational, Speech & Physical Therapies

Diabetic Care

Pain Management

Assessment, Monitoring Potentially Serious Illnesses, Chronic Health

Problems

Check Blood Sugars

Administer Treatments Ordered by Doctor, Therapists
Non-medical care is typically performed by individuals that do not hold a professional license. They can perform many personal care services and lighter household chores.
These caregivers can perform:
Bathing or Showering

Dressing

Grooming – Fixing Hair, Oral Care, Brushing Teeth, Caring for Dentures, Nail

Care, Applying Makeup or Shaving

Attending to Personal Care Needs – Toilet, Changing Adult Pads or Diapers &

Sometimes Colostomy Bag Care Depending on State

Medication Reminders – Not Allowed to Administer Meds Unless Licensed

Eating Assistance

Assistance with Ambulation, Exercise & Range of Motion

Transfer Assistance from Wheelchair to Toilet etc.

Transportation – Take Senior to Appointments, Shopping, Run Errands or

Attend Social Events

Might Provide Respite Care for Family Caregivers

Companionship & Socialization – Conversation, Write Letters, Read etc.

Light Housework – Dishes, Laundry, Dusting & Cooking Meals Among Others
Non-medical care can be provided by family members, private caregivers and through home healthcare agencies. Some states require that nursing assistants be licensed. Some common titles of those that care for elderly individuals needing only non-medical care include nursing assistants, nurses' aides, private caregivers, companions, home healthcare providers and personal care assistants. There are certified nursing assistants that must take classes and pass state certification criteria.
Is Non-Medical Care Covered by Medicare?
In the past, non-medical care provided in the home setting was not covered under Medicare.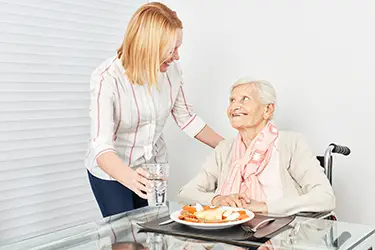 Recently, there have been changes that allow payment or financial assistance for at home non-medical care if it meets certain criteria often referred to as MA or Medicare Advantage Plans.
Non-medical care can also be provided by some adult day care centers, at assisted living facilities and communities and in the hospital or nursing homes. Every state has different guidelines and regulations.
Home healthcare agencies typically provide both skilled nursing care and non-medical personal care and companionship services. There is often financial assistance for both types of care under Medicaid and other government bodies for patients that meet lower income criteria. Additionally, there might be funds from private and religious groups and senior services in some areas.
What Types of Senior Care Are Available in the Home Setting?
The exact types of senior care services that are available in the home setting will vary from state to state. Seniors and families can contact local non-medical home care agencies for the specific details and services offered in their specific area. There are also various other area agencies that may be able to provide other services like rehabilitation therapists and cognitive behavioral experts.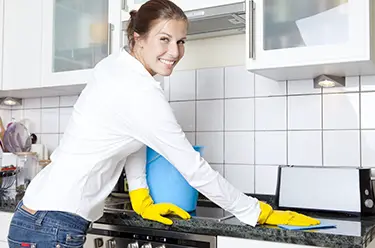 Healthcare providers and professionals describe activities of daily living to refer to non-medial based care. This includes dressing, bathing, assistance when walking, eating assistance, personal hygiene care and other duties. This kind of care is also referred to as assistance with ADLs. Many health aides also will perform lighter household tasks like cooking, laundry while some provide transportation services or errand running as well.
Seniors can also receive specialist rehabilitative services from a certified professional occupational therapist in the home setting if they meet the criteria. This type of therapy focuses on refined motor skills, like the ability to grasp silverware and eat, picking up a brush and building up hand strength. A doctor will often prescribe this therapy for patients who have had a stroke. These patients often need to relearn how to perform basic daily tasks that everyone generally takes for granted.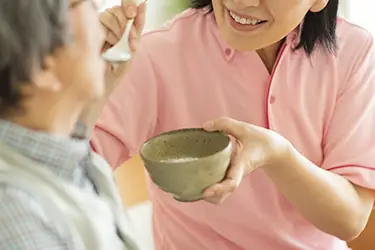 Physical therapists and speech therapists often work hand-in-hand with other professional healthcare providers and area agencies. Nursing assistants can often perform some of the mobility assistance under the supervision of nurses and therapists. An example is encouraging stretching motions while performing assistance with ADLs.
An occupational therapist often brings small stress balls for patients to squeeze and certain games and small devices that help build up the person's hand and wrist strength and coordination. Often, other healthcare providers and health aides can encourage the patient to use.
In Conclusion
Families worried about their aging family member can get assistance from local senior care services and non-medical home care agencies. Some of these area agencies that offer home care will also offer skilled nursing care at home in different circumstances.
Families can find compassionate and experienced health aides to help provide a senior with assistance with activities of daily living and other services.
Contact https://www.inhomecare.com.