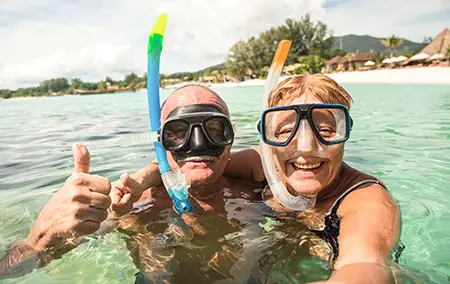 Many seniors have worked most of their lives and have saved for their retirement, which often includes travel.
Senior travel discounts are offered to entice seniors to travel more. However, mobility, medications, and traveling with medical related equipment may be a bit of a concern. Travel is still possible if planned correctly. Be on the lookout wherever you go as thieves sometimes target seniors. They think seniors aren't as focused or as agile as younger travelers.
Here are more safety tips for senior travelers.
Safety Tips For Seniors
Be sure to visit your doctor before you go on any trip, especially if it's for several days. Ask if you should be concerned with meals or a special diet, specifically if you're going overseas. A pre-trip medical checkup is also highly advisable.

Pack all medications, including your original prescriptions bottles, in your overnight bag or carry on if traveling on a plane. It's always a good idea to take at least one or two days of extra medication, just in case of any travel delay. Since your regular routine will be different, a good idea is to put your medication in a day-to-day pill box. Always keep your bag nearby.
Pack snacks in your overnight bag or carry on, especially if you are Diabetic or can't always eat snacks offered on airplanes or other venues.

It's always recommended to buy travel insurance for the "just in case" moments. This will cover lost or damaged luggage, injury or illness, or having to cancel your trip.

Always wear comfortable shoes that have rubber soles to avoid slipping or falling. Be sure to hold all handrails when going up and down steps.

Even though you may love to wear expensive jewelry, it's never a good idea to travel with it. Many hotels and cruise ships have in-room safes, but it's just more to keep up with. Only take a few of your favorite pieces.

Don't advertise that you aren't home. Thieves watch for signs of homes left unattended.

Always let your family members know your itinerary and phone numbers where you'll be staying.

Traveling alone isn't recommended. Travel with your partner, family member/caregiver, or join a travel club. Senior citizen companionship plays a vital role as seniors still need to feel loved and cared for.

Carrying a little cash is necessary, but you may want to buy an actual travel wallet or carry it on your person.
Planning Trips For Seniors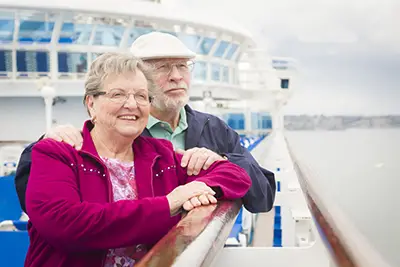 If you have a bucket list, that's a great place to start when planning your trip.
If mobility is an issue, then make sure your hotel rooms and ship cabins are all handicap friendly. Many tour buses have handicap access and if you are on a tour, either the bus driver or tour director will be able to help you in getting on and off the bus or van. Trains and airplanes also have handicap access and there are personnel who will help you as well.
Senior Travel Discounts
An advantage of being older is senior travel discounts.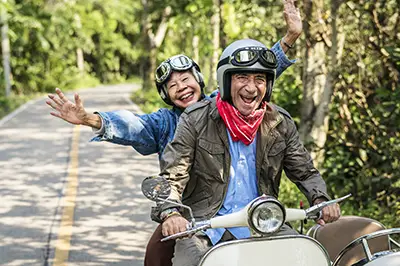 Many hotels, rental cars, cruise ships, restaurants, and tours offer discounts. These may range in different amounts, but always ask. Discounts aren't always automatically given. Also, discounts may depend upon your age. If you are at least 62, you should qualify for many of those discounts, including a lifetime entrance pass to all national parks. If you are an AARP member or military, you will often get special rates too.
Many banks or tour companies offer adventure travel planners or small group adventure tours. They often offer wonderful trips that are all pre-planned. All you would have to do is pay, pack, and go. Most of the trips will have your destination transportation included in the price, along with most of your meals. You'll know ahead of time exactly what restaurants and meals will be covered. Extra cash or a credit card is needed for meals not included, gifts, and tips for the bus driver or tour guides. If you are traveling internationally, be sure your credit card doesn't charge a foreign transaction fee. Also, airports are a good place to buy currency in the countries you'll be traveling to.
Adventure Travel Planners For Seniors
It's always more fun to have senior citizen companionship to join you on your trip. Not only is it more enjoyable, but they can share some of your costs. Hotels and cruise ship cabins are usually charged per double occupancy.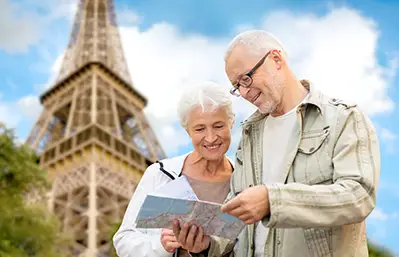 Adventure travel planners will be able to plan trips according to the activities you enjoy doing. Perhaps you enjoy golfing, hiking, zip-lining, or maybe even safaris. All of these are possible if they are planned enough in advance. Small group adventure tours can offer a more personalized service as they can focus on fewer numbers of guests. Smaller groups are usually more expensive as larger groups receive more discounts, but going in a small group will feel like you're with family. If you are traveling solo, the smaller groups may be something to consider. Your destination transportation should be included in the price.
Since there are more people entering the retirement stage, more companies are catering to senior travelers and those with disabilities. You may be able to find travel deals by joining a travel club, through your retirement home, or by asking a travel agent to notify you of a really good deal.
Additional Tips For Senior Travelers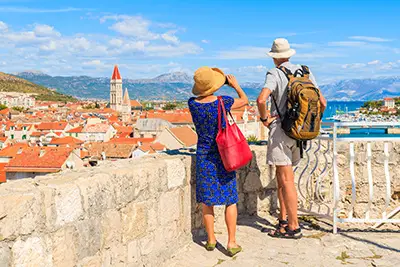 Not having to work gives you the freedom to choose when you want to travel. Consider going to places, such as Europe, on their off-season to avoid the crowds. It's usually less expensive to go then too. Make sure you pack accordingly.
Even if you're traveling in the summertime, always bring a light jacket or sweater for theaters, restaurants, and airplanes as they all have a tendency to be a little cooler. Don't forget your umbrella or windbreaker for traveling outdoors. It's also a great idea to bring along an extra pair of glasses. Cameras are good to have, but cell phones now have good built-in cameras and may be easier to carry.