Many seniors or their loved ones are concerned about the rising cost of senior care.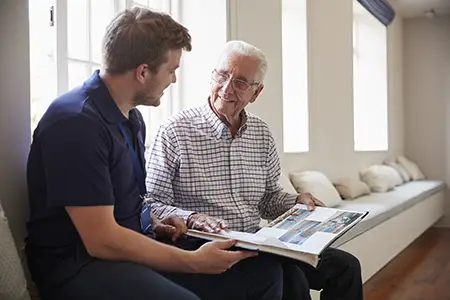 It can be confusing to research the various types of elder care services that are available and the differences in senior living options without some understanding of the common medical care terms used. There are a number of different types of senior care and cost comparisons that anyone nearing retirement age or their caregivers should review before making a final decision.
In this article, we will discuss those options, as well as the cost differences between them.

Ways to Discuss & Plan for the Cost of Senior Care
Adult children worried about the future care needs for their elderly parents often put off talking about this subject due to not wanting to upset their parent. Most adult children also do not want to appear too nosy about their parent's personal business.
There are several different elder care and senior living options that each family should discuss before this type of care is actually needed. One senior could only need someone able to provide minimum aid and attendance duties such as home companions could perform, and another could require regular home health aide services to assist them in normal activities of daily living or ADLs.

What to Expect & Average Costs for Health Aide Services
The normal duties of a health aide usually include assistance with eating, dressing, mobility, bathing and basic non-medical or non-skilled care services. Some home care agencies and private home health aides will also perform light housekeeping, cooking meals, laundry and transportation services.
Seniors can get health aide services in assisted living facilities, at home or through a community care service for seniors like adult elder day care or respite care services. The exact breakdown of duties and cost expectations will vary per geographical region, health condition of the elder, how much care each senior requires and other factors.

A Break-Down of Possible Senior Living Options
Seniors have a number of differing senior living possibilities to select from. These living choices range from at home care, in assisted living facilities, through a community service agency or in a skilled nursing home setting. Alternately, seniors can opt to move to one of many continuing care retirement communities.
The costs of these varying living choices for elders will vary. It is important to remember that the type, frequency and quality of care services could be different between care service entities, and consumers should get all of the facts including any future care and living costs for an accurate picture and a more informed decision.
Some geographical locations have lower cost-of-living expenses that can also include healthcare, and other areas have overall higher expenses for senior care and/or normal living selections. Hiring someone for simple aid and attendance is cheaper than other care options.

Understanding What Skilled Nursing Care Is & Where to Find It
The term skilled nursing care should not be confused with health aide care. Typically, nursing care labeled skilled is performed by licensed professional nurses either registered nurses or licensed practical nurses. The costs for skilled nursing care will be higher.
Licensed nurses can administer medications, perform nursing assessments, complete wound care and dressing changes and monitor and administer high level medical treatments and equipment use.
Skilled nursing services are usually available at skilled nursing facilities, hospitals and through home care service agencies. These professionals oversee home health aides both certified and non-certified.
Some home health aides can give reminders about their client's medicine, but most are not able to administer them. Skilled nursing services are sometimes available in continuing care types of retirement communities, as many of these community settings have a tiered level care option that gives residents the level of care that they will need throughout their lives.

Pros & Cons of Continuing Care Retirement Communities
Continuing care retirement communities have become a popular option for seniors. There are both pros and cons of these care setting choices. There is usually a higher deposit fee required that could range from $20,000 to $400,000 and monthly maintenance fees from then on. This can be terrific for individuals that have the financial resources and for elder couples that need different levels of care.
This type of community could have private cottages or apartments, assisted living residences plus a skilled nursing floor if and when the residents need it. The overall costs of this type of care varies as many have widely different contracts for future care. A limited care contract might have lower deposit and/or monthly fees might work for healthy elders, but if the resident becomes sick needs higher care levels, the price could get expensive.

Do Veterans Benefits Pay for Elder Care?
Veterans qualify for many veterans benefits that can include healthcare and senior healthcare services. Most veterans that receive benefits are eligible to get healthcare in a number of hospitals, nursing care homes and retirement communities reserved for veterans and/or their families in some cases. Having this benefit can help to lower senior care costs, but the locations where this care is offered are often limited.

How to Determine if an Insurance Policy Covers Senior Care Costs
Elders that have a health or elder care insurance policy might qualify for financial assistance towards senior care. These policies vary widely, and seniors should speak with their insurance agent for details.

Common Financial Barriers to Getting Needed Elder Care Services
Even though a large majority of seniors have save money to fund their retirement years, the staggering high costs for healthcare today limit many seniors in what they can afford. Those elders that have limited financial means could have difficulty paying for their future healthcare needs.
Some common financial barriers individuals face when trying to get needed elder care services include:
Dwindling Bank Accounts

Limited Resources

Not Having Enough Health Insurance Coverage

Higher Medical Costs for Chronic Health Conditions

Lacking the Necessary Knowledge Regarding their Care Prospects

Live Away from Family & Support People

Diagnosed with Dementia or Alzheimer's

Bad or No Credit

Ways to Pay for Ongoing Senior Care
Despite the many challenges that come with aging, there are some practical ways to pay for the expected ongoing senior care that every elder and/or their concerned family members should investigate fully.
This could be as simple as getting some qualified assistance with their finances to reign in non-essential expenditures and manage their financial affairs better. Geriatric Care Managers can be a terrific resource to financially plan for future care needs.
These professionals can assess and create accurate future care plans to ensure that the client only pays for the care that they currently need.
Some recommended ways to pay for senior care include:
Use Saving & Retirement Funds

Cash in Life Insurance Policies

Sell or Get a Reverse Mortgage

Liquidate Assets for Cash

Use Health Insurance Benefits – Private, Medicare & Medicaid

Seek Community Senior Assistance Services

Move to a Lower Cost Retirement Community

Use Veterans Benefits

Consider Home Care Companions, Aides or Other Care Services
With the continued rise of elder healthcare costs, having this conversation regarding future elder care and costs is best done sooner than later to plan better for upcoming care expenses and living situations.
Visit https://www.inhomecare.com for information.