Many seniors or their loved ones are concerned about the rising cost of senior care.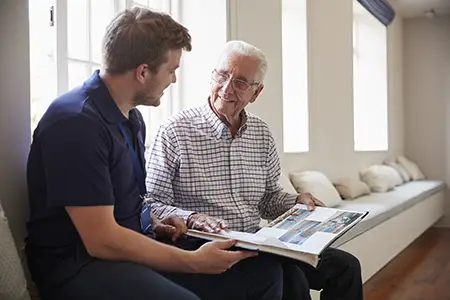 It can be confusing to research the various types of elder care services that are available and the differences in senior living options without some understanding of the common medical care terms used. There are a number of different types of senior care and cost comparisons that anyone nearing retirement age or their caregivers should review before making a final decision.
In this article, we will discuss those options, as well as the cost differences between them.

Ways to Discuss & Plan for the Cost of Senior Care
Adult children worried about the future care needs for their elderly parents often put off talking about this subject due to not wanting to upset their parent. Most adult children also do not want to appear too nosy about their parent's personal business.
There are several different elder care and senior living options that each family should discuss before this type of care is actually needed. One senior could only need someone able to provide minimum aid and attendance duties such as home companions could perform, and another could require regular home health aide services to assist them in normal activities of daily living or ADLs.

What to Expect & Average Costs for Health Aide Services
The normal duties of a health aide usually include assistance with eating, dressing, mobility, bathing and basic non-medical or non-skilled care services. Some home care agencies and private home health aides will also perform light housekeeping, cooking meals, laundry and transportation services.
Seniors can get health aide services in assisted living facilities, at home or through a community care service for seniors like adult elder day care or respite care services. The exact breakdown of duties and cost expectations will vary per geographical region, health condition of the elder, how much care each senior requires and other factors.

A Break-Down of Possible Senior Living Options
Seniors have a number of differing senior living possibilities to select from. These living choices range from at home care, in assisted living facilities, through a community service agency or in a skilled nursing home setting. Alternately, seniors can opt to move to one of many continuing care retirement communities.
The costs of these varying living choices for elders will vary. It is important to remember that the type, frequency and quality of care services could be different between care service entities, and consumers should get all of the facts including any future care and living costs for an accurate picture and a more informed decision.
Some geographical locations have lower cost-of-living expenses that can also include healthcare, and other areas have overall higher expenses for senior care and/or normal living selections. Hiring someone for simple aid and attendance is cheaper than other care options.

Understanding What Skilled Nursing Care Is & Where to Find It
The term skilled nursing care should not be confused with health aide care. Typically, nursing care labeled skilled is performed by licensed professional nurses either registered nurses or licensed practical nurses. The costs for skilled nursing care will be higher.
Licensed nurses can administer medications, perform nursing assessments, complete wound care and dressing changes and monitor and administer high level medical treatments and equipment use.
Skilled nursing services are usually available at skilled nursing facilities, hospitals and through home care service agencies. These professionals oversee home health aides both certified and non-certified.
Some home health aides can give reminders about their client's medicine, but most are not