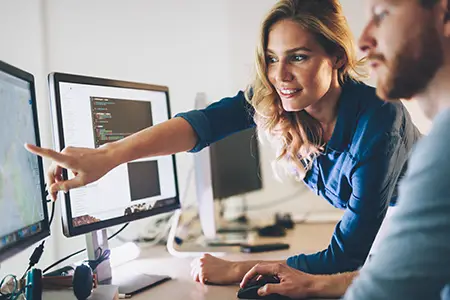 Want to know: What are the best software programs for In Home Care Agencies?
Home care and post acute care agencies require the most up-to-date and intuitive software to run efficiently and provide the best homecare.
This guide reviews many of the options you'll find as you search for the best software vendors to fit your needs for help at home paperless client and caregiver management.

Careficient AMS
As a web based software, Careficient AMS can be accessed on any device at any time. It offers charting, patient intake, scheduling, physician orders, as well as a full suite of hospice features including assessment and bereavement managing and care planning. The software can also be used for employee management. Careficient is easy to navigate and has a user-friendly scheduling and billing system. It's also highly customizable as the needs of your agency change or grow, and customer service is highly accessible. The setup process can be somewhat time-consuming, and there are a number of steps required to add supplies to the inventory module, but these challenges can be mitigated if you have a member of your team who is well-versed in cloud-based software.

Mediware
Mediware offers HomeCare 360 for home health care agencies. The software has updated tools for home health providers, including scheduling, patient records, inventory tracking, and document tracking. HomeCare 360 also automates reporting through its business intelligence partner and can keep track of medications in its integrated medication database.

Adacare
If you're looking for simple home health scheduling software, Adacare offers a suite of scheduling, billing, patient intake, and client management software. It can also handle caregiver management, payroll, and electronic visit verification to make patient and caregiver tracking simple. This is the best home care solution if you're looking for a low-cost software that still offers a range of features. If you need more advanced features like scheduling overlap protection or emailing client schedules, you may want to consider a more in-depth software.

Santrax
Santrax Agency Management is a help at home paperless software that automates scheduling, documentation, billing, payroll, and medical records. It offers a full suite of home health features, including field communication, electronic visit verification, and client and caregiver management. This software can also be accessed via a mobile device to make field work easier for caregivers. The scheduling feature is particularly straightforward and easy to use, and the software has frequent updates. There are few data sorting options and the reports can be difficult to customize, so this software is ideal for smaller organizations.

Rosemark
This is a feature-packed, highly customizable web based home care software. Rosemark is user-friendly and has customer support available twenty-four hours a day, seven days a week. The software has frequent updates and adds new features regularly, so it will grow with your agency. The more advanced scheduling module is particularly valuable and can suit any size agency with daily, weekly, biweekly, or monthly scheduling. The scheduling system will also match caregivers to clients based on availability and caregiver skills for more intuitive scheduling. As it is a more advanced system, some basic tasks like deleting a caregiver or client record require multiple steps, so at least a little training will most likely be required.

Premedex
Premedex is a flexible health software with all the home care features your agency will need: client and caregiver management, scheduling, insurance management, and field communication. Note that Premedex does not feature billing software or payroll management, so it's ideal for smaller agencies with less pressing billing needs.

Alora Home Health Software
This software is ideal for any mobile device; caregivers can access Alora on their smartphone, tablet, or laptop. It has an intuitive interface to make scheduling and charting simple. As a growing software, Alora still experiences occasional lag times, There are also some discrepancies between the web version and the mobile version, most notably in the accessibility of scanned documents. But customer service is readily available over the phone or online.

Brightree
Brightree is ideal for a variety of home health care agencies of any size. This software is two-pronged, with a cloud-based software platform and an iPad point of care app. What sets Brightree apart is that it has flexible software options for HME, home health, hospice, and pharmacy so you're getting the features you need for your specific agency or business needs. It can suit both in-home and in-hospice centers and has a neat, user-friendly design. This software is not compatible with Google Chrome, so it may require a switch to Internet Explorer. There is also a slight lag time when opening scanned documents, although this is only intermittent.

Non-Medical Private Pay System
This platform is designed as a client tracking and billing software for non-medical home care agencies. In addition to billing and invoicing, it can handle scheduling, charting, patient intake, and payroll, and the software is integrated with the Clear Care app for easy access. The reporting feature with this software can get a little confusing, and bi-weekly scheduling for co-caregivers must be entered manually, so this is ideal for smaller agencies without complex reporting or scheduling needs. Agencies can also take advantage of the Clear Care app for easy communication between caregivers and the agency.

ContinuLink
This cloud-based platform is ideal for both skilled and non-medical homecare programs. It has features for Medicare, Medicaid, Pediatrics, Hospice, and private duty nursing with easy reporting and scheduling. This software does not offer a mobile app, so it is more ideal for smaller organizations or agencies not requiring a lot of field reporting or documentation.

AlayaCare
AlayaCare is designed for medium to enterprise-level home health care agencies, and offers a cloud-based software platform as well as a mobile app. All care documents can be uploaded and accessed by the entire staff in user-friendly navigation tabs, and the software has learn-as-you-go tutorials. It does tend to lag at times, and data sorting can be rather challenging, but there is a dedicated customer support team available.

Non-Medical Homecare Scheduling
This is the best homecare scheduling solution for private duty agencies and is highly customizable for your unique needs. It has an intuitive and user-friendly interface that makes scheduling easy, and the dashboard can track any data you need it to with as much detail as you want. The software is integrated with a mobile app. This is a more advanced software platform, so it will most likely require some training time.

Igea HHC
Igea HHC is a full-featured software package that can easily handle unique or complex insurance and reporting. It's an intuitive, user-friendly platform that will simplify tasks with an easy layout and streamlined billing process. The software will also automatically forward information from a previous note into a new one to save time. Customer support is available via phone or chat. This is a more feature-heavy software, so it's ideal for larger agencies or those with more complex insurance or billing needs.

Carecenta Best Home Care System
This software offers a full suite of features for both medical and non-medical home health care agencies. It has a cloud-hosted platform as well as a mobile app and has home care and long term care features, including secure billing and referral management. This is a more advanced software, so it's ideal for larger agencies. It will require some training, and some of the real-time reports can be difficult to integrate.

WellSky Home Health
WellSky is a web-based software that can be configured for hospice, therapy, and private agencies of any size. It makes workflow simple by automatically forwarding notes so that if a new nurse works with a patient, that nurse will see information from the previous nurse. The electronic charts mirror the layout of paper charts, making the transition from paper to digital easier.

CareVoyant for Home Care
Designed for home health agencies, CareVoyant is a flexible point of care platform with scheduling for visit or hourly requirements and a customizable dashboard and report system. CareVoyant offers both a cloud-based system and an installed version; the cloud version is newer and slightly clunkier, but customer support is readily available.
Conclusion
The software vendors listed here all offer advanced, web based software for medical and non-medical home health care and post acute care agencies. Of course, the best home care software solution for your agency will depend upon the size of your organization, how complex your scheduling and billing needs are, and whether you're looking for additional features like a mobile app.