Between its hard and slippery surfaces and sharp corners, bathrooms can pose challenges to safety for any age. But as we get into our golden years, bathroom safety and home modifications for aging become more important. According to the U.S. Center for Disease and Control Prevention, most falls occur in the bathroom for those 65 years or older. Bathroom assistive devices empower seniors to continue to operate with autonomy and self-reliance while protecting themselves. Below is a list of the top types of bathroom assistive devices for seniors and top-rated economical brands.
The Top 3 Types of Bathroom Assistive Devices That Need Almost No Installation
1. Shower Seat
Shower chairs are a great way to help with stability. They are also a comfortable resting place while preventing falls. There are a variety of shower seats available, including ones that assist with getting in and out of the shower. Check out this one which gives you a 2-in-1 option.
Drive Medical Plastic Tub Transfer Bench
With 4.6 stars and over 15,000 reviews, this shower seat not only provides safety while in the shower but helps individuals get in and out without making any costly modifications to the bathtub. It includes extra-large, non-slip suction cups on the bottom for added security. Even if you don't need this now, it is a great 2-in-1 item to have if you ever do need a little extra help.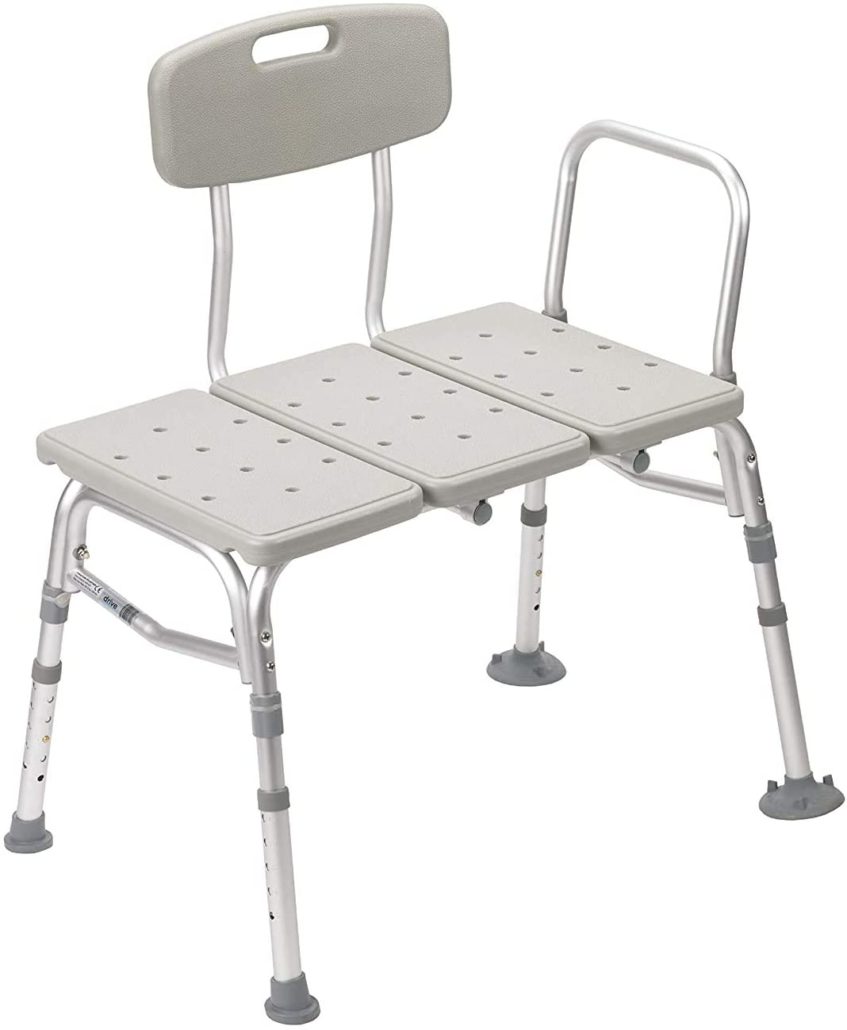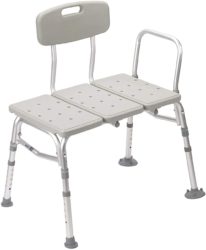 2. Shower Grab Bars
Grab bars are one of the most important bathroom assistive devices, and they are easy to install and can make all the difference if you slip or are off-balance. Grab bars are one of the most important bathroom assistive devices, and they are easy to install and can make all the difference if you slip or are off-balance. The most beneficial place to install grab bars is around your tub or shower and by the toilet. 
Here are two great options if you are considering a grab bar.
Changing Lifestyles Safe-er-Grip
This easy to install grab bar can be placed anywhere in the shower or bathroom. It requires no additional hardware, which is why so many love this product. With almost 7,000 reviews and 4.4 stars, it has consistent performance for adults of all ages. It is reported to support up to 285 lbs; however, it won't work on drywall or some tile. Even with these restrictions, it will be hard to beat this $11.00 price tag and easy installation.

Amazon Basics Bathroom Handicap
While this grab bar may not be as easy to install, it does support up to 500 lbs and is ADA compliant. It comes with an installation guide and mounting screws and has maintained a record 4.8 stars with over 4,000 reviews.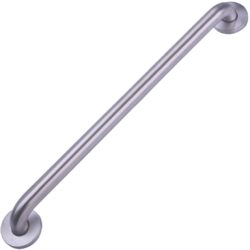 3. Slip-Resistant Mats
While nice to look at, marble and tile floors can also be very dangerous for people. No-slip flooring is a great way to go but also can require more work and expense. An easy fix is slip-resistant mats. They can be placed to cover just the bathtub or the whole bathroom. They come in a variety of colors and styles. Here are two great and affordable options:
Gorilla Grip Original Patented Bath, Shower Tub Mat
This Gorilla Grip shower mat has over 44,000 reviews and is still able to maintain its 4.5 stars. It has many color options, but I prefer the clear. It is best used for bathtubs only because it can't be guaranteed to work as well on uneven floors like tile. Another benefit is that you can easily throw it in the washing machine to keep it clean and sanitary.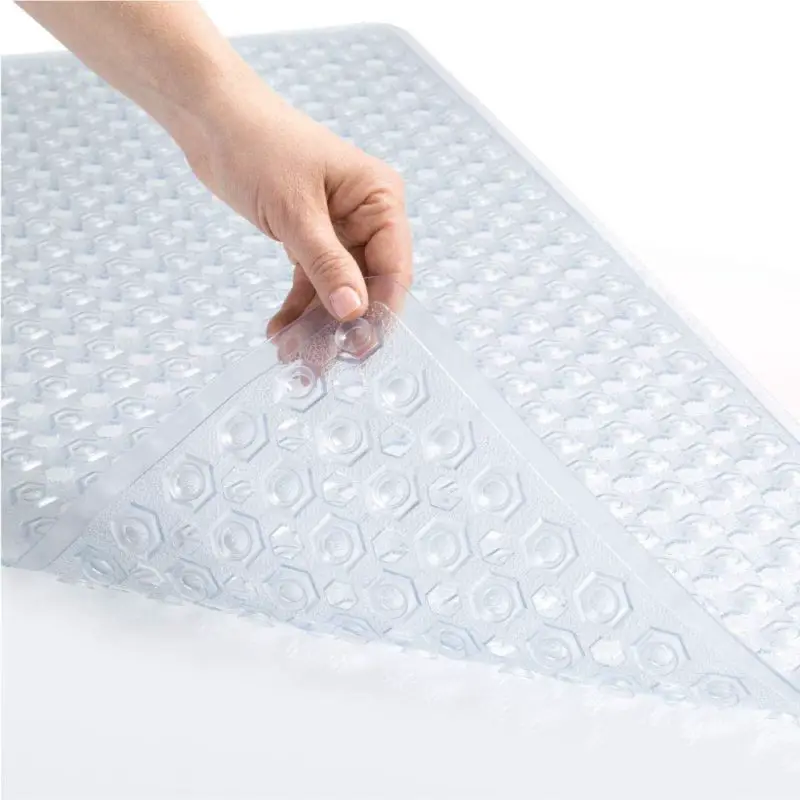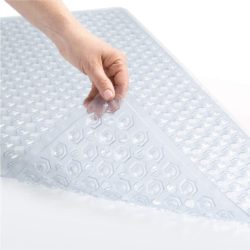 Gorilla Grip Original Luxury Chenille Bathroom Rug Mat
The Gorilla Grip bathroom rug is a good option for those with tile bathroom floors. Like the other Gorilla Grip products, it is known for its non-slip strength, and this one can be washed multiple times while maintaining its adhesive grip. Along with that, it has almost 31,000 reviews with 4.5 stars and comes in multiple sizes and colors.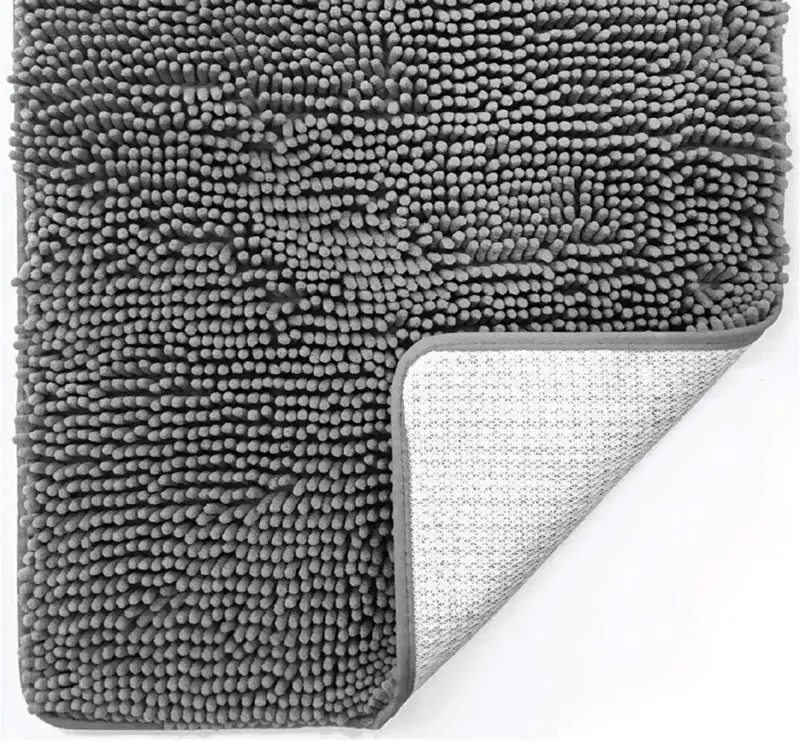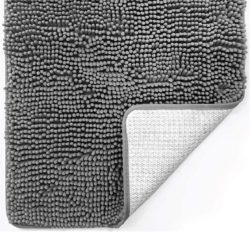 Bottom Line: Bathroom Assistive Devices Help Maintain Independence
Getting these bathroom assistive devices set up early is a great way to ensure your wellness. Like wearing your seatbelt in the car, these devices make it easy to protect yourself now and in the future – empowering you to age in place. As time goes on, make sure to update and add to your in-home assistive devices and plan for different levels of in-home care to continue to allow you to age in place.