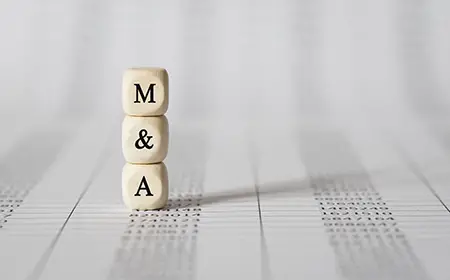 A growing number of hospice, home care and home health companies are involved in mergers and acquisitions as they position themselves to better take advantage of growing, lucrative healthcare market.
As millions of Baby Boomers and their parents age, there's a rising demand for comprehensive long-term health care for them. It's an excellent opportunity for companies with the resources to provide the care they need either in their homes or in hospice facilities.
Savvy health care companies are using mergers and acquisitions to capitalize on it.
Three Trends Driving Healthcare M&A
There are several reasons mergers and acquisitions in the healthcare industry makes sense. They include profitability and the ability to provide more comprehensive care to more people. However, there are three major trends driving large healthcare companies frenzied M&A activity. Those trends are the profitability of offering diversified services, the potential for growth by 'One-Stop Shops' and the focus on the value of providing quality care over serving a high volume of patients.
An Evolving Health Care Landscape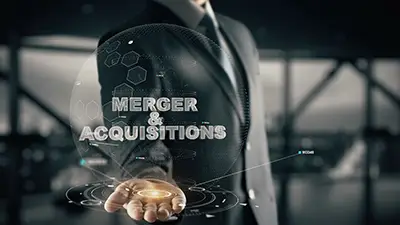 Health care for the aging is evolving in several different areas simultaneously. One group of patients needs a variety of health care services, but want them provided in their homes. Another segment of the aging patient population recognizes their health care needs will change and want one health care company to handle their changing needs. A third group of aging patients is focused on getting the highest quality care available. Attempting to satisfy all of these groups is leading to more M&A activity in the healthcare industry.

#1.

Serving Diverse Markets
With rising home health care profits, the rosy hospice industry outlook and a growing pool of elderly patients willing and able to pay for costly, high-quality care, health care companies are looking for the best way to capitalize on these diverse, lucrative, markets. With an eye on the broader regulatory environment, even the largest healthcare companies are trending their current transaction efforts towards diversity to insulate their businesses. They see this as the most effective way to prepare for change and growth.
Leveraging Diverse Revenue Streams
The ability to tap into diverse revenue streams enables healthcare companies to insulate themselves against market changes and volatility. To facilitate this, companies are seeking out partners with unique strengths and specialties to merge with or to acquire. Smaller companies that do quality work make the ideal targets for M&A. Joining forces enables both companies to grow, better serve more patients and enjoy a greater level of success.
Increased regulatory and data requirements which are difficult for small companies to meet, access to more resources and strong capital markets make consolidation attractive for many smaller companies. For larger health care companies looking to diversify the services they offer and take advantage of opportunities in the marketplace, M&A makes good business sense as well. M&A can make companies more well-rounded and attractive to investors and a growing number of aging patients.
Home Health Care Profits
One of the fastest growing and most lucrative segments of the healthcare industry is home health care. Today the health care market is characterized by:
An rapidly escalating number of elderly patients

A growing home health market size

Rising home care business profit

Increasing home health trends
This bodes well for health care companies with the vision, resources and experience to tap into the home health care market. To many companies, the home health market size growth and soaring home health care profits are trends that will continue for the foreseeable future. For them M&A activity that can help them benefit from the booming home health care market is a savvy move. The key is not to ignore the other elements of the lucrative healthcare market.

#2.

The 'One-Stop Shop'
Patients find getting all the treatments they need from a 'One-Stop Shop' healthcare facility to be attractive and beneficial. They prefer using the integrated brands and different subsidiaries of a single health care provider for all their medical needs. This has made many health care companies use M&A to acquire the facilities, staff and resources to meet the diverse needs of today's typical health care consumer and gain a share of this profitable market.
Preferred By Payers And Patients
Patients getting all their health care services through one company is preferred by patients and the insurance companies paying for those services. It streamlines the health care service delivery process. The 'One-Stop Shop' also makes it easier and more efficient for payors to cover the cost of those services. Insurance companies can pay for a variety of services outlined on one invoice to cover an array of medical treatments delivered at several inter-related facilities.
Adding Hospice Care
While many large healthcare companies have offered home health care, as well as personal care services for some time, adding a hospice care presence has now become one of their strategic goals. With the hospice industry outlook improving consistently and a variety of hospice trends growing in popularity and value, several major healthcare companies are using M&A to develop a solid foothold in providing hospice care. This allows them to transition patients from less expensive in-home care to more valuable hospice care for late life stage treatment and easily navigate economic and regulatory hurdles.
Being able to leverage future convenience opportunities from Medicare Advantage, an array of alternative payment models and ease of use for managed care organizations, has made more and more health care companies merge or acquire the assets necessary to become a 'one-stop shop'. Such bundling of programs are attractive to patients, payors and health care companies. So integration of hospice services is expected to make health care providers use M&A transactions to increase the value and profitability of their companies and convenience for health care patients and payers.

#3.

Value Over Volume
The latest driver of M&A activity in the healthcare industry is the shift from increasing the volume of patients to the value of each patient.
How to market home health continues to be important even as the health care market is characterized by:
The increasing cost of quality care

Home care business profit

Changing home health trends

Lucrative hospice trends
Even as health care companies continue contemplating how to market home health to attract new patients and make the current transaction more profitable, M&A activity over the past few years has continued to shift from the number of patients served to the value of the service delivered to each patient. The growth of value-based care is impacting the type of M&A activity taking place in the hospice, personal care and home health care industries. Companies are promoting the quality services they provide. Major payors are considering tying reimbursement to health care providers to the quality of their services.
Health Industry Executives Support It
Many health care executives embrace the idea of value-based reimbursement as a fine tuning of health care services nationwide. They encourage it and say patients will receive better care and companies that provide quality care should be rewarded. Quality care reduces costly hospital readmissions. Companies that deliver the highest quality health care services will become increasingly valuable M&A targets. Ultimately, it should mean aging patients will receive higher quality care if health care companies want to increase their profits.
Mergers & Acquisitions trends being driven by diversity of service, providing more comprehensive care and value-based treatment is changing the face of the medical care marketplace.