If you are a senior with limited mobility, you may feel that you have very few options when thinking about taking a vacation.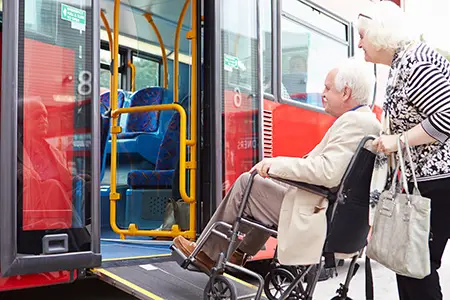 You may be concerned that the destination you choose won't be wheelchair accessible or easy to navigate using a cane or a walker. You are likely worried that your vacation will end in frustration from not being able to enjoy the destination and enjoy the experiences there due to the challenge of accessing them.
However, you should not feel that there are not many vacation options for you if you have limited mobility or one of the many major disabilities that seniors face today. There are numerous popular US destinations that are also accessible for those who have limited mobility. So, if you are looking for a country cabin, American group tours, a weekend gambling with friends, budget activities, or other activities for seniors citizens, the perfect, accessible, destination is waiting for you!
Travel Training Agency
Before we start discussing some of the popular US destinations that you might want to consider, a resource you should know about is a travel training agency. Travel training agencies are designed to help senior travelers and other travelers who may not be as familiar or comfortable using public transit.
A travel training agency can help you understand bus routes and schedules, learn how to get a transit pass for riding a bus, communicate with their bus driver, and safely access public transportation using a wheelchair, walker, cane, or other device. Once you feel more comfortable using public transportation, a vast array of local attractions in your home city become accessible to you.
Many cities offer activities for seniors citizens, so once you are comfortable using public transport, you can attend one of these events. Becoming more comfortable taking public transportation will also help when you are looking for budget activities since you won't have to spend as much money if you don't have to travel very far from your home.
American Group Tours
Different companies and travel agent groups often offer vacation packages and tours exclusively for senior citizens. You will likely be able to find a tour group visiting just about any US city or attraction you would like to see. Some of these tour groups will take a charter bus to the destination. Others, that are traveling farther, will require airplane transportation.
When you travel with a tour group for senior citizens through travel agent groups, you can feel more comfortable that your tour guides are familiar with major disabilities and will work to find and provide accommodations so that you will have a very positive travel experience.
Washington, D.C.
Washington D.C. is a great place to travel if you have limited mobility. The Metro (subway system) and buses are handicap accessible. The museums are also accessible and contain elevators and ramps. This will allow you to be able to check out all the neat exhibits at the Natural History, American History, Air and Space, and the other numerous museums found in the Capital City.
Philadelphia
Philadelphia is another option you can consider if you are looking for a good vacation destination for those with limited mobility. The center holding the iconic Liberty Bell is fully accessible by wheelchairs. Reading Terminal Market is a popular tourist attraction in Philadelphia. Inside the market you will find numerous vendors selling delicious foods and treats. The market is also accessible, so you won't need to worry about missing out on this incredible destination.
Colonial Williamsburg
You can also consider a trip to Colonial Williamsburg, which is located in Virginia. While in Colonial Williamsburg, you will step back in time. You can visit some of the shops, museums, and watch shows enacting what life what like in colonial times.
Niagara Falls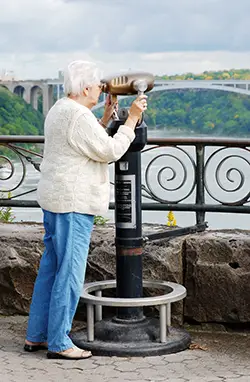 If you have never been to Niagara Falls, it should definitely make your short list of possible vacation destinations. And, if you have visited the falls before, you know they are worthy of a second trip! Most of the tour boats that take you out to see the falls are accessible, so you will be able to get the full experience!
Scottsdale
Scottsdale, Arizona is a nice choice if you are looking for a warm get-away! Scottsdale has warm temperatures all year-round. Scottsdale is a relatively quiet city, so you won't have to worry about the hustle and bustle associated with a busy city. There are numerous dining and shopping options, so you'll be sure to keep yourself busy if you want to!
Great Smoky Mountains
The Great Smoky Mountains, which run through parts of Tennessee and North Carolina, are another area you may want to consider for your next vacation. If you are looking for a quiet country cabin to spend a few nights in, you can find cabin rentals here that are handicap accessible. Additionally, many of the trails in the park are accessible.
San Diego
San Diego is well-known for its gorgeous weather, so it is often a popular vacation destination. Many parts of the city are handicap accessible, including paths along the waterfront, so you won't have to worry about missing anything exciting. While you're in San Diego, you can also head over to Sea World for a fun-filled day!
Las Vegas
Fabulous Las Vegas is also a great destination for seniors with limited mobility. The casinos are relatively easy to navigate using a wheelchair or other mobility device. Additionally, other museums and attractions in Las Vegas, such as the Neon Museum, Bellagio Fountain, and even the SlotZilla Zip Line, are wheelchair accessible.
National Parks
Many of our National Parks have wheelchair accessible paths and attractions. More and more National Parks are making modifications to meet ADA (Americans with Disabilities Act) requirements. Additionally, if you have a permanent disability, you can apply for an Access Pass which will provide you with free admission to all National Parks.
Some top National Parks that are accessible for seniors who have limited mobility include:
Statue of Liberty National Park

Denali National Park and Reserve

Congaree National Park

Yellowstone National Park

Rocky Mountain National Park
Travel Discounts For Senior Citizen
If you are a senior citizen, there are numerous discounts you may be eligible for which can help save you money when traveling. Various hotels, airlines, bus companies, and train companies offer discounts for senior citizens, so be sure to ask what discounts may be available for you before you book your trip. Many of these discounts are associated with AARP (American Association of Retired Persons) membership. If you have not joined AARP yet, you may want to consider it if you plan to travel. The membership fee is only $16 a year, which you can easily make back in savings over a trip or two.
When you have limited mobility, it is easy to feel as if there are no good options for vacation. Hopefully, this article has shown you that the opposite of that is true! You have many fun, exiting, and memorable vacation moments that are waiting for you! Take the first step today and start planning your next vacation!