Depending on where you live, finding affordable senior transportation options can be challenging.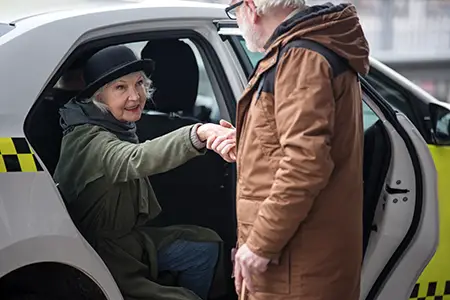 Different states, counties and cities offer different levels of senior transport and you may find it easy to get a ride to the senior center, but struggle to get to the grocery store. On the other hand, there may be transportation readily available to concerts, but getting to the gym could seem impossible.
In this article, we will discuss the top 7 affordable senior transportation options.

Access To Daily Needs With Ride Services
If your loved one can no longer drive, there are a variety of options to get to and from activities such as a trip to the grocery store. Rideshare apps are always an option, but require a smartphone and app knowledge to set up. Not all seniors are able to use a smartphone.
Senior citizens can often find easy access to discounted ride services such as Rideshares focused on seniors, which turn on demand personal transportation services such as Lyft into senior transport. It should be noted that these options are best for seniors who can get easily in and out of cars on their own.
This program is especially senior-friendly in multiple ways. It maintains your address and tracks your current location so it can pick you up from where it left you. In addition, instead of an app, you need only call a phone number and press a series of buttons to direct a car to your pickup location. The cost for this program is by the mile.

Public Transport When You Need Special Help
If you or your loved one require special assistance or a service animal, it's important to note that, per the ADA, public transit systems must allow spaces and support for aides such as wheelchairs. Where public transportation is available, para-transit services must also be made available.
Unfortunately, these rides are not as spontaneous as a simple hop on the bus. These rides often need to be scheduled in advance and your loved one may need help in understanding the logistics of access to this specialized transportation. However, once a routine is established, many elderly and persons with disabilities find these services invaluable.

Hire A Caregiver To Get Out Of The House
There are many residential caregiving agencies that can help you with transportation assistance. As an in-home caregiver can be hired to help with light housework and cooking to make it possible to age in place, these aides may also provide transport for outings.
If you're working with an in-home caregiver, make sure to give them some advance notice that an outing is in the senior's plans. Whenever possible, schedule this on a weekly basis. Check with the caregiving agency to see what cost you need to cover, such as gas money.

Check Out Community Transportation
Large community events such as concerts or some theatrical groups may offer transportation subscriptions, though your loved one may need to get to a gathering spot to take a community bus or van. In addition, some volunteer agencies (or groups affiliated with churches) may offer free transport to some events.
Depending on the event, public transportation service may be discounted at this time. If your loved one was accustomed to doing their own driving, a fun event could be a great time to get out and try the local bus service.