Every care agency is different and offers different types of care.

Visiting Angels Home Care Review
"The care you need in the place you want. Discover the difference Visiting Angels will make in the life of your loved one."
Company Details
Summary
Visiting Angels Home Care is a national, private duty network of home care agencies aimed towards providing service to seniors in the comfort of their own home.
Name:
Visiting Angels Home Care
Website: visitingangels.com
Address: Headquarters Location –

184 500 S, Bountiful, UT 84010
Phone #:
(801) 820-5874
Customer Ratings
Level of Skilled Services Available – 9.9/10
Care Agency Customer Service – 9/10
90
Quality of Services – 9/10
90
Care Intended For:
Visiting Angels offer a wide variety of care services, from Companion Care to Life Care and Skilled Nursing, aimed at the elderly population.
About Visiting Angels Home Care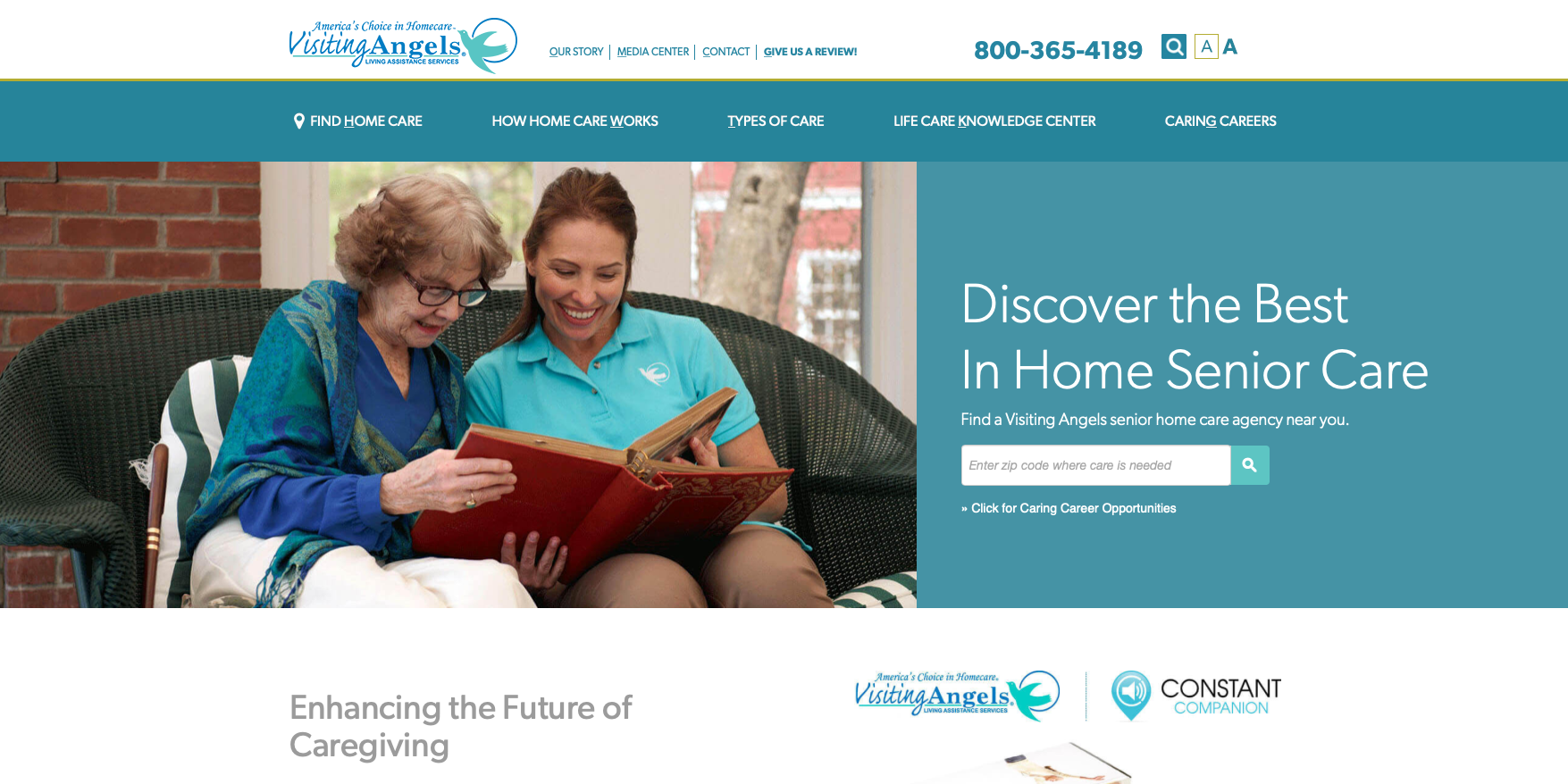 Visiting Angels have been providing quality elder care services to families across the United States since 1998. Their commitment to all their clients states: We'll help your loved one continue to live at home, and we'll help you find peace of mind. Visiting Angels has a deep understanding of the fact that senior's want to age in place, and their family members want to know their loved ones are receiving top quality home care services. Their expertise in the elder care industry means they are equipped to provide any level of care to their clients, from temporary to long-term care.
In-Home Care
Bathing Assistance

Dressing Assistance

Walking Assistance

Meal Preparation & Diet Monitoring

Light Housekeeping

Errands

Grocery Shopping

Medication Reminders

Joyful Companionship

Respite Care for Family Caregivers

24-Hour Care Available

Temporary or Long-Term Care

Weekends and Holidays Care Available
Companion Care
Meal Companionship

Errands and Shopping Companionship

Social Outings Companionship
Personal Care
Dressing

Grooming

Hygiene

Bathing

Toileting

Mobility

Transfer Care

Medication Reminders

Meal Planning & Preparation

Light Housekeeping

Shopping

Errands

Monitoring

Companionship
Life Care & Skilled Nursing Care
Alzheimer's Care

Companion Care

Dementia Care

End of Life Care

Palliative Care

Personal Care

Ready-Set-Go Home Care (Avoid Hospital Readmissions)

Safe & Steady Fall Prevention Program

Social Care Program
No matter where you're located, we are here to assist you.
We simplify the process of finding affordable, quality non-medical caregiver agencies anywhere and provide reliable information about in-home care services and helpful resources for elderly seniors wanting to live at home but needing assistance to do so safely.
What is Home Care?
Home care is a service that provides support to individuals with medical conditions or following surgery. Home care can include companionship or personal care. It can also include assistance with transportation or respite care for family. These types of services allow individuals to enjoy their independence and freedom, by keeping them in the comfort of their own home for longer.
Visiting Angels have made a commitment to seniors, promising to provide them with affordable in-home care by qualified caregivers. By focusing on a multi-modal approach with social, medical, educational, and supportive services, Visiting Angels can help seniors thrive where they are most comfortable.
Whether you or your loved one need assistance with getting to and from medical appointments or maintaining daily household errands, Visiting Angels can help. The caregivers at Visiting Angels can provide you with the non-medical senior home care that is needed to maintain your health and well-being, while in the comfort of your own home.
With in-home care services, you don't need a prescription. That is because you can't write a prescription for quality care, friendship, compassion, or fun. The caregivers at Visiting Angels are here to not only assist with your loved one's daily care, but also to make their entire day better.
Visiting Angels have been providing family's with peace of mind since 1998. With over 20 years of in-home care experience, you can rest easy knowing that your loved one is well cared for. Visiting Angels takes at-home care to the next level. With tools like Constant Companion on Amazon's Alexa and the ability to reach a live representative within 15 minutes or less, Visiting Angel's prioritizes the care of your loved one.
Visiting Angels have helped thousands of seniors comfortably age in place with over 600 non-medical locations throughout the country.
Customized Services at Visiting Angels
Visiting Angels makes it a goal to customize each in-home care program to best meet the needs of the patient and their family. With specialized Alzheimer's disease and dementia care programs, Visiting Angels offers elderly care for individuals with all different needs. Visiting Angels also understands that scheduling needs differ among families. They offer hourly and overnight care. Even if your loved one requires 24-hour around-the-clock care, Visiting Angels will create a schedule that works for you.
Each service at Visiting Angels begins with a free in-home assessment. That means a qualified Visiting Angels representative will get to know your loved one and your family. Then, they will match your families' individual needs to a qualified caregiver. During your visit, you can expect to discuss specific needs, daily schedules, logistics of in-home visits, and homemaking needs. This initial assessment is also a great time to learn more about Visiting Angels and what to expect from in-home senior care.
We also understand that taking care of a loved one can be overwhelming on the family. Many family members want to be a part of their loved one's caregiving. We offer rotating schedules and our caregivers will work around you and your families' needs. Visiting Angels also knows how difficult it can be to care for a loved one from a distance. With tools like video chat and health monitors, they offer the tools needed to provide you with long-distance peace of mind.
Learn more about the customized services available at Visiting Angels by speaking with a senior care advisor. Your advisor will answer all in-home care questions you have and set up your free in-home assessment as soon as possible.
It is important to consider how you and your family will cover the costs of home care. Depending on your loved one's needs and insurance coverage, there might be a government program or insurance options available to help with the costs.
Medicare and In-Home Services at Visiting Angels
Medicare assistance is limited to in-home health care that is medically needed and approved by a doctor. Medicare Part A can sometimes cover home health care services, as long as the services come from an agency approved by Medicare. Medicare will also cover the cost of medical equipment for some patients. However, eligibility requirements vary.
Private Insurance and In-Home Care Services at Visiting Angels
Individuals with long-term care insurance might have in-home care benefits available. The type of in-home care and frequency of care will depend on your insurance provider. You will want to check with your individual provider for more information.
Medicaid and In-Home Care Services at Visiting Angels
Medicaid, a federal and state program, is available to low-income individuals. Unlike Medicare, Medicaid does cover long term care services.
Medicaid eligibility varies, depending on your state. But requirements often include:
Individual must be over the age of 65, or under 65 with permanent disability

Individual must be considered low-income

Must be a U.S. citizen

Must be a resident of the state in which they are applying
In most cases, seniors who are already receiving Social Security Income (SSI) will be eligible for Medicaid benefits. Some Medicaid programs will even offer you reimbursement for caring for a family member. The Family Caregiver Support Program (FCSP) is a federally and state-funded program that aims to keep older adults at home for longer. You can learn more about the FCSP program by visiting your local Area on Aging department.
Veteran's Insurance and In-Home Care Services at Visiting Angels
Eligible veterans and spouses might also be eligible for long-term home care services, including palliative or hospice care. Requirements often include:
Individual must be eligible for a Veteran's Affair pension

Individual must require home services

Veteran must have served a minimum of 90 days

A minimum of one day served must have been during wartime

Veteran or spouse must have assets less than $80,000
You can learn more about your veteran's benefits at your local VA department.
Dependent Care Flex Spending Account (FSA) and Home Care Services at Visiting Angels
If you or your loved one has a flex care spending account (FSA), then you might be able to use the funds for home care services. The requirements vary, based on your location and program. You can check with your financial advisor or tax advisor to find out if you are eligible for FSA care assistance benefits.
There may be other creative ways to cover the costs of in-home care services including local benefits or reverse mortgage. A representative from Visiting Angels will help you determine your options.
Choosing the Right Home Care Agency
Choosing the right home care agency requires careful research and consideration. In addition to evaluating the individual needs of your loved one, it is also important to consider the procedures and qualifications of the home care agency. The goal of in-home care services is to provide your loved one with safe and accommodating care. You can learn a lot about senior care agencies by evaluating reviews.
It can also be helpful to speak directly with any agencies that you are considering. Choose an agency that is willing to answer your questions and walk you through the process. Request information from agencies that you are interested in regarding pricing, scheduling, hiring practices, and emergency protocols. Choosing the right home care agency is an important decision and the right agency will provide you with all the resources you need to make your decision.
No two individuals are the same. Visiting Angels understands the diverse needs of each one of its clients and offers care that is completely customized and focuses on the health and safety of its clients. Visiting Angels is committed to their clients and their families. The organization works around your schedule and your needs, making Visiting Angels a leader in the private duty home care industry.
Visiting Angels also offers specialized care for individuals with unique needs. Caregivers are available with different types of certifications including from the National Association for Home Care and Hospice and even Certified Hospice and Palliative Nursing Care Assistant. Whatever your loved one's needs are, chances are, Visiting Angels can offer you a solution that helps.
How Much Does Visiting Angels Home Care Cost?
While in-home care services can be an affordable option for seniors, it is necessary to evaluate the cost ahead of time. When compared to nursing home and assistive living facilities, in-home care tends to be a more affordable choice. On average, you can expect to pay between $15- $40/ per hour or $120- $200/ per day for home-based respite care. This is in comparison to facility-based respite care, or adult daycare services, which can cost, on average, between $100- $250 each day. The price of assisted living or a nursing home can be as much as double that each day. 
Non-medical homecare services can be an affordable alternative for seniors who require minimal assistance versus 24/7 care in a nursing home environment. The cost of caregiving services at Visiting Angels depends on the type of services needed and your location. Visiting Angels understands the difficulties of choosing an in-home care provider and aims to make it affordable for everyone. Working closely with families, you are able to choose a schedule that fits within your budget.
Reviews
Choosing a credible home care agency for your loved one can feel like a monumental task – because of how serious you take your loved one's care and overall quality of life. You want peace of mind knowing you can trust the agency you choose to treat your beloved family member with kindness and respect. 
That's why we always stress the importance of doing your research and reading reviews of the experience others have had with the agencies you're considering. You'll be surprised with what you're able to learn about a company by investigating what others have to say about it, and how much of an impact doing so can have on your final decision. 
Visiting Angels organization, as a whole, take home care very seriously, and encourage all those who have received services from them to leave a review so that they can be assured their caregivers are providing the best possible senior care to each and every client. They go above and beyond to ensure all of their senior home care agency locations are bonded and insured, and all caregivers are required to have the appropriate state license that permits "hands-on" care. Agencies that put a strong emphasis on the safety and protection of all their clients, understand the important role of elder care and reflect a higher level of professionalism.
"Thank you for the loving care provided by your Visiting Angels organization. It allowed us to keep mom home with us till the end."
"Visiting Angels provided assistance when I didn't know where to turn."
"This agency was such a comfort to me and my grandmother before her death. Your caregivers are a godsend!"
"The kindness and good help the staff at Visiting Angels gave me was such a blessing. I'll be forever grateful for all they've done to make the last few years with my dad a little easier on me and my siblings."
"What a lovely agency. It's been a real pleasure to meet and get to know the staff, as well as having my family become a part of the Visiting Angels community."
No matter where you're located, we are here to assist you.
We simplify the process of finding affordable, quality non-medical caregiver agencies anywhere and provide reliable information about in-home care services and helpful resources for elderly seniors wanting to live at home but needing assistance to do so safely.
How much does Visiting Angels pay their caregivers?
The caregivers at Visiting Angels earn an average of $11.44 per hour, but hourly rates can range between $7.25- $19.05 per hour, depending on location and the caregiver's level of experience. The caregivers at Visiting Angels are the backbone of the organization and can enjoy ongoing training and a flexible work schedule. Each caregiver at Visiting Angels is bonded, licensed, and insured, making them a valuable part of the organization. Visiting Angels has also won Best Place to Work for the 2016-2017 year, awarded by myCNAjobs and Healthcare Research.
What types of careers does Visiting Angels offer?
Visiting Angels offers individuals a career opportunity that is rewarding and meaningful with multiple employment options available. Interested caregivers of all experience levels will have the opportunity to make a difference in their community while helping families in need.
Individuals with managerial skills might be interested in a care manager or operations manager position. Organized individuals and office staff are also needed to match caregivers with families and to create a schedule that meets the care and budgetary needs of each patient.
If you have a passion for helping seniors and are able to demonstrate a caring and compassionate demeanor, then Visiting Angels is likely a good fit for you. The company takes great care to match caregivers to families, ensuring that both the patient and the caregiver are 100% satisfied with their choice.
How to apply to Visiting Angels?
Visiting Angels is always looking for qualified, caring