If you've had the personal experience of witnessing your mother or father spend their life saving on care in their old age, you understand the purpose of investing in Long Term Care (LTC) insurance.
Long term care insurance policies were made to put you in control, by helping to protect your assets and to ensure that you receive quality care in the setting you want, when you need it most.
Due to the fact that 55% of adults end up needing assistance with their activities of daily living (ADLs) later in life, the decision to obtain Long-Term Care (LTC) insurance makes logical sense. In addition, today's social and economic changes have made it much more difficult for family and close friends to solely carry this burden alone. Instead, share the responsibility with in-home care agencies or care facilities.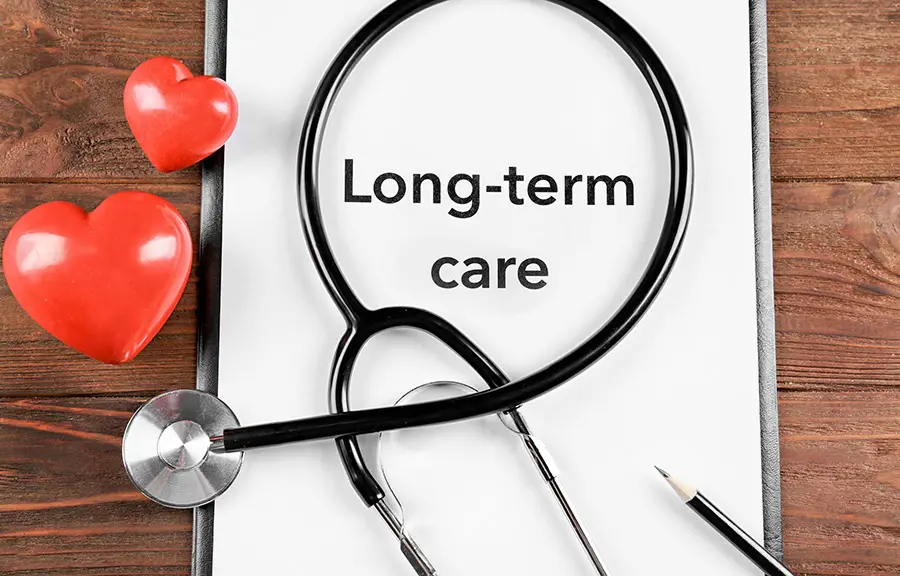 Reasons Why People Buy LTC Insurance
It provides access to quality care

– The ability to select a quality facility, within the location of your own choosing.

Less Burden

– Do not want to be an emotional or financial burden to others.

Protection of personal assets

– Preservation of personal assets for inheritance to children, for a healthy spouse or donation to the charity of your choice.

Reluctance to welfare (Medicaid)

– Do not want to be fully dependent on the government for care.

Maintain control & independence

– Desire to maintain personal control in the choices you make.

Peace of mind

– Knowledge that you will be protected and taken care of, instead of worrying about what could happen.
How Much Does LTC Insurance Cost?
Every State has unique requirements, and each person's situation is different. Therefore, the only way to know exactly what your individual options and premium costs are, is to get a quote from an advisor.
That said, premiums are determined based on your age, and two main benefit factors:
Benefit amount and
Benefit term.
As with other health insurance plans, you may have to pay a higher premium if you have certain health problems. Generally speaking, LTC benefits range from $50 to $400 per day ($1,500 – $12,500/month) and benefit terms from 2 to 6 years. Some companies out there offer unlimited or lifetime benefits.
Should you choose to purchase a lifetime or unlimited policy, you will receive benefits for life. However, most people do not need to insure for an unlimited period of time. Unless you have a history of Alzheimer's disease in your family, or other health issues that require a long period of care. If you buy a plan with anything less than unlimited/lifetime benefits, you will have a certain amount of insurance money available for benefits when you need it.
How To Determine My General Cost For LTC Insurance?
For example, the annual premium for an average 50-year-old male with a benefit term of 3 years and about a $5,000/monthly benefit, is about $2,400. As such, a $6,000/monthly benefit premium would be about $2,880. This $2,400 annual premium will provide you with an insured "pot of money" of approximately $180,000 (36 months X $5,000).
While you are under the age of 65, you would want a compound benefit increase, which would double to $360,761 (or $10,000 per month) in 14.5 years. Long-term care insurance is considered an investment, due to the fact that it is almost certain you will need long term care in your old age.
What Does LTC Insurance Cover? How Does LTC Insurance Work?
Generally, LTC insurance policies cover you in the event that you need the services of an assisted living facility, skilled nursing home, home healthcare agency or non-medical in-home care agency.
There are around a dozen national insurance companies offering LTC, with a variety of policy types available. Currently, LTC carriers pay for about 20% of all the in-home care services provided in the country.
LTC insurance companies usually pay a fixed benefit per day, and have a maximum annual and lifetime benefit limit they will pay for in-home care (given certain necessary requirements are met). There are some long term care insurance plans that have a waiting period (deductible) that must be reached before you can claim any benefits for home care. Typically, the time when you'll need the most assistance is at the beginning. This recovery time can be even more difficult for single persons.
If you choose a policy with a home care deductible, make sure you are prepared to cover the waiting period by ei