A beloved grandparent is a valued family member, thus, finding the right assisted living community for them is of the utmost importance.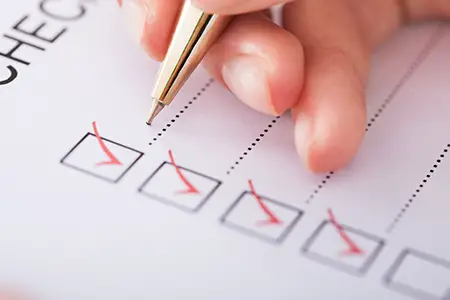 As someone ages, they may develop one or more health conditions that require help from a caregiver or an in-home care provider. Over time, aging relatives may need even more senior care assistance. In which case, their loved ones should think about making the transition from an in-home care provider to an assisted living facility. Assisted living communities have many advantages. They provide senior care in a congenial setting. Assisted living communities also offer many amenities such as meals, fun activities, access to medical care and a community of like minded people devoted to offering the highest possible standards in senior living. A caregiver, or loved one, who is looking for an assisted living facility should keep in mind certain factors.
A checklist for assisted living can help narrow down potential choices and find the right space for the person they love.
First Impressions
Any search for a community devoted to senior living should begin with an on site visit. An onsite visit is a crucial way to see the facility and all it offers. A checklist for senior living should begin with the first impression made. The facility should exude a sense of being well kept. Note the parking lot. It should look well kept with lines clearly marked and signs indicating the entrance visible. There should also be a handicapped area where people can be brought inside safely. Look for pleasing landscaping as well with well tended bushes and flowering plants that create curb appeal.
The Lobby
Once inside, a checklist for senior living should include the immediate lobby and reception area. This area should be well lit with an inviting feel and lots of seating. Visitors should be noted immediately and greeted accordingly. Take a close look at the decor. Think about if the area looks in good condition. Look for possible stains on the carpeting and the walls. If neither are present, this is one indication the facility has the senior caregiver and pays close attention to keeping all areas of the property in good shape.
Taking a Tour
Many facilities offer tours to interested visitors. During a tour, have a careful look at the entire area. The floor plan should be easy to follow. If the facility has more than one level, look at the elevators. See how fast they arrive. Look at the condition of the floors and the doors of the elevators. Wide elevators make it easy to transport residents from one area to the next. Any stairs should have handrails so people don't trip. The exits should also be marked and easy to locate. All hallways should also be wide enough to let in wheelchairs and make it easy for residents to turn around quickly. In addition, there should be lots of light that makes it easy for people to see where they're doing. A good mix of natural and artificial lighting creates a homelike atmosphere that can help residents fight off depression.
Individual Rooms
Tours frequently include a look at individual rooms. Many facilities offer a choice of private rooms or a room that can be shared. Bring out a checklist for assisted living and have a close look at each area of the room. Sit on the bed. See if it offers proper support. Look at the bedding. It should be clean and warm. Take a look at the other furnishings in the room. Are they in good shape? Sit in a chair. It should feel comfortable. It should also be easy to get in and out of. Look out the room's windows. See how clean they are and if there's an attractive view outside. Take a look at the flooring and the decor. It should feel inviting and full of personality. Most assisted facilities have suites with bathrooms. The bathroom should have wide doors and handles that are easy to open. Universal design is a good indication that the room is easy on seniors and lets them get in and out quickly. The room should also have at least some storage space. Look for storage space that is private but also easily accessible. Find out if the doors can be locked and if residents can bring their own furnishings with them. Ask if the facility has designed smoking areas or is totally smoke free.
Staff Members
Staffers are the very heart of any care facility. Speak closely with staffers. Note how they dress. If a uniform is required, it should be clean and neat. Ask staffers what kind of training they have. Find it what medical personnel are on staff. Many facilities have a nurse on call at all hours. Some may have a staff doctor. Ask how medications are administered. Are they given out under supervision or is self medication available? Find out what kind of additional medical services are offered. If the loved one needs special care such as physical therapy, is that available on site or on facility nearby? Ask if the living facility provides transportation to places like doctor's offices or the resident needs to arrange that on their own. All of these policies should be clearly stated in advance. Ask if it's possible to get them in writing.
Dining and Recreation
Meals and socialization are an important part of enjoying life. Have a look at the dining area. Ask to see a weekly menu and see if special dietary requirements such as gluten free meals are provided. Staffers should be able to tell the visitor how often meals are served and when. They should able be able to answer questions about specifics such as snacks and if residents can make their meals and eat them in their rooms. The dining room should be well lit and inviting. The floors and walls should be clean. Look for evidence of social activities going on. Ask if residents are taken to places like a nearby beach or park. Ask about any volunteer programs and how often the resident can have visitors. If the senior has an adored pet, find it they can bring it with them and who will help the resident care for their pet. Other questions are also important. Ask about a secure space for residents with conditions like Alzheimer's as well as training on signs of elder abuse. Find out if the residence accepts Medicaid and how all billing is handed.
Conclusion
This checklist should serve as the basis for a useful investigation. Great questions can help anyone find the ideal facility for their loved one.