It's inevitable: As we age, assistive devices and in-home medical equipment may be required in order to continue our activities of daily living (ADLs).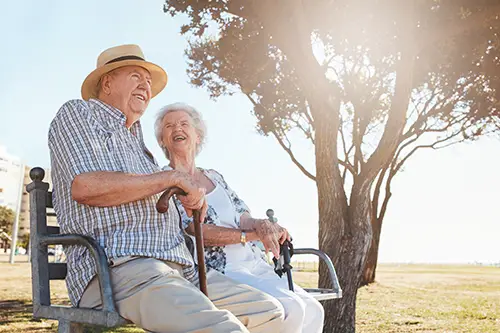 Although some of these tools will be recommended by a doctor, there are several assistive devices you can invest in if you see that range of motion, stability, mobility, or overall health begin to decline. With correct use, these aids can make you or your loved one's life much easier, healthier and stress-free.
There are a handful of these products that can be paid for through Medicare services, subject to conditions and the level of coverage you have.
In this article, we will discuss a few of the best in-home assistive devices and equipment for seniors.
ADL Assistance (Activities of Daily Living)
ADLs, short for Activities of Daily Living, tend to become more challenging as the aging process progresses. However, there are several aids that can help make ADLs much easier.
It is important to consider that, in order to make ADLs easier, seniors may want to invest in new clothing – such as velcro or no-tie shoes, pants that feature an elastic waistband, and shirts that do not require buttoning.
Some additional ADL assistive aids include:
A grabbing stick for hard-to-reach items around the house

Elastic shoelaces

Easy to grip silverware

A shoe horn

Easy to grip cups and beverage containers
Mobility Assistance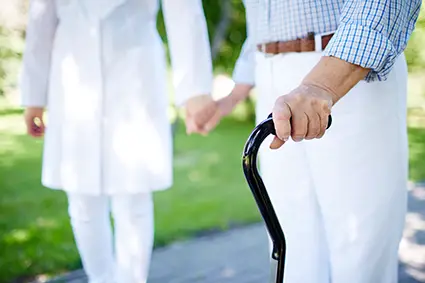 Mobility aids provide additional safety for all senior citizens, regardless of whether or not they can still walk. This is especially true for days when seniors plan on being on their feet for a long period of time.
Mobility aids include:
Walkers

Wheelchairs (manual or powered)

Canes or walking sticks

Hoyer lift

Transfer aids – such as a transfer board, gait belts, and chair or bed lifts
Health Assistance
Many seniors aim to stay at home, even when struggling with health conditions. These seniors may need to invest in some assistive devices to help them manage their daily lives.
Needed health devices will vary from person to person, it is important to consult with your doctor regarding your concerns and ask for health aid advice.
That said, here are a few of the most common aids for seniors:
BP monitor

Portable oxygen tank / Stationary oxygen tank

Nebulizer

Glucometer

Catheter kit/supplies

Continence supplies
Bathroom Assistance
Fact: The bathroom turns into one of the most dangerous rooms in the home as a person ages.
This is due to the fact that strong and sound stability is required to get up and down from the toilet, and in and out of the bathtub.
Seniors who struggle with stability in the bathroom should consider investing in:
A stable shower bench

Raised toilet seats and covers

Non-slip bath mats

Grabbing bars

Possibly converting to a walk-in bath or shower
Exercise Assistance
Seniors who exercise regularly tend to live longer than those who do not. However, as we age, our mobility decreases and exercise may become more and more difficult to participate in. The good news is that there are so many exercise aids made specifically for seniors. These devices allow seniors to work-out while laying, sitting, or standing up. Regular exercise helps to maintain flexibility, range of motion, and overall good physical fitness.
Some great exercise aids for seniors include:
Handheld exercise balls or weights

Stationary floor pedals

Exercise bands of various sizes

Free weights for both arms and legs
Conclusion
All of the assistive devices mentioned above can improve both the health and independence of senior citizens who would like to remain at home. All tools and devices can be used long-term, or short-term (while recovering from an injury or illness). If you or a loved one is in need of assistance for daily living, or help with rehabilitation from a recent injury or procedure, finding the proper assistive devices will take away the stress of completing daily tasks.