The struggle to balance home life, a job, and marriage, can be overwhelming sometimes.
Now, add in the role of being a primary caregiver to an aging parent or spouse, and the stress doubles. Indeed, trying to maintain everything and retain your sanity can be almost impossible.
What you need is a long, relaxing vacation – but that is just a dream in your complicated life – or is it?
Caregiver Realities
People who assume or are assigned the role of overseeing the health and well-being of an elderly loved one often overlook their own health.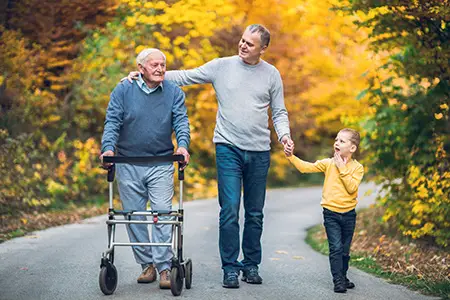 The time and focus of caring for someone with dementia, older adults health issues, or even mobility problems, can result in a caregiver ignoring stress, problems in their own life, marital divisions, and more. The results can be disastrous – anything from having a heart-attack or other stress-induced physical problem, to losing a job, or even losing a marriage. All to often, caregiver responsibilities are piled on one person. The person will crack under the strain – physically, emotionally, or both. Caregiver stress can wreck a person's life.
Before you become this person, take the caregiver stress test. This test will help you determine if your stress level is dangerously high. Burnout, physical exhaustion, and feelings of helplessness can all be directly linked to high stress levels. How can you effectively care for your loved one if you are completely drained? The answer is – you can't. Now is the time to plan a vacation. Think of it as a time of recharging and refreshing – filling up the tank so you can care for your parent or spouse the way you really want to.
Vacation Reality
For most people, the thought of delegating the activities of daily living to a stranger are ludicrous. How could paid caregivers possibly give the level of personal care and devotion that you give?
In home respite care providers could never get Mom's hair to look just the way she likes it. They will not know that your husband loves his favorite slippers. Nobody cooks banana bread the way your Dad likes it, from your mother's secret recipe that she handed down to you.
All of this is true. However, professional caregivers are trained to read your instructions carefully. They look for tips- like banana bread recipes and favorite slippers- to make the experience as close as possible to your own care. Helpful vacation planning services can help you plan a wonderful vacation getaway while coordinating with in-home care services to ensure everything is as 'normal' as possible for your loved one.
Since the guilt and concern can be effectively dealt with, you are left with nothing but time to relax, spend time with family, or reconnect with your spouse. You can take the time to read a book, eat a fantastic meal, or even take a cruise. Pamper yourself. You deserve this. This time away is called 'caregiver self care'. It is crucial to your mental health if you are to continue being the main caregiver. Your health and wellbeing must be addressed to allow you to stay strong and capable for your loved one.
Love Your Caregiver
Since you have been assigned the role of main caregiver, you need to make sure you are at your best. Sometimes people are so busy making meals, bathing, and assisting their parent or spouse, that they completely neglect themselves. Maybe you are that person. You are not a babysitter for elderly people – you love taking care of the person.
However, you must realize that self-care is equally important. Somehow, you must balance your career, your home life, your marriage, and the care of your loved one. Think of it like this – with a vacation, you are loving yourself as much as you love your parent or spouse. The family caregiver stress has to be vanquished so that you can be your best for them.
Short vacations, or even a long one, can help you maintain the proper balance. A weekend away with your husband can refresh you. Maybe you just need a couple of days to run errands or finish up a project for work. It could be a life event that needs attention – for instance, your daughter is getting married. You need a week off. This is where balance comes in. Non-medical home care companies can send in qualified people to fill-in for you while you are away. These people realize that routine is important for those suffering from dementia. They know how to assure the care recipient that everything is okay. These highly trained professionals are background checked, certified in CPR, and understand the importance of activities of daily living.
In some instances, assisted living facilities are a better fit for a loved one. These facilities can still provide private duty care, in which one person stays with your family member through the whole day, and another at night. The facility also has doctors, nurses and aides on staff who can assist if needed. Older adults health issues are understood and addressed in these facilities – providing you with peace of mind while you are away.
What Will A Vacation Provide?
Now that you are satisfied that your family member will be safe and cared-for in your absence, what can you expect to gain from your time away? Well, vacations help with caregiver mental health issues. Being able to spend time with family helps to diminish caregiver stress. You will find yourself smiling, laughing, and relaxing more. As a primary caregiver, you are often focused on your 'patient'. During vacation you can focus on personal care. Caregiver self care – having a massage, doing some yoga, or reading a good book, can help you replenish your health and wellbeing.
Your family will see the 'real' you – the you before your life was consumed with the care of another person. While you relax, professional caregivers or assisted living facilities take over the caregiver responsibilities. Paid caregivers provide non-medical home care with the zeal and respect you expect. In home respite care makes it easy for you to take a deep breath and really unwind.
The care recipient receives hot meals, one-to-one attention, assistance with bathing and mobility, and other in-home care services, including puzzle-working, conversation, and mental stimulation. After all, your loved one does not need a babysitter for elderly people. Instead, they need to feel like a person, with a name and a personality, who is being treated with dignity and respect in your absence. That's what professionals provide.
Take the caregiver stress test. Find out your family caregiver stress level. Then, make a conscious decision to attend to your caregiver mental health by using the vacation planning services to book a getaway today. Caregiver self care equates to better care for your loved one in the long run.