As we grow older, this means that we also have to experience our parents growing older.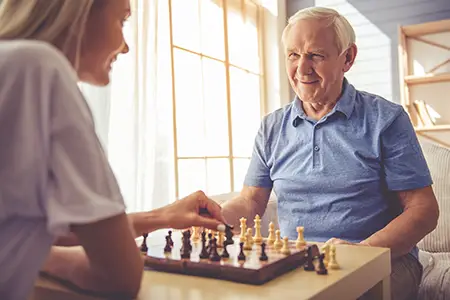 In many cases, our parents turn into adult children, and that is something that none of us are really prepared for. This is something that most of us are not prepared for, and many people think that it is a great idea to return the favor of being responsible for our parents' well-being. Providing full-time care for an elderly parent is quite tiresome and can be nearly impossible if you are not an experienced health care worker.
There are quite a few reasons why you might not be quite as prepared for the task as you may think. These are just a few examples:

1) Why Be a Caregiver?
Being a caregiver sounds like the dutiful thing to do to many people when it comes to their aging parent. Depending on the health of the parents, there may be quite a bit more than you think to their specific needs. Some elderly patients need round-the-clock care while others are still able to walk, talk, feed themselves, and take care of everyday life. Even a simple task like providing long term care insurance can be difficult if they weren't prepared for it. However, even the most seemingly sprightly parent might have trouble doing some things such as remembering to take their medicine, exercising, making it to appointments, or anything else that usually seems easy for most people. Most people consider an assisted living environment for those situations rather than being a full-time caregiver.

2) Your Personal Life Will Suffer
It may seem harsh or difficult to say, but even the closest parental relationships with their children need a break sometimes. Deciding to become your parent's long term primary caregiver will put a strain on any type of personal life that you might have had prior to becoming responsible as a caregiver. You don't get to travel, work away from home, or spend time with friends anymore. You have to keep their schedule for feeding, medicine, and bathing, chores, doctor visits, you name it! It is essentially like having a baby but bigger, and that is why it is very important to find help in these situations.

3) Your Parent Won't Like It
Odds are, you have grown up with your parents telling you that you need to listen to their instructions. Well, they are not going to want to listen to you just because you are more physically capable of helping them do or remember things these days. Finding things to do to keep your parents occupied is a daunting task at times, and even finding someone to give older adults jobs is hard. They have spent your entire life telling you what to do, so having the tables completely flipped over on them doesn't sit well with most elderly adults, especially those who are suffering from dementia. Most aging adults tend to feel bad about becoming dependent on their children for financial and physical support and help, so this becomes a giant challenge that is often hard to overcome between the two parties involved.

4) You Don't Know What You Are Doing
No matter how much you think you know about taking care of another person, you are still going to be completely clueless about a lot of things. Certain routine things that have to be done on a regular basis such as keeping up with long-term care insurance, preparing meals to very specific dietary limits, dispensing medications, and almost anything else that you can think of can really take over your entire life and overwhelm you if you aren't trained to do them. Changing catheters, diapers, and IV's are all skills that you will eventually need as a caregiver for your elderly parents, and you probably are not ready for any of that. It is hard to provide proper care for elderly parent when you are not sure what you have to do every day.

5) Keeping Your Parent Occupied
Most elderly adults start to go through a reversion back to their younger years at some point. While this may seem like a good idea, taking care of someone with dementia can be just as challenging as raising a toddler all over again, except for they are about four times larger. Trying to find places that will give older adults jobs, especially those who need long term care, is very difficult, and having them hold down the job and its responsibilities is very hard to do as well, and having a job that won't interrupt their long term care insurance is also very rare. Keeping your parents occupied and free of boredom is a very big challenge to most people who take over as a primary caregiver.

6) Family Will Disappoint You
As difficult and unbelievable as it may sound, once you commit to taking care of and providing the sufficient care for elderly parent, you will feel very alone and deserted a lot of the time. Family will retreat as they try to escape taking care of their relative. Adult children are difficult to take care of, and most of the time, your family members will let you take care of them alone rather than try to help you out at all. This can drive a wedge between family members and can make situations quite awkward or volatile in many cases. Odds are, even the closest family will leave you to take care of them alone.

7) You Will Be Exhausted
No matter how much your parents need long term care, you will get tired and burnt out on doing it around the clock. You may want to ask yourself "why be a caregiver?", but in the long run, it is much more difficult and time consuming than you think. You will find yourself very tired and wanting to get away from your responsibilities after a while, no matter how much you love your parents. One of the most important parts of taking care of your parents is making sure that you utilize their long term care insurance to find adequate care for them in their elder years.

8) You Will Become Depressed
Watching your loved one's health decline is hard to do, and that is why they need a healthcare professional to do the job of taking care of them in their last years. You will have difficulty watching your parent decline in health. Your parents likely do not have long-term care insurance and it will fall on your shoulders to make sure that they are taken care of properly, which will end your ability to do the things that you want to do with your own life. This is something that no one is prepared to do.
These things and lots more are solid reasons for why you do not want to be your parents' caregiver when they get older. It will not be as much fun as you think it will be, and you will definitely need outside help.