As we age, extra assistance is often required in order to continue living independently, or in the comfort of our own homes.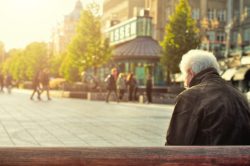 So, what about aging adults who suffer from dementia, such as Alzheimer's disease? Are there options regarding home care for dementia patients? And, how does regular home care differ from dementia home care?
In this article, we will cover the important differences between regular home care, and home care for dementia patients. 
What is Home Care for Seniors?
Senior home care, or in-home care, is a service offered to seniors and aging adults which allows them to receive certain types of care at home. The main goal is to allow these seniors to remain living in the comfort of their homes for a longer period of time, rather than transitioning to a senior care facility or nursing home. 
The type of care, as well as the level of care given to a senior though home care varies significantly, as every case is different and every senior will require a different level of care. The amount of time that a senior receives senior home care per week also varies, with some needing just a few hours a day, and others requiring 24-hour care each day.
Although moving to a care facility as a senior used to be the norm, today's seniors highly prefer to "age in place", or in their homes. In fact, according to the AARP, nine out of every ten senior prefers to age in their homes, rather than make the transition to a facility. 
Types of In-Home Care for Seniors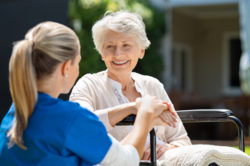 Not all in-home care services are the same. As we mentioned before, the level of care required will vary and depend on the mental and physical condition of the senior's health. Some in-home care services provide non-medical help, such as assistance with activities of daily living (ADLs). On the other hand, some in-home care services offer medical care provided by a licenced health professional, such as a skilled nurse or physical therapist. 
The most common types of in-home care include:
Companion Care Services: Assistance with any needed supervision, recreational activities and visiting during meal times, etc.
Personal Care Services: Help with activities of daily living (ADLs and IADLs), such as bathing, dressing, eating, toileting, exercising and other personal care 
Homemaking Services: Light housekeeping, shopping services, and meal prep.

Skilled Nursing Care: This includes help with wound care, physical therapy, injections, and other medical needs. These services are provided by a health professional. Usually, a home health care agency coordinates these types of services with skilled care nurses once they've been ordered by a physician.
When it comes to dementia home care, it is likely that skilled nursing care will be required in order for the patient to remain in their home. This is especially true as the disease that causes their dementia progresses. 
Regular Home Care vs. Dementia Home Care
When it comes to choosing the right type of care for an aging loved one with dementia, it is vitally important for family members and/or caregivers to understand the differences between regular home care and dementia home care. Being aware of the differences between the two types of in-home care allows family members to choose the right option for their aging senior, that is most suitable and will provide sufficient care for an increased quality of life. 
Regular in-Home Care
Regular home care, often referred to as in-home care, is usually of the non-medical nature. Although there are in-home care options that involve medical assistance, this is generally not the case. Home health care offers in-
home medical care to seniors who need that level of care, such as diabetes monitoring and injections and keeping up with vital signs. Personal care aides provide companionship, supervision, as well as one-on-one assistance with activities of daily living (ADLs). ADLs include assistance with bathing, dressing, use of the toilet, and preparing meals. Caregivers may also provide light housekeeping services and other chores, such as grocery shopping, running errands and medication management, as well as transportation services to appointments and/or social outings.
This level of care is great for individuals who are able to maintain some level of independence, but require a bit of assistance with certain tasks. Regular in-home care services may be sufficient for early-onset dementia patients, but as their disease progresses, they will require a higher level of care. This is where dementia home care becomes a more appropriate option.
Dementia In-Home Care
Dementia home care differs from regular home care, as it is geared specifically towards individuals with Alzheimer's disease or another cause of dementia symptoms. Caregivers will provide the same type of assistance as with regular home care, but these caregivers are trained in how to provide appropriate care during the various stages of dementia. They have an understanding of how these dementia stages manifest themselves, the common problematic behaviors, and strategies to adequately deal with them. There are also many safety concerns for patients with dementia symptoms, so a properly trained and certified caregiver should is required in order to meet the needs of patients with dementia. Care plans for these individuals should focus on the likes, dislikes and personality of the patient with dementia, as well as activities planned around the stimulation of one's memory. Often, these dementia care plans include listening to music or music therapy, looking through photo albums, doing art projects and reading. Believe it or not, dementia home care often costs the same as regular in-home care.
Home Care Needs Through the Progression of Dementia
Persons with Alzheimer's disease or other dementias require different levels of care, and these levels continuously change and evolve as the progression of the disease continues. Below are some examples of the various home care needs required throughout the progression of dementia:
Early Stage Dementia
During the early stages of Alzheimer's disease, the symptoms of dementia are less significant and the patient may still be very independent, requiring minimal supervision and outside care beyond what a family can offer. Generally speaking, an individual in this stage may still be able to drive, attend social events and perform normal activities of daily living, such as dressing oneself to cleaning their home and cooking. In the early stages of dementia, one may forget common words and need a reminder every now and then. Occasional assistance with medication management, organization, money management, remembering appointments and help with the development of coping strategies may be required to maintain independence. That said, during this stage of Alzheimer's, long-term care for the future should be discussed, prior to the disease taking hold on one's memory and ability to make appropriate decisions. 
Middle Stage Dementia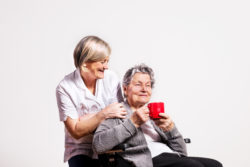 When a patient is going through the middle stage of Alzheimer's disease, they will require more care than a patient going through the early stages of dementia. A person in this stage will often have a difficult time recognizing familiar faces, such as those of their family members or friends. They may struggle to remember where they are, or where places are located – even though they've frequented those locations for years prior. Often, patients in this stage of Alzheimer's will exhibit behavioral changes, such as erratic mood swings, displays of aggression and uninhibitedness. Additionally, one's ability to reason properly may decline. An individual in this stage may also demonstrate difficulty with physical coordination and ability to move properly. Patients often require assistance with all activities of daily living, such as dressing and remembering to feed oneself. Needing to be reminded of what clothing is appropriate for the season they are in, is another common occurrence. It is vitally important for those in this stage of dementia to follow a structured schedule, in order to help diminish feelings of stress and anxiety, which is commonly associated with dementia patients. Caregivers trained in assisting dementia patients will understand the importance of maintaining a regular schedule, and that will be incredibly beneficial to the patient receiving care.
Late Stage Dementia
Once a patient reaches late stage Alzheimer's, they will require intensive 24-7 care. They will likely exhibit extreme confusion, both regarding past events and memories, as well as present circumstances. Their ability to process information will cease to exist, and the individual will likely have a very difficult time properly communicating (verbally). In fact, many patients in the late stages of dementia will have a difficult time speaking at all. Both mood and behavior is extremely unpredictable in this stage, and hallucinations as well as delusions are commonplace. At this point in the disease, a patient will likely need to move into a care facility that specializes in Alzheimer's care, as well as other forms of dementia, and will not be able to rely on dementia home care any longer. 
Specialized Skills & Training of Dementia Caregivers
As we mentioned before, paid dementia caregivers undergo specialized training in order for them to better understand and handle patients with dementia. In most cases, they also have experience dealing with people with dementia, such as Alzheimer's. They are knowledgeable in the progression of the diseases that cause dementia, how to handle changes in behavior and are better equipped to deal with someone that exhibits these behaviors. They are also able to maintain low levels of stress when dealing with their clients who have dementia, rather than escalating the stress levels which some untrained caregivers may unintentionally do. They're able to cater to the individual needs of a dementia patient, often incorporating activities that stimulate one's memory. Additionally, they can provide assistance with activities of daily living, preparing meals, and offering help with family support, as would regular in-home caregivers. 
Cost of Dementia Home Care
The exact cost of dementia home care varies based on the state in which one lives, as well as the geographic regions within the state. That said, the nationwide average for dementia home care is very comparable to that of regular in-home care. On average, the cost of dementia home care runs approx. $21.50/hr (as of 2019). 
Another factor affecting how much a person would pay for dementia home care, is whether they qualify for various low-income programs, such as Medicaid, local non-profit organizations, and local Area Agencies on Aging (AAA) office services. These all provide assistance to low-income seniors and their families, including financial assistance for in-home care, dementia home care, and/or adult daycare. 
Conclusion
Now that you understand the biggest differences between regular home care and dementia home care, you can better prepare a care plan for your aging loved one. Remember, it is important to involve your loved one in their long-term care plan, therefore discussing this should be done during the early stages of dementia, so they can provide their input while their mind is as clear and sound as possible.