What's the difference?
It can be difficult to realize that an aging parent requires assistance.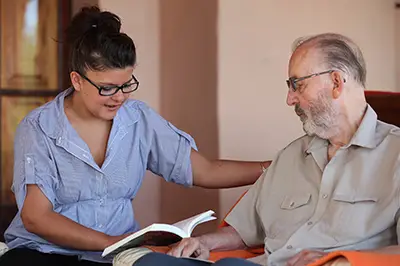 Providing care ourselves is often something we would like to do. But, this becomes difficult with job, family, and other life commitments competing for our time. Living far away from loved ones in a nursing home reduces social interaction and is usually a difficult transition. If we can't provide the care they need, we want to ensure that the best possible care is available. This can be a daunting task. It can be difficult to navigate the options among care agencies and decide on the best type of care for loved ones.
One important thing to consider is the type of care needed. Two possible options are medical care or companion care. Both types are valuable services, but each provides a different type of care. Finding the right elderly companion care service is possible with the right care plan. With the right information, we can choose the best and most appropriate care for your loved ones.
Medical Care for Seniors
In-home medical care focuses on providing services to help seniors who are struggling with health conditions. It can help seniors meet specific medical needs and activities. It can also assist with activities of daily living (ADLs), such as bathing and dressing. A team of licensed medical staff usually provides the care. This team may include a nurse, certified nursing assistant, physical therapist, occupational therapist, speech therapist, and a home or personal health aide. 
Medical conditions that may require this type of care include heart conditions, osteoporosis, Parkinson's disease, care following surgery, arthritis, and breathing problems. This type of care is often covered by Medicare or private health insurance.
Medical Care Services Provided by Nurses
Nursing staff can provide a variety of medical services to clients at home. This can help seniors stay at home while managing chronic health conditions, as well as recovery after accidents and illnesses. Care is usually provided by a registered nurse, licensed practical nurse, certified nursing assistant, or home health aide (under the supervision of a nurse).
Some common services include:
Monitoring vital signs

Observing a client's health and watching for any changes

Providing dressing changes for wounds or incisions

Medication monitoring or administration

Managing medical devices and treatments (catheters, feeding tubes, etc.)

Assisting with personal care skills (bathing, dressing, toileting, etc.)
Medical Care Services Provided by Rehabilitation Professionals
For patients who need rehabilitation but can't travel to an outpatient clinic, home health therapy is a great option.
Physical therapy, occupational therapy, and speech therapy can all be provided within the client's home. Physical therapy (PT) can help clients walk, move safely around their homes, and build strength and endurance. PT can help older adults with exercising at home. Exercise is important for maintaining balance, muscle strength, and safety within the home.
Occupational therapy (OT) can also help patients at home. OT helps clients regain independence with ADLs (activities of daily living) following an illness, accident, or hospitalization. ADLs include bathing, dressing, grooming, eating, and toileting. OT can also check the home environment for safety and make recommendations as needed. OT can also help clients increase muscle strength, coordination, and balance to improve safety with ADLs.
Speech therapy (ST) can provide several therapy services within the home. ST can work with seniors struggling with dementia or other cognitive problems. They can help clients improve memory, thinking, and problem-solving skills, through therapy. Compensatory techniques can be taught for memory assistance. They can also address feeding and swallowing problems to decrease the risk of choking during meals and increase safety.
Where Are Medical Care Services Provided?
Like other home health services, medical care services are provided in the client's home. This could be in a privately owned home or a senior living apartment. In some cases, senior care can be provided for those residing in an assisted living facility. Medical care can often help those recovering from an accident, illness, or surgery return home to heal. Being able to stay at home helps maintain self-esteem. It also allows seniors to continue feeling independent while still receiving the senior companion services they need.
Companion Care for Seniors
Companion care is a great choice for seniors that do not have specific medical needs but still want to retain their independence at home. Many home care service agencies offer this type of service. Services are provided by companions who perform non-medical tasks. A companion may also be called a personal health aide, a personal care aide, or a homemaker. This type of care is a wonderful choice that provides that little bit of extra help a senior may need. It can provide peace of mind to family members while providing companionship and assistance to their loved ones.
Types of Activities Provided by Companion Care
Medication reminders

Meal preparation

Homemaker services, such as light housekeeping

Transportation for shopping, errands, and appointments

Help with planning and scheduling appointments and social activities

Participation in exercise routines

Communication with family
Costs and Benefits of Companion Care
Companion care for seniors is usually not covered by Medicare.
Long term care insurance companies may cover it. However, this varies by company. Some states may offer programs to help pay for in-home companion care. The local Area Agency on Aging is a good place to start for families looking for resources in their area.
Despite the costs, the benefits of companion care are often priceless to families. Companion care is extremely beneficial in helping seniors who live alone combat feelings of loneliness and isolation.
Living a balanced lifestyle can help elderly individuals remain vital, healthy, and safe at home. Exercise and physical activity are so important for helping seniors to maintain strength, flexibility, and balance. Providing memory assistance, such as medication reminders, can be a huge relief to families. Finally, homemaker services can help ensure seniors continue to live in a safe, clean environment.
Where is Companion Care Provided?
Companion care is designed to support the emotional needs of seniors and improve their independence. As such, it can be provided in a variety of living situations. Many seniors receive services at their home or senior living apartment. Others receive services at their assisted living facility. Companion care is also common for patients in hospice. Hospice volunteers or home health aides may provide this type of companion service.
Summary
There are many options available for in-home elderly care. Matching the help loved ones need to the right type of care is important. Medical care and companion care are both good choices to help seniors remain at home. With care tailored to each client, elderly companion services provide the support and security needed to make continued independent living possible.