Facing the realization that an aging parent or loved one requires assistance to remain independent in their home can be difficult.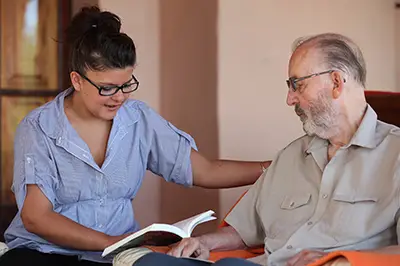 Providing the care ourselves is often something we would like to do. But, often this becomes difficult with the responsibilities of job, family and other life commitments competing for our time. Living far away from loved ones can also impede our ability to actively provide the help they need. If we can't provide the care they need, we want to ensure that the best possible care is available. This can be a daunting task. It can be difficult to navigate the options among care agencies and decide on the best type of care for a loved one.
The good news is that, with the right information, we can choose the best and most appropriate care for our loved one. One important thing to consider is the type of care needed. Two possible options are medical care or companion care. Both types are valuable services, but each provides a different type of care. Read on to learn more.
Medical Care for Seniors
In-home medical care focuses on providing services to help seniors who are struggling with health conditions. It can help seniors meet specific medical needs and activities. It can also provide assistance with activities of daily living (ADLs), such as bathing and dressing. Care is usually provided by a team of licensed medical staff. This team may include a nurse, a certified nursing assistant, physical therapist, occupational therapist, speech therapist, and a home or personal health aide. Some medical conditions that may require this type of care include heart conditions, osteoporosis, Parkinson's disease, care following a surgery, arthritis, and breathing problems. This type of care is often covered by Medicare or private health insurance.
Medical Care Services Provided by Nurses
Nursing staff can provide a variety of medical services to clients at home. This can help seniors stay at home while managing chronic health conditions and also help them recover at home following accidents and illnesses. Care is usually provided by a registered nurse, licensed practical nurse, certified nursing assistant or home health aide (under the supervision of a nurse).
Some common services include:
Monitoring vital signs

Observing a client's health and watching for any changes

Providing dressing changes for wounds or incisions

Medication monitoring or administration

Managing medical devices and treatments (catheters, feeding tubes, etc.)

Assisting with personal care skills (bathing, dressing, toileting, etc.)
Medical Care Services Provided by Rehabilitation Professionals
For those patients needing rehabilitation but unable to travel to an outpatient clinic, home health therapy is a great option.
Physical therapy, occupational therapy and speech therapy can all be provided within the client's home. Physical therapy (PT) can help clients with walking, moving safely around their homes and building strength and endurance. PT can help older adults with exercising at home. Exercise is important for maintaining balance, muscle strength and safety within the home.
Occupational therapy (OT) can also help patients at home. OT can be helpful in assisting clients regain independence with ADLs (activities of daily living) following an illness, accident, or hospitalization. ADLs include bathing, dressing, grooming, eating and toileting. OT can also be helpful in checking the home environment for safety and making recommendations, as needed. OT can also help clients increase muscle strength, coordination and balance to improve safety with ADLs.
Speech therapy (ST) can provide a number of therapy services within the home. ST can work with seniors struggling with dementia or other cognitive problems. They can help clients improve memory, thinking and problem solving skills, through therapy. Compensatory techniques can be taught for memory assistance. They can also address feeding and swallowing problems to decrease the risk of choking during meals and increase safety.
Where Are Medical Care Services Provided?
Like other home health services, medical care services are provided in the client's home. This could be in a privately owned home or a senior living apartment. In some cases, care can be provided for those residing in an assisted living facility. Medical care can often help those recovering from an accident, illness or surgery return home to heal. Being able to stay at home is helpful for maintaining self- esteem. It also allows seniors to continue feeling independent.
Companion Care for Seniors