Every care agency is different and offers different types of care.
Here is our review of Care Indeed.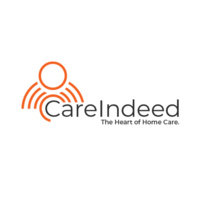 Care Indeed Home Care Review
Company Details
Summary
Care Indeed is an in-home care agency covering the northwest coast with numerous locations in Northern California and one location in Washington. The founders of Care Indeed understand how important it is to have quality and trusting care for your loved one. Care Indeed has developed a model that ensures seniors are treated with respect and compassion
Name:
Care Indeed
Website: https://www.careindeed.com/
Address: 102 S. El Camino Real, San Mateo, California 94401
Phone #:
(877) 504-3822
Customer Ratings
Level of Skilled Services Available – 10/10
Care Agency Customer Service – 9/10
90
Quality of Services – 9.5/10
95
Care Intended For:
Care Indeed, in-home care is intended for elderly patients and seniors who require assistance with personal tasks in their own homes. Through the convenient assistive services available with Care Indeed, seniors are able to maintain an independent lifestyle while adding enjoyment and fulfillment to their daily lives.
About Care Indeed Home Care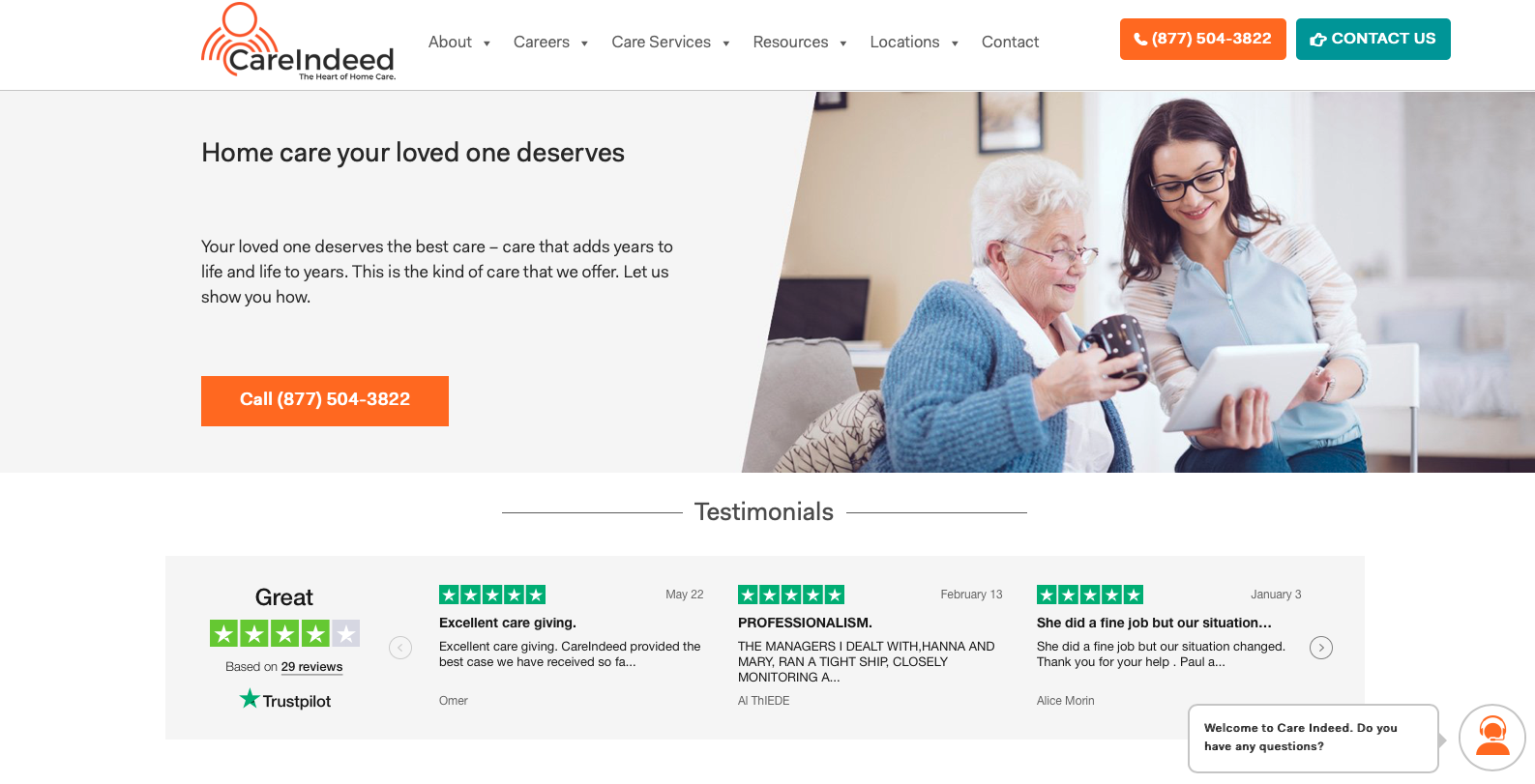 Care Indeed was founded by Dee Bustos in 2010 with the goal of providing premium caregiving services to the elderly. Today, Care Indeed is owned and founded by a group of nurses who have in-depth experience as caregivers. Through the in-home care services available through Care Indeed, the agency works to add quality years to each of their client's lives.
Well-trained caregivers at Care Indeed are central to the business and support the independence of each client, assisting them with tasks like personal care and mobility assistance. Caregivers will also assist with takes like light housekeeping or medication management. Care Indeed can also fulfill patients' rehabilitative needs with home care assistance from physical and occupational therapists and nurses.
Currently, Care Indeed has locations in Campbell, Menlo Park, San Francisco, and San Mateo, California, and a location in Bellevue, Washington.
Home Health Care
Skilled nursing

Physical therapy

Occupational therapy

Speech therapy

Medical social work

Home health aide

Wound care

Diabetic care

Urinary care

Instructional and observational care
Live-In Care
Personal care

Physical assistance

Light housekeeping

Transportation to medical appointments
Hospital Sitting
Supervisory care

Monitoring patients care/activity level

Alerting medical employees

Seeking assistance from medical
Hourly Care
Alzheimer's and dementia care

Respite care

Reading assistance

Advocacy

Urinary assistance

Writing letters and companionship

Overnight care
Non-Medical Care
Personal care

Companionship

Transportation

Meal planning and preparation

Medication assistance
No matter where you're located, we are here to assist you.
What is Home Care?
Home care is a type of assistive service that connects seniors or other homebound individuals with a skilled caregiver. The caregiver visits the senior in their house, assisting them with the tasks they need most, which allows them to be independent. Typically, there are two types of home care, which include:
Medical home health care: Medical home health care involves a medical care team that is often made up of a registered nurse and physical therapist. The medical team assists the client with medical tasks like cleaning wounds and administering medications. 
Non-medical home health care: With non-medical home health care services, caregivers will assist clients with tasks like personal care or meal preparation. Non-medical home health care tasks are meant to assist the elderly or homebound individuals with their activities of daily living (ADLs).
It is important to consider which type of home care is needed when choosing an in-home care agency and a caregiver. Many agencies, like Care Indeed, are able to offer both. In-home care is ideal for any individual who requires assistance in their home. This might include a senior with an ongoing medical condition or an adult who is recovering at home following a surgery.
Customized Services at Care Indeed
At Care Indeed, they understand how unique each client's needs are. With both overnight and hourly care available, you can easily find a caregiving schedule that works for you. Your experience with Care Indeed will begin with an individual assessment. During this assessment, team members will work with you to determine the best type of care needed. Care Indeed considers this to be a collaborative and open process and will welcome all feedback in an attempt to create the best caregiving schedule for your loved one.
In-home care services don't have a set length of time. Some seniors might prefer the assistance and keep a caregiver for many months, or even years. Others might only temporarily require the assistance while they recover from an injury or illness. Care Indeed will work with clients of all types.
The caregiving at Care Indeed can also be customized to your location. Caregiving services might begin in your loved one's home, but then their needs might change over time. If your loved one spends some time in the hospital or eventually makes the decision to move to a retirement community, we can provide the same convenient services to them, wherever they call home.
Customized services at Care Indeed can also include respite support. Many families will decide to take on the primary caregiving duties of a loved one. While this can be a rewarding decision, it can also put a lot of burden on the relationship and the individual caregiver. With respite care services, a compassionate and caring caregiver will come and take over some of the caregiving tasks, allowing you to refresh and renew yourself.
Care Indeed offers all types of care services including hourly, weekend, overnight, and even 24/7 care. You and your family are the coordinators and you determine the rules and expectations.
Paying for in-home care is one of the most common questions from families as they prepare to choose an agency. It is important to understand your payment options ahead of time.
Medicare and In-Home Services at Care Indeed
Typically, Medicare does not cover the cost of non-medical in-home care. However, some clients who are recovering from a medical condition or injury might qualify for in-home coverage. It is important to discuss your coverage availability and restrictions with your Medicare representative.
Private Insurance and In-Home Care Services at Care Indeed
Some clients have private insurance coverage that might include in-home care benefits. Also, some clients or their families might choose to self-pay. Fortunately, Care Indeed has many tools available, including Autopay and the Family Room Portal which makes it easier than ever to track and make your caregiving payments. Learn more about long-term care insurance here.
Medicaid and In-Home Care Services at Care Indeed
In some cases, Medicaid will cover some of the costs associated with in-home care. However, coverage varies, so it is important to discuss your needs and your coverage with your Medicaid representative. In some cases, Medicaid will also cover the costs associated with a family caregiver.
Veteran's Insurance and In-Home Care Services at Care Indeed
If you or your loved one is 65 years or older and qualifies for VA benefits, you might also be eligible for in-home care benefits. It is best to discuss your eligibility and individual needs with the Department of Veteran's Office nearest you to learn more about your options.
Choosing the Right Home Care Agency
With so many in-home care businesses to choose from, it can feel overwhelming to determine the right one for your loved one's needs. Care Indeed customizes its services to the client, ensuring that each of their unique needs is being taken care of. Whether your loved one needs daily assistance with personal care or just a few hours a week to complete errands, Care Indeed will find a caregiver that fits with your families' needs.
Care Indeed also values a safe partnership. Each caregiver must successfully undergo an extensive background and a reference check before providing homecare services. The health and well-being of your loved one is a priority and that requires a careful hiring process. Care Indeed also aims to make the caregiving process as easy and convenient as possible for everyone. With the Family Room Portal, Care Indeed's free online program, you can easily view your caregivers' notes, make additional requests, manage invoices and payments, and even ask any questions you might have to your caring caregiver.
At Care Indeed, the training and experience of its caregivers is everything. In fact, they have even developed a virtual reality dementia training program. When recognizing the difficulty of transitioning and applying training from the classroom to the client relationships, the Care Indeed implemented the use of VR training. With many of Care Indeed's clients dealing with dementia or Alzheimer's, this has significantly increased the number of qualified caregivers for those individual conditions.
In addition to high-quality training for the most common senior concerns, Care Indeed also offers additional training to caregivers based on the unique needs of the client. Each training program meets or exceeds state and federal requirements and provides caregivers with the skills they need to succeed. In fact, Care Indeed is so committed to furthering the knowledge of senior care that they also welcome the clients and their families to join in on the health and wellness seminars. They even have free laughter yoga classes available which can encourage a healthier being, while also taking advantage of the many health perks that come with laughter.
How Much Does Care Indeed Cost?
The cost of in-home care services at Care Indeed varies, depending on the type of care services needed and the number of hours. Care Indeed bills clients hourly with the hourly rate depending on the care provider. For example, families can expect a higher hourly rate for medical caregiving staff or caregivers with specific memory care specializations.
While it is difficult to give a base rate of what you can expect to pay for in-home care services with Care Indeed, in-home care does tend to be more affordable than other senior care options. Nursing home care and assisted living facilities tend to be more costly than in-home care, making it a preferable option.
There are also ways to off-set the costs of in-home care, such as with a family caregiver. By dividing the caregiving needs of a loved one with the family members and professional caregivers, you can meet their independence and safety needs while also ensuring that they are safe when at home.
Some seniors might also qualify for in-home care benefits. Work with the Care Indeed location nearest you to determine your payment options.
Reviews
Care Indeed was founded with the mission of improving its elderly client's quality of life as they deal with chronic and co-occurring conditions. The quality of care that your loved one receives directly affects their independence and overall satisfaction. Determining the best caregiver for your family member is a big decision and we're here to help you make that important decision.
Many factors make up a quality caregiver including experience, compassion, awareness, and dedication. In addition to being a good caregiver, it is also important to choose one that meets the needs of your family and your loved one. Different clients have different needs just as each caregiver has their own skills and strengths. Evaluating reviews is a good way to learn more about a company and its caregivers. Pay close attention to the aspects of the in-home care agency that customers rave about, as well as the concerns reported.
"On previous trips out of town, Mother would become quite nervous and worried and upset. The Care Indeed caregiver that came daily reduced her stress considerably, and, by all reports – from my brother and sister and my mother too – was – absolutely wonderful."
"So good was the result, in fact, that we are going to try to make permanent arrangements for the Care Indeed caregiver to come to my mother's house. She enjoys the walks and company very much, and as long as the benefits are so positive, we'd like to keep them going!"
"Excellent care giving. Care Indeed provided the best care we have received so far. They seem to invest highly in their care-giver's development so the results are not surprising."
"Office staff is exceptionally responsive to my and my son's (my primary caregiver) needs, with a hands-on personal touch. Attendants are professional, compassionate and have lots of patience with me, for which I am grateful."
No matter where you're located, we are here to assist you.
We simplify the process of finding affordable, quality non-medical caregiver agencies anywhere and provide reliable information about in-home care services and helpful resources for elderly seniors wanting to live at home but needing assistance to do so safely.
How much does Care Indeed pay their caregivers?
Care Indeed caregivers earn an average of $15.00 per hour, but rates can range between $7.50- $22.50 per hour, depending on location and experience level. Caregivers with more experience can often expect to earn more than entry-level caregivers. Additionally, caregivers who have specialized skills, such as with memory care, can usually expect to earn a higher rate.
In addition to the hourly rate, the caregivers at Care Indeed will also enjoy other benefits including:
Competitive pay increases and bonuses
Incentive pay and rewards
Daily pay opportunities
Paid training
Work-life support groups
Care Indeed strongly believes in a flexible work schedule and values a work-life balance, even organizing a support group to encourage this important aspect of employee's lives. Care Indeed is committed to the ongoing training of each one of its caregivers. Through upgraded training programs like VR and continuing education, they are able to provide clients and their families with an incomparable level of experience.
Employees at Care Indeed are also encouraged to attend networking and training conferences where they can develop their skills even further. Care Indeed hosts an annual conference, covering important topics for older adults. They also host educational days and talks where caregivers and other staff members can learn about issues important to them and their clients.
What types of careers does Care Indeed offer?
Because Care Indeed offers both non-clinical and clinical services to its clients, you will find many different job opportunities. When evaluating current employment opportunities, you'll want to carefully evaluate the job description to see if you meet the minimum requirements. It can also be helpful to determine if you're comfortable with the expected job responsibilities. Other careers that might be available with your nearest Care Indeed office include:
Human resources

Certified Nursing Aid (CNA)

Home Health Nurse

Marketing and relations team

Licensed vocational nurse (LVN)

Intake coordinator

Direct supervisor

Concierge home care aid

Open positions with Care Indeed are constantly changing so if you're interested in a career with them, continue to check their site often.
Careers with Care Indeed are convenient and employees tend to enjoy a flexible work schedule with valuable training, making it a great place to work. You can easily access your schedule, training, care plans, and driving directions from the Caregiver Portal. You can also use your smartphone to check-in and check-out for your caregiving shifts, while also recording mileage which can help come tax season.
How to apply to Care Indeed?
If you live in northern California or King County, Washington, area and are passionate about helping others, then a career as a caregiver with Care Indeed might be right for you. Care Indeed expects each one of its caregivers to have the following qualities:
A strong understanding of the importance of their role

A sense of accountability

An involved sense of work ethic

Trustworthy and reliable personality
Each caregiving team at Care Indeed is made up of a care manager, caregiver, and care specialist. Each employee is important to the team and the overall satisfaction of the client.
If you're interested in a career with Care Indeed, you can view the current list of job openings on the job site. All qualified caregiving candidates must complete the following steps before working as a caregiver:
National, state, and county-level criminal background check

State and federal records covering a minimum of seven years

DMV record

Social security trace

Professional and personal reference check

Registered state drug test
In addition to the careful screening process, Care Indeed is also professionally bonded and insured up to four million dollars, further protecting its clients.
How do I open a Care Indeed Franchise?
Care Indeed does not currently offer franchising. With direct control and leadership over each Care Indeed location, they aim to provide clients with the utmost care and dedication. The caring employees at Care Indeed are affiliated with many local agencies and boards including the American Society on Aging (ASA), the Home Care Association of America, the California Assisted Living Association (CALA), and the Aging Life Care Association. Care Indeed is always looking for more community partnerships that lift up their clients and support their caregiving staff.
Care Indeed not only supports the independence of seniors, but also advocates for