Every care agency is different and offers different types of care.
Here is our review of Nurse Next Door Home Care Services.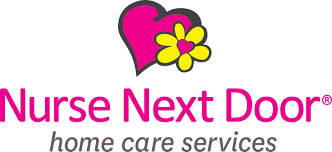 Nurse Next Door Home Care Services Review
"We Believe Seniors Can Stay at Home"
Company Details
Summary
Nurse Next Door Home Care Services is an in-home care company that provides seniors with around-the-clock comfort care. Nurse Next Door Home Care is available in 22 U.S. states and multiple Canadian provinces. The business has also recently expanded into offering home care services throughout Australia.
Name:
Nurse Next Door Home Care Services
Website: https://www.nursenextdoor.com/
Address:

#300 – 1788 West 5 Avenue, Vancouver, BC V6J 1P2
Phone #:
(877) 588-8609
Customer Ratings
Level of Skilled Services Available – 10/10
Care Agency Customer Service – 9/10
90
Quality of Services – 9.5/10
95
Care Intended For:
Carelinx offers affordable, in-home care services to disabled individuals and seniors, which allows them to maintain their independent lifestyle, in their own homes. They specialize in tech-enabled, non-medical home care services. Qualified and caring caregivers are trained to provide assistance with chronic care and transition management, working to improve Star scores.
About Nurse Next Door Home Care Services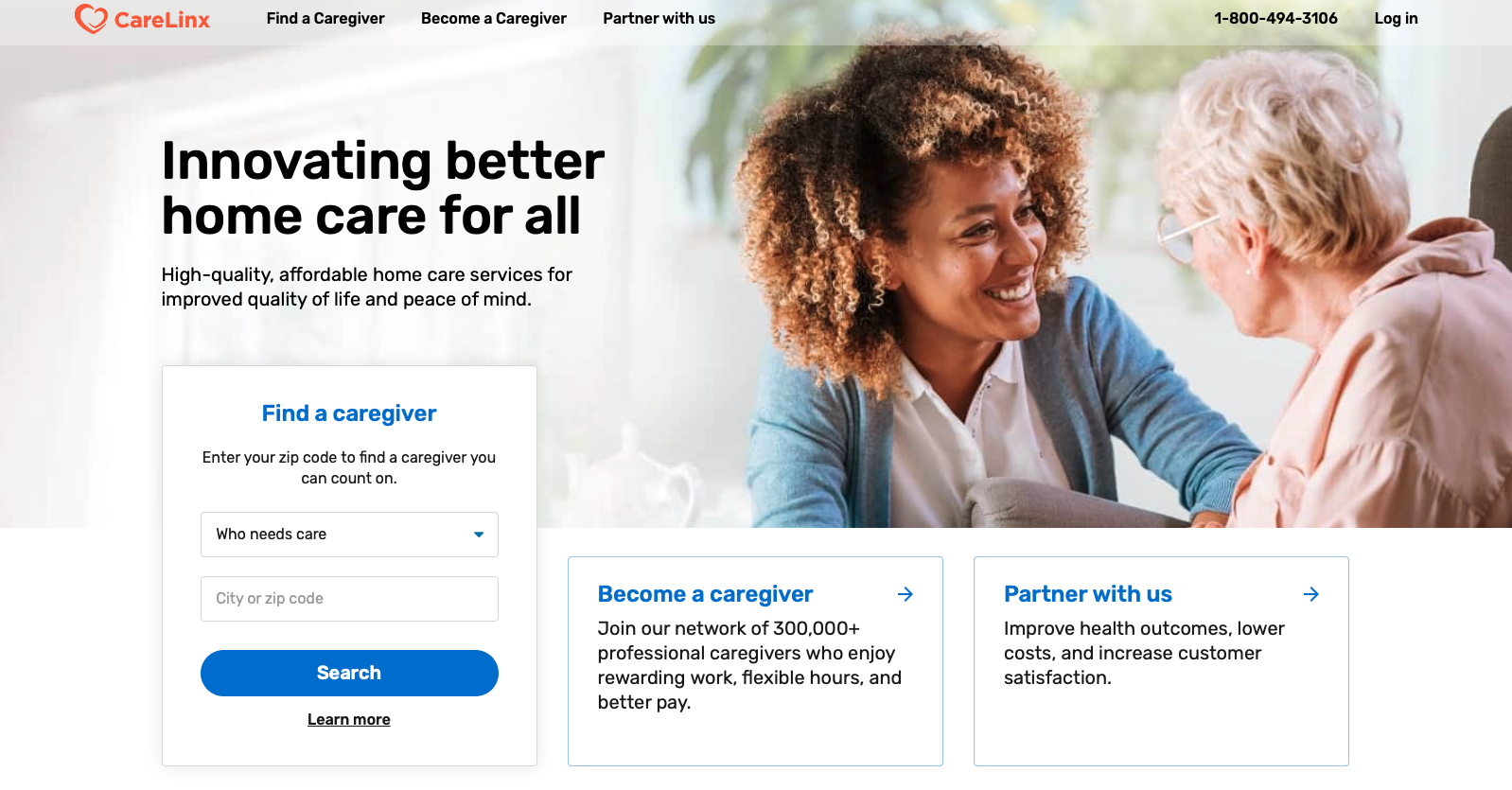 Nurse Next Door Home Care was first founded in Vancouver, British Columbia, in 2007 by John DeHart and Ken Sim. Ken's motives were personal as his wife was placed on bed rest with her first pregnancy. He wondered what it would be like and how much easier it would be for the family if they could pay someone they trusted to help out. This idea took off and soon after, they began franchising, quickly expanding to over 134 franchise locations across North America, before eventually also expanding into Australia in 2018.
Nurse Next Door offers much more than personal care services. They cater to seniors and other homebound individuals' customized needs, whether it is meal preparation, transportation, 24/7 care, or even companionship. They aim to do senior home care differently by offering reliable caregiving that is also safer and more affordable. Nurse Next Door can also assist with healthcare needs in addition to personal care tasks.  Many seniors are also dealing with ongoing medical concerns and by having professional nurses on staff, they are able to offer assistance with medical needs.
Companionship:
Group meals

Daily exercise

Friendship

Support

Hobby companionship

Journal writing

Reading together

Storytelling together
Homemaking:
Light housekeeping
Organizing rooms
Preparing for an event
Remove clutter
Meal Preparation:
Grocery shopping
Meal planning
Meal preaparation
Meal companionship
Transportation/Accompaniment: 
Transportation to and from medical appointments

Morale support during health procedures

Transportation to visit with friends and family

Transportation to hobby events
End-Of-Life Care: 
Companionship

Emotional support

Family support
Relief/Respite Care: 
Temporary relief of caregiving duties

Custom respite relief services

Alzheimer's care

Dementia care
24/7 Around-The-Clock Health Care:
Overnight care

Memory care

Nursing care

Full meal planning and preparation
No matter where you're located, we are here to assist you.
What is Home Care?
Home care can be the solution that many families are currently looking for. When an individual is homebound and requires assistance, it can be difficult on the entire family. In-home care services can provide the individual with the assistance they need, while allowing them to maintain their independence. More and more seniors are deciding to stay at home longer, where they feel most comfortable, and home care services can make that possible. 
Home care services provide a sense of comfort and peace of mind to the families. They also focus on the individual patient and what they need to enjoy a happy and fulfilling life at home. In fact, the first question that you will get when working with Nurse Next Door Home Care Services is, "What did you use to love doing that you no longer do?" Whether the answer is riding a bike, dancing, vacationing, or playing music, Nurse Next Door has a caregiver that will help your loved one maintain their happiness despite their daily challenges.
The great thing about this process is that you might also learn a thing or two about your loved one that you might not already know. When you're caregiving for a loved one, it can be easy to get caught up in the task of assisting, rather than enjoying their company and learning about their interests and hobbies. By using care providers, you can get back to what matters.
The philosophy at Nurse Next Door Home Care Services is simple. They aim to help seniors maintain their independence and do what they love to do, for as long as possible. This might require the assistance of certain tasks including meal planning, transportation, companionship, or even medical care.
Customized Services at Nurse Next Door Home Care Services
Nurse Next Door Home Care Services understands how important it is to not only find a caregiver that is experienced and compassionate, but also one that meets your mom or dad's individual needs. In fact, the matching process is very in-depth. Nurse Next Door likes to learn as much as possible about your loved one and the family before choosing a caregiver. This includes preferences, hobbies, needs, and personalities. With a diverse group of caregivers, they will then choose the one that best matches the personal care and daily needs of your loved one.
Unlike other care companies where you might have an endless rotating schedule of caregivers coming in and out, Nurse Next Door aims to ensure that you and your family receive a continuity of care. Even with busy schedules, the scheduling representatives work hard to ensure that you are able to develop a sense of familiarity. Even with this important factor, you are never stuck in a long-term contract. Overall satisfaction is important to Nurse Next Door and you can change schedules, caregivers, or even companies, whenever you want to.
The caregivers at Nurse Next Door Home Care Services are licensed and insured. They also have caregivers with specialized senior care services such as with memory care conditions. If you have a loved one dealing with dementia or Alzheimer's, chances are, they have a caregiver that can help.
One of the most common questions when it comes to home care is how you will cover the costs. What is and what is not covered under traditional healthcare or Medicare/Medicaid can be confusing.
Medicare and In-Home Services at Nurse Next Door Home Care Services
In some cases, federal insurance will cover the costs of in-home care services, but then in other cases, it won't. Medicare is divided into four parts, A, B, C, and D, with each covering a different type of care. Medicare might be an option for in-home care services if your loved one is homebound and has a skilled need, such as nursing care.
Private Insurance and In-Home Care Services at Nurse Next Door Home Care Services
Individuals with a private insurance plan might have in-home care services included with their coverage. However, coverages vary, so it is important to evaluate your individual policy.
Medicaid and In-Home Care Services at Nurse Next Door Home Care Services
Medicaid differs from Medicare in that it is income-based and not age-based. Medicaid coverage depends on the state in which you live. It can be helpful to reach out to your local Medicaid office to determine your coverage availability. In some cases, Medicaid will also cover some of the costs associated with a family member taking over the caregiving duties.
Veteran's Insurance and In-Home Care Services at Nurse Next Door Home Care Services
Veteran's benefits can sometimes cover in-home care services. You will first need to qualify for VA benefits and eligibility requires that you or a spouse served a minimum of 90 days or more of active duty and at least one day during wartime. You can learn more about your VA eligibility and in-home care coverage by reaching out to your nearest VA office.
There are many options available for covering the costs of in-home care. If you need assistance, you can reach out to your nearest state department or request the assistance of a care member from Nurse Next Door Home Care.
Choosing the Right Home Care Agency
A lot goes into choosing the right home care agency for your loved one. Whether your loved one requires minimal assistance for a few hours for a few months or 24/7, overnight care, it is important to find in-home caregivers that will meet your families' individual needs. Accessibility is important when choosing an in-home agency. Nurse Next Door Home Care Services is available 24/7. Whether you have a question or concern about your caregiver, simply reach out to one of their friendly representatives any time of the day or night.
Nurse Next Door also looks at your senior loved one as a human and not just a job. By getting to know your loved one and making routine updates and care plans, they can track their progress and notify you of any concerns. This allows you to be a part of your loved one's caregiving. Nurse Next Door works on four basic pillars which include travel/adventure, learning, connections/relationships, and play. They don't believe in age preventing you from doing the things that you enjoy.
How Much Does Nurse Next Door Home Care Services Cost?
There are many factors that go into pricing in-home care services. Just a few of these factors include the level of assistance needed, the seniors' location, and the number of hours of assistance needed. Typically, you can expect to pay up to $38 per hour for a certified caregiver at Nurse Next Door. However, because each senior and their needs differ, it is helpful to schedule a Caring Consult where you can receive your own quote. In-home care services also tend to be a more affordable option than other alternatives like an assisted living community or nursing home.
Reviews
Nurse Next Door Home Care was founded with the intent of helping individuals who are homebound, whether that individual is a senior or another individual experiencing medical concerns. We understand how overwhelming it can feel to choose an in-home care company. Not only do you trust this person to come into your house, but you also trust the care of your loved one with them.
You can learn a lot about a caregiving company and their caregivers by reading the reviews of current and past customers. These people have been through the same decision-making process and can offer you valuable insight into the service you'll experience.
"Your caregivers are without a doubt sincere, wonderful, happy people and are really great to have around. I appreciate all their work and personalities."
"We were so lucky to have had the Nurse Next Door recommended to us. When our mom's health recently quickly began falling we found ourselves in need of a caregiver with a heart. We found that with the "Nurse Next Door, they are so caring and kind and they are there everyday & overnight without fail."
"Everyone is so very nice, accessible, and relatable. They go above and beyond to meet my needs. I love the relationships I've developed with all of the staff. I feel that I'm treated like a queen!"
"Thank you Nurse Next Door for providing outstanding, quality care for my father. After 30 years of taking care of my father, my mother and I were finally ready to move forward in having someone take care of him every other week. Respite care is so important."
No matter where you're located, we are here to assist you.
We simplify the process of finding affordable, quality non-medical caregiver agencies anywhere and provide reliable information about in-home care services and helpful resources for elderly seniors wanting to live at home but needing assistance to do so safely.
Careers with Nurse Next Door Home Care Services
How much does Nurse Next Door Home Care Services pay their caregivers?
Nurse Next Door Home Care Services pays their caregivers an average of $13.67 per hour, but hourly rates can vary. Hourly rates vary, depending on the experience level of the caregiver and the number of hours worked. Which location and the city in which you live in can also affect the hourly rate. Nurse Next Door caregivers with specialized experience in nursing or memory care and caregivers with certifications, can both also expect to earn more each hour. You can learn more about the compensation available by reaching out to your nearest Nurse Next Door Home Care Services franchise partner.
The caregivers at Nurse Next Door enjoy competitive pay and a flexible work schedule. Caregivers can also expect the following benefits:
Strong matchmaking process

24/7 scheduling support

Ongoing training and networking

Sense of purpose and fulfillment
With a general sense of appreciation and value for their caregivers, Nurse Next Door caregivers tend to be satisfied with their role.
What types of careers does Nurse Next Door Care Services offer?
Each team at Nurse Next Door is made up of care designers, caregivers, and care scheduling team members to ensure that seniors and their families are 100% satisfied. Care designers are responsible for conducting the initial Caring Consult where they can better get to know the client and their needs. Caregivers then carry out the goals of the company, aiming to make each client feel as independent and happy as possible.
Care schedulers work to meet the scheduling needs of both caregivers and clients. They are responsible for providing caregivers with a schedule that works for them, while also meeting the scheduling needs of families. Care schedulers are also available 24/7 to answer both caregiver or client questions and concerns. Some care teams might also have health professionals to meet the needs of seniors with healthcare needs. 
Current openings will vary, depending on the specific care franchise. These are a few of the careers that you might find at your nearest Nurse Next Door Home Care franchise:
Licensed Practical Nurse (LPC)

Registered Nurse (RN)

Certified Nursing Aide (CNA)

Caregiver

Care scheduler

Care designer
You might also find open positions available at the Vancouver, British Columbia, corporate location. Just a few potential careers include:
Accounts payable and accounts receivable clerks

Client engagement specialists

Call center specialists

Human resource professionals
If making a difference is important to you, then you might find that a career with Nurse Next Door Home Care Services is a good fit. Through employee appreciation and competitive wages, not only are you helping seniors when you work for this business, but you also get the chance to become an important part of seniors' lives.
How to apply to Nurse Next Door Home Care Services?
If you enjoy improving the lives of others and have a compassionate way of being, then you might be a good fit for a caregiving position with Nurse Next Door Services. In addition to these requirements, Nurse Next Door aims to exceed the expectations of its clients, meaning they are always looking for caregivers who go above and beyond. With core values that aim to WOW the customer and a team of current caregivers who are passionate about providing seniors with fulfillment and happiness, Nurse Next Door is very selective in choosing its caregivers. 
Because caregivers are one of the most important parts of the Nurse Next Door Home Care Services team, you can expect a rigorous and in-depth hiring process. Each caregiver is:
Carefully screened and tested: Each caregiver must complete a thorough background and reference check.

Medically tested: Each caregiver must complete a Tuberculosis test.

Fully licensed and insured: Nurse Next Door requires all healthcare professionals to be licensed in their home state. They also fully insure each caregiver.
Candidates who make it through the hiring process and who are offered a position with Nurse Next Door are given the training and tools needed to succeed. Each employee undergoes comprehensive training that includes a hands-on practical training and frequent re-training to ensure that they continue to follow all brand values and regulations.
How do I open a Nurse Next Door Home Care Services Franchise?
If you want to be at the forefront of the in-home care agency business and truly make a diffe