Good nutrition is an essential factor in maintaining long term health.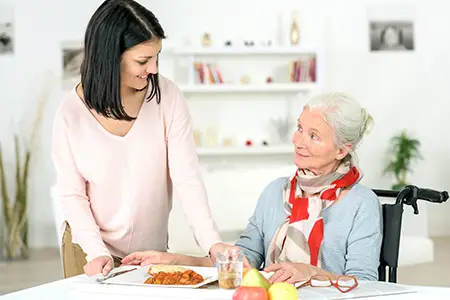 Proper nutrition is especially important for seniors, as they face daily challenges in being able to prepare and eat nutritionally balanced, healthy meals. Seniors that require in-home care and other assisted services need proper care and attention placed on feeding to maintain and improve other aspects of their health.
In this article, we will discuss in-home care for seniors, how to maintain health as we age, and nutrition for older adults.
In home care for seniors
Making arrangements for in-home care for seniors takes a little bit of the guesswork out of daily cares. Bathing, dressing, and meal preparation are less of a concern with qualified professionals present to assist in these challenging daily endeavors. In home care gives seniors and families peace of mind that little details will be attended to and safety will be prioritized as they provide high-quality care that improves quality of life. In home care for seniors is fast becoming the preferred alternative to inpatient care, as seniors have a desire to remain as independent as possible while dealing with natural progressions of age and possible diagnosis of illness. It preserves dignity while providing safe and effective measures for elderly care.
Maintaining health in your golden years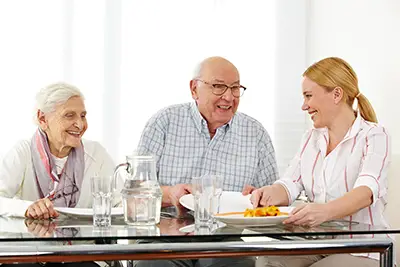 As we age, it becomes even more important to tend to our health and our needs; we may take our health granted for years only to find that we can age quite quickly in a very short time due to illness, injury, and other life circumstances. Healthy elderly people are more active, they take advantage of opportunities to be social, and generally have a higher quality of life than those who do not take care of themselves. Nutrition for older adults needs to be a priority in order for them to thrive well into their golden years.
Nutrition For Older Adults
So how do we construct an ideal nutritional profile for today's older generation? Many of the same foods we eat as youth and young adults remain great healthy foods for seniors as well; with proper supplementation, you can design a nutritional program that will promote health, strength, and longevity in the midst of aging and possible illness.
Healthy Foods For Seniors
While healthy elderly people have the opportunity to shop for and prepare nutritious meals at their convenience, many seniors are faced with the challenge of having access to proper foods due to physical challenges, immobility or inability to secure transportation to a grocery store.
Those seniors who require a specialized diet are faced with even more obstacles to good nutrition. Online grocery shopping and delivery services make the task of obtaining food a little easier, although many seniors are also intimidated by the technology required to connect to such services. Having a caregiver present to help take care of some of these details becomes much-needed support as you face aging and possible onset of medical conditions that are difficult to manage independently.
Foods that are viable sources of protein, vitamins, and minerals designed to repair and sustain the body are as follows, but not limited to:
Fresh fruits and vegetables

Whole grains

Healthy fats such as avocado and coconut oil

Vitamin D rich dairy foods

Foods containing Omega 3 fatty acids like flax seed and salmon

Lean proteins

Legumes and nuts
Incorporating these foods into your diet will ensure that you are getting the best nutrition and proper ingestion of vitamins and minerals needed for optimal health.
Healthy Meals Home Delivered
For those who have the option to explore healthy meal delivery service, seniors can take advantage of several different options to have healthy meals home delivered directly to your home. Nutritionists plan and prepare meals that are specific to your dietary needs, and they work with you to design a plan that delivers optimal nutrition to you while offering the ultimate in convenience and preparation. It is truly the gold standard of nutritional care.
Home Care For Specific Medical Conditions
For seniors dealing with a diagnosis of Alzheimer's disease and dementia, in home care becomes a necessary component of transition from living independently to needing full-time care.
It is especially critical at this time to focus on wellness and nutrition to provide a better quality of life for patients struggling with a diagnosis. Alzheimer's disease nutrition requirements are much the same of other nutrition plans for seniors, though there is more emphasis placed on assimilating nutrients that promote brain health and healing. Alzheimer's disease nutrition plans might also require the addition of specific supplements to ensure that patients are getting what they need when feeding becomes difficult to manage in later stages of the disease.
Dementia In Home Care
For patients that have recently been diagnosed with Alzheimer's or the onset of dementia, it can be quite a difficult time. Having reliable dementia in home care as a transition from independent living to full-time care gives both patients and families peace of mind that their loved ones are being cared for in ways that promote dignity and better quality of life for longer periods of time. Preserving the integrity of the individual and the care process itself is of utmost importance; providing high-quality care is something we all need to think about as we make plans for loved ones or even anticipate our own future needs as we age.
Making nutrition a priority for seniors is of utmost importance; no matter what your current stage of life, knowing more about quality nutrition and what it can do for you as you age will be essential as you seek to create the best possible life well into your golden years. Here's to many more years of continued good health and premium nutrition!