There are over 45 million Americans that are considered seniors, or over the age of 65. According to the US Census Bureau, by the year 2060, this number will more than double, to over 98 million.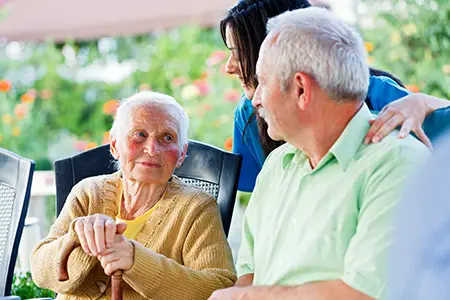 It is projected that 19 million of those seniors will be age 85 or older. As all of these people age, the need for geriatric assistance of all types will increase. One particular point to consider is home care for seniors.
In the past, when a person or couple reached the point where they could no longer live at home, they moved into one of their children's homes. When this practice began to fade away, nursing homes and assisted living facilities became the main options for senior living arrangements. This brought with it a host of difficult decisions for families to make. The elderly felt they were being cast out of their homes and their independence was lost. Family members could not always decide on the best options of available senior living arrangements. Reports of elder abuse and neglect began to make headlines.
Effective Alternative Solutions for Senior Housing
Even if a senior lived in a fantastic nursing home with caring staff, it is impossible for these types of assisted living facilities to provide one-on-one care.
Also, there was always an element missing. No matter how many mementos from home were allowed in a room, any type of alternative senior housing arrangements could never be home.
So, what is an effective alternative for this fast-growing population of seniors? What if there was a way to guarantee geriatric assistance for a senior that did not mean leaving behind all of their well-loved possessions? What if care could be tailored to each individual or couple? Home care for seniors is such a simple solution to the problem of senior housing that it's brilliant.
In-home care is a fast-growing alternative to institutional care. It's exactly what it sounds like. A caregiver visits the home of the person who requires care. The care can be simple or all-encompassing. It can be as simple as a daily check to take meds and do laundry. It can be 24/7 live-in care that takes care of all personal needs and household tasks. It's completely tailored to meet the needs of that unique individual.
Who Provides the In-Home Care?
In-home care agencies match their staff members to a senior. They try to make matches that they believe will be compatible and able to get along well with each other. The main caregiver may be a certified nursing assistant. Nurses may also make home visits if more care is needed. The senior receiving the care can decide how much or how little assistance they require. For instance, if they no longer have a driver's license, they may need help getting groceries or getting to a doctor's appointment. If they have limited mobility, they may need help cleaning their house and doing laundry. A senior who is simply having trouble remembering their medication may just need a daily check-in to take meds and do a quick safety check.
Benefits of In-Home Care for Aging Seniors
In-home care agencies have solved many of the problems that an institutional setting runs into.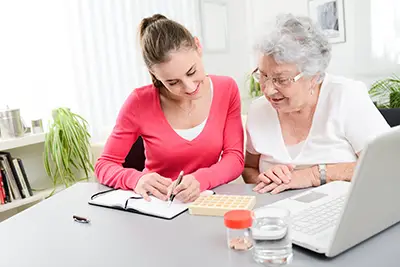 There is never a shortage of staff because the care is one-on-one. It won't drain the senior's entire savings, because they can pick and choose which services they need that are the most important to them. Non-medical home care is normally pretty affordable for those who don't need medical care. They won't feel as lonely, because they are seeing a friendly, familiar face frequently. The senior does not have to leave a well-loved home and sell all of their possessions. They can continue to do things on their own schedule, such as going to bed when they feel like it and eating their meals when they are hungry instead of on a schedule.
There are different levels of in-home care, because each person's situation is different.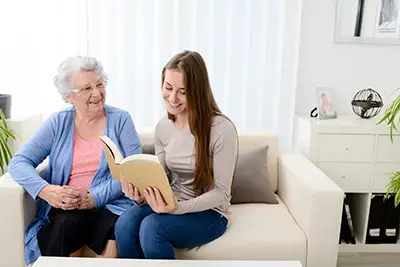 If medical care is not required, non-medical home care is available. This will not include anything to do with medications or health conditions. This type of care is limited to assisting the senior with his or her Activities of Daily Living (ADLs). This may include bathing, cleaning teeth, doing laundry and light housework. This could also include transportation to activities and appointments.
Live-in home care is when a caregiver lives with a senior. Of course, no one is able to stay awake 24 hours a day, so there would be several staff members switching off to provide continuous care for the senior. Live-in home care is used when there are fears of the senior getting hurt if they are left by themselves. This may also be used temporarily when a senior is recovering from surgery.
What About Retirement Communities?
Retirement communities are entire neighborhoods that are geared toward seniors. Younger people are not allowed to live in a senior housing development. To live in these homes, the senior must be able to care for themselves. However, they can still receive in-home care. Seniors who live in retirement communities may think they cannot access in-home care services, but most communities will allow in-home care.
If you are at a point where you are struggling to decide what is best for your parent or grandparent, you may want to consider an alternative solution with in-home care. It is often a more cost-effective way of helping seniors than any type of institutional living. Plus, your senior can pick and choose which services they want. They will form a bond with their caregivers and look forward to seeing them when they come over. It is a win-win situation for seniors that are needing a bit more help with daily tasks but don't want to leave their homes.