When providing home health care, you will be entering into your client's home and working one-on-one with them.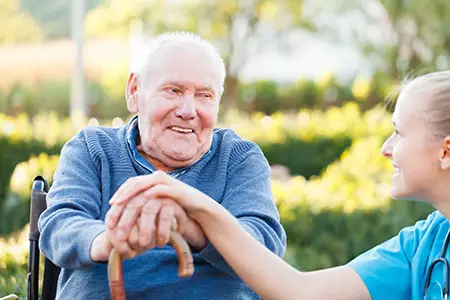 Often times, you will be responsible not only for observing any health risks or dangerous arrangements in the home but also for protecting yourself from any potential dangers.
Unlike being in an assisted living setting, you may not have co-workers to lend a second pair of eyes or look out for you. Due to this, it is important to prepare yourself with home care safety tips for staying safe and keeping your clients safe too.
Home Care Safety Tips
Many clients who are still living at home but require assistance from a nurse practitioner, a nurse's aide, or a caregiver have some ability to stay safe and function at home, but may still need help with activities of daily living (ADLs) and ensuring their health and safety.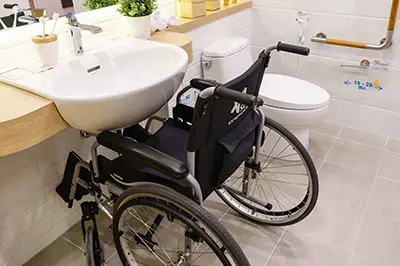 In other cases, these needs may change suddenly. It is important to be prepared for sudden changes and understand how to respond to various situations that may occur. Here are some common health and safety risks.
Environmental Hazards, which can include lead paint, lead in water pipes, asbestos insulation or other toxic chemicals present particularly in older homes.
Sanitation and Infections, which may be the common bacteria, infectious disease or quality of sanitation that may affect you or your client.
Uncontrolled Conditions, due to the fact that your client is at home instead of a facility, there may be many factors present that are hard to control. This could include an unsafe household with clutter that prevents quick exiting in the case of a fire.
The absence of Worksite Protections, which means that the typical safety measures including eye rinsing stations or protective equipment may or may not be present. Often time, a home health professional may choose to carry such items with them, but this may be limited.
Dementia
For individuals with dementia, it is important to approach any situation with understanding. They may struggle to remember individuals and feel frightened by their changing ability to perform daily activities.
Similarly, as in the case of a client with Alzheimer's, they should receive sufficient supervision or help from family members. But sometimes the development can be sudden, unnoticed, or unpredictable.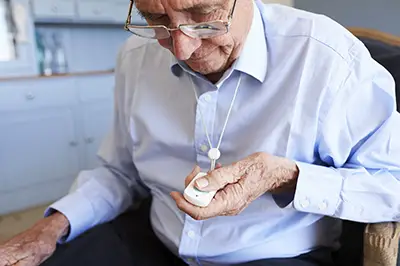 It's important to prepare yourself for keeping you and your client safe if they have or are at risk of developing dementia or Alzheimer's.
Receive Training for Memory Care to help you be prepared and to stay safe. It is important to have an understanding of working with patients who suffer from memory problems or Alzheimer's. Ask your employer for additional training if needed.
Examine the house through your clients perspective. This means walking through the house and thinking about where things are placed and if they present potential dangers for someone with impaired cognitive abilities.
Make an arrangement to remove or rearrange potential risks and improve the safety of the environment. Things like clear pathways, no objects that can fall, and covering sharp edges can help prevent accidents.
Separate and clearly label or place dangerous objects in a designated. Cleaning products may easily be mistaken for juices. Consider installing a lock to limit access to sharp, dangerous equipment or appliances that can potentially cause fires.
Make sure all smoke detectors are working. Fire accidents are common with individuals who have memory problems. Simple mistakes can easily lead to life-threatening situations, so it is important to make sure all of the smoke detectors are functioning properly.
Accidents At Work
Accidents at work can happen to either you or your client. Health and safety risks may occur in home health care due to the difficulties in controlling the environment you work in or unforeseen circumstances.
If you are working alone, it may be difficult to respond effectively as you are limited to only one action at a time. These are some common situation you might face and ways to handle them.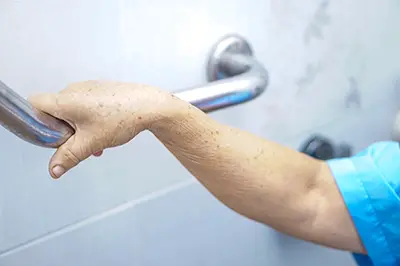 Falls are the leading cause of injuries in adults over age 65. This can happen suddenly with no warning and result in minor or severe injuries. The fall might happen due to objects on the floor, uneven floors, carpets, low-lighting or inconvenient furniture.
A fall may mean a huge reduction in the quality of life of your client if they lose some of their ability to be mobile. Control risks by being proactive about clearing the pathways, removing furniture that is in the way, making sure there is plenty of lighting, installing non-slip bath mats, and making sure your client has non-slip shoes.
Fire and burns are common due to misuse or malfunctions in heat-generating devices. This could be the curling iron, the stove, or scalding water. The late years, human skin becomes more sensitive to burns even if they do not realize it.
This increases the risk that heated items present. Control risks by installing safety features or finding safer alternatives to some of these items can help prevent accidents.
Elderly Transportation
Many individuals reaching their late years may be facing the reality of giving up the car keys for good. This can be difficult to accept, even if they are aware of it being unsafe. It's important to help provide alternative solutions to their transportation problems through shuttle services or offering rides.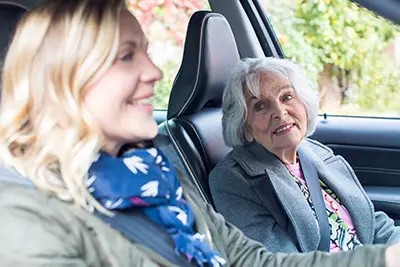 No longer having the freedom to choose where and when they want to go can be very difficult. If a person is not authorized to drive or may present a danger to themselves or others, it may be necessary to prevent access to vehicles or car keys.
Especially in the situation of Alzheimer's, they may have trouble remembering or accept this change. But offering alternative elderly transportation can make things easier for both of you.
If you are driving for them, carefully help them enter and exit the vehicle. Make sure to guide them where they need to go to ensure they do not walk in the wrong direction or walk into traffic.
It may be easy for them to get confused, especially if the area is unfamiliar or if there is a lot of noise and distractions. Take the extra step to make sure they reach the doctor's office or accompany them on their grocery shopping to help them.
It is important to stay aware and always be on the lookout for potential dangers. When you are working in home health care, you may not have assistance of others. Due to not having someone else to see the things you do not initially see or provide immediate help in the case of an accident, you will want to be more careful. Working proactively to prepare yourself, identify environmental hazards and prevent accidents can help you and your client stay safe.