The aging-in-place movement has added a whole new level of independent living options for seniors that don't exist in the nursing home model of senior care.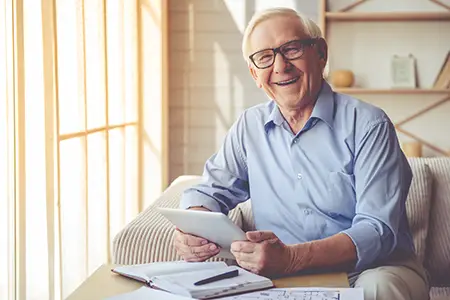 To be sure, many seniors prefer to stay at home during their golden years. Indeed, their health and well-being can thrive when they are allowed to live out their final years in the place they know best.
However, aging-at-home does come with a price, according an article on CNBC. Getting help at home as opposed to going to a managed care facility runs about $4K a month compared to the price of assisted living, which is $37K and some change. That said, nursing homes will usually cost over $8,000 per month for a private room.
Fortunately, as AARP points out, people who plan for their senior years during their 40's and 50's avoid the "emergency plan" for retirement, which typically involves having a loved one take care of you. This loved one is often unpaid, and 40.4 million of them are not only unpaid but seniors themselves. That is to say, they are people who are 65 years or older who are caring for parents who are even older still.
1.

Make an Assessment
Part of the issue lies in human longevity, ironically. According to NPR, in 1950, the average age of death was 68. Nowadays, it's 79 and climbing. And six million Americans have reached the age of 85 or older.
For many people in this predicament, planning for elderly parents and planning for themselves at the same time has become commonplace. Further adding to the issue is the fact that because people are living longer. This means that if they retire at 65 and live for another 30 or 40 years, they may not have the money they need to fund their retirement years.
Clearly, they key is to plan ahead. This ensures that those who are in need of care have the wherewithal to care for themselves, and this should happen long before they start looking for a caregiver.
This isn't to say that family members can't pitch in and help. Many adult children of aging parents say that caring for their parents creates meaning in their lives. Any planning for care can and should include the tasks that adult children can and want to do for their parents.
If these adult children have already begun to help their parents so that they can remain in their home for at least some of their senior years, it's important to assess what these family members are doing. (Or if they're not yet helping, it's important to anticipate the kinds of tasks they may need done.)
Here's a list of some, though they don't represent all of the tasks that an elderly set of parents may require:
cleaning help around the house

good shopping, meal prep, and cooking duties

hygiene care

errands

financial planning
People who are ahead of the game plan for these tasks before they reach their golden years. They have set aside money for their lives and for their care.