When you have a loved one who is requiring more assistance with activities of daily living (ADLs), it can be challenging.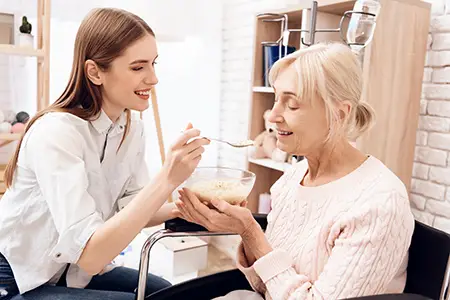 It is difficult to balance all of your commitments while still providing quality care to your senior family member. Plus, often, your senior family member may not want help from you. They may either be too stubborn to admit they need help at home, or they may feel bad about taking you away from your family, work, and other commitments to assist them.
You may be thinking about looking for a senior caregiver. Or, you may be trying to decide if you should consider a nursing home or other options. There are many benefits to selecting home care rather than putting your loved one in a nursing home.
Your Loved One Can Stay in Their Own Home
There truly is no place like home, and when you sign up for in-home care for seniors, your loved one will be able to remain in their home. They will be able to enjoy sleeping in their own bed, relaxing on their couch, and eating meals in their kitchen. While it will still be an adjustment getting used to health care aides, it will be a much easier adjustment compared to living in a nursing home. Your loved one will almost certainly prefer saying home instead of living somewhere else full time.
When you hire and in-home care agency, someone will be available to assist your loved one with their daily living needs. Whether they require help with bathing, toileting, or getting dressed, the health care aides will be there to assist however they can. Even if your loved one is still mostly independent with these tasks, it will provide you peace of mind knowing that an aid is there to assist in the case of an emergency.
Companionship for Your Loved One
When you sign up for in-home care for seniors, it also provides the benefit of companionship for your loved one. Often, seniors can feel very isolated. They may not be able to get out on their own or many of their friends or loved ones may have passed away. When their home health care aid is there, it will also provide your loved one with a person to talk with and share memorable stories and life events.
Flexible Scheduling Options
One of the benefits of in-home care for seniors is the flexibility. You can arrange coverage for your loved one during the times you are unable to be there. healthyYou will not need to have a consistent schedule each week. This way, if you know your meetings always run late on Mondays, you can schedule the healthcare aids to stay later on just Monday evenings. If you won't need an aid on a given day, just don't schedule care for that day. You are only paid for the times you are scheduled to receive support.
Nutrition and Feeding Support
Maintaining good nutrition and a balanced diet is important for seniors. It is important that they consume enough calories to stay active and alert. It is also very important that they eat the right foods stay healthy. When your loved one receives home care, their caregiver can help ensure they are eating frequently enough. They can also encourage them to eat healthier foods, or foods that you have noted you would like them to try to eat.