Every care agency is different and offers different types of care.

Right at Home, Home Care Review
"The Right Care, Right at Home"
Company Details
Customer Ratings
Level of Skilled Services Available – 9.9/10
Care Agency Customer Service – 9/10
90
Quality of Services – 9/10
90
Home Care from Right at Home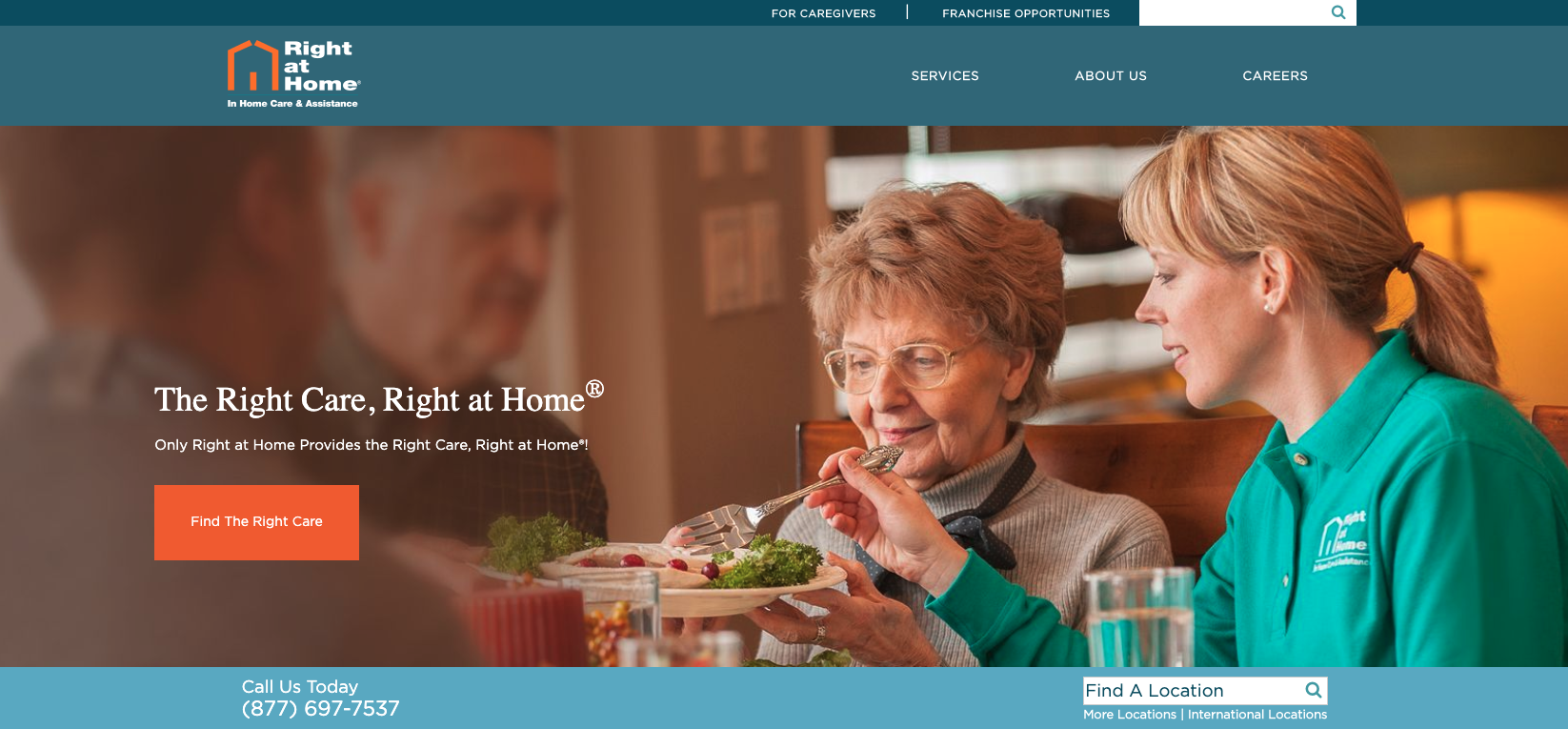 Right at Home has been providing seniors with skilled nursing and companionship in the comfort of their own homes since 1995. Founded by a hospital administrator, the owner Allen Hager, identified a need for in-home care services when patients would return home, lacking the daily assistance and care that was needed. Right at Home Care allows seniors to age in place, surrounded by the environment in which they are the most comfortable. Experienced and compassionate caregivers provide seniors with the customized assistance they need to maintain their own independence.
Personal Care
Dressing

Grooming

Hygiene

Positioning

Bathing

Toileting

Mobility

Transfer Care

Medication Reminders

Meal Planning & Preparation

Light Housekeeping

Shopping

Wheelchair assistance

Errands

Monitoring

Companionship
Life Care & Skilled Nursing Care
Alzheimer's Care

Companion Care

Dementia Care

End of Life Care

Palliative Care

Personal Care

Ready-Set-Go Home Care (Avoid Hospital Readmissions)

Safe & Steady Fall Prevention Program

Social Care Program
In-Home Care
Bathing Assistance

Dressing Assistance

Walking Assistance

Respite Care

Meal Preparation & Diet Monitoring

Light Housekeeping

Errands

Grocery Shopping

Medication Reminders

Health reminders

Joyful Companionship

Respite Care for Family Caregivers

24-Hour Care Available

Temporary or Long-Term Care

Weekends and Holidays Care Available
Companion Care
Meal Companionship

Errands and Shopping Companionship

Transportation

Social Outings Companionship
Wellness Care
Light exercise

Meal planning

Cognitive stimulation

Safety supervision
No matter where you're located, we are here to assist you.
What is Home Care?
Home care is a type of assistive service that meets the individual needs of seniors who prefer to stay in the comfort of their own house. More seniors are choosing to age in place, even with chronic health conditions. Before in-home care services, family members were left to deal with the ongoing care of a loved one, unless they made the decision to move to a nursing home or assisted living facility.
With in-home care services, seniors can stay at home while still receiving the care they need to be safe and happy. Home care can include companionship, skilled nursing, memory care, or assistive personal care. Because the type of home care services can drastically range, there aren't any minimum qualifications required to be eligible for in-home care services. In fact, in-home care services tend to be a preferred option as they are generally more affordable than other care alternatives, like a nursing home or assisted living community.
Right at Home offers trustworthy caregiving services by compassionate caregivers who are each bonded and insured. You can expect each caregiver to be carefully selected, ensuring that they have the skills needed to do well in their role. Covered with general liability and workers' compensation, you can also expect a level of professionalism when choosing Right at Home.
Customized Services at Right at Home
Right at Home offers custom home care solutions to seniors and their families. Whether you're loved is post-surgery or dealing with the challenges that come with a chronic medical condition, Right at Home has a caregiver for their needs.
Each customer at Right at Home will receive an entirely personalized care plan. Referred to as a Custom Care Plan by the in-home caregivers at Right at Home, your representative will work hard to appropriately match you with the caregiver that has the skills and experience necessary for your individual needs.
Right at Home even has a certified cognitive support program that can provide you with the peace of mind needed when you have a family member who is dealing with dementia. Right at Home caregivers will also customize their schedule based on your needs. With morning, afternoon, evening, and 24/7 caregiving available, your care providers are there to make your day easier.
Right at Home also encourages customers to be a part of the matchmaking process. You know your loved one's needs and personality better than anyone and we want you to be 100% satisfied. Right at Home aims for a long-term relationship with each caregiver, so it is important that they get it right the first time. You can help by evaluating the individual senior care services needed.
With the ability to track caregivers' schedules and request more information about a visit, you can get the peace of mind you deserve, even when you are across state lines. Right at Home and its professional care providers are here to help you and your family.
Determining how you will cover the cost of in-home senior care services and healthcare is important as you begin to evaluate potential agencies. What programs and care plans are available to you and your family will depend on your location and available benefits through your personal insurance coverage.
Medicare and In-Home Services at Right at Home
Medicare does not typically cover in-home care services. Medicare in-home care benefits are usually reserved for patients who require short-term post-hospital care. The patient must be under the direct supervision of a doctor and Medicare will not generally cover any services that fall into personal or companion care. Additionally, disabled adults must also be considered homebound and require a type of skilled care. However, you can check your eligibility with Medicare's eligibility tool.
Private Insurance and In-Home Care Services at Right at Home
Some private insurance providers will have in-home caregiving within their policy. However, you will need to check with your personal insurance provider to better understand the eligibility requirements.
Medicaid and In-Home Care Services at Right at Home
Public benefits for in-home care services are available to income-qualifying senior customers. Medicaid has a program called the Program of All-Inclusive Care for the Elderly (PACE) that might assist with some in-home care costs. You can also check with other local, public resources, including your local Area on Aging.
Additionally, under the Medicaid Caregiver Child Exemption rule, some adult children can receive compensation for taking on the caregiving duties of their parents. This program is in effect to assist older adults, allowing them to choose in-home services over a more expensive option, like a nursing home.
Veteran's Insurance and In-Home Care Services at Right at Home
If you or your spouse qualify for veteran benefits, you might find that they will cover some of the costs of in-home care. Eligible veterans include individuals who have served at least 90 days of active duty with one day of active duty during a period of wartime. Veteran's benefits are determined based on current income and assets.
Health Savings Account (HSA) and Home Care Services at Right at Home
Some organizations, like Health Savings Accounts (HSA), will also assist with the cost of in-home care services, either partially or fully. Learn more about your HSA benefits by reaching out to your representative.
Other options might be available to help with the cost of in-home care services. Just a few of these options include long-term care insurance, a reverse mortgage, or an employee-sponsored caregiving stipend for adult caregivers. Reach out to your nearest Right at Home today to learn more about your financial options.
Choosing the Right Home Care Agency
Choosing the right home care agency can make all the difference in the world in the quality and experience of care that you receive. In addition to evaluating the reviews of the in-home agency that you're considering, we also recommend discussing your needs with the Right at Home franchise locations nearest you. Each Right at Home Care agency is independently owned and operated, meaning you can expect different types of caring staff members, each specializing in different eldercare services.
It can be helpful to consider the individual health care and personal care services that your loved one would most benefit from. Fortunately, each Right Home Care agency requires a rigorous hiring process that ensures all staff and healthcare members are qualified to help.
How Much Does Right at Home Home Care Cost?
The cost of homecare at Right at Home will vary, depending on the scheduling and care needs of the customer. Because each customer receives a Custom Care Plan, they can also expect a different cost. The cost of in-home care services can range, depending on:
The number of in-home care hours needed each week

The level of in-home care needed (for example, companionship versus skilled nursing)

The location (different areas require different pay rates)

If there are any special needs requested by the family
Customers at Right at Home can expect an invoice based on hours of care. Each Custom Care Plan begins with an in-home consultation where Right at Home representatives can learn more about your loved one's individual needs. Then, you can discuss your needs and expectations and create a Custom Care Plan that works for everyone involved, at a budget that you're satisfied with. You can also discuss any special needs that your loved one might require, like a caring health aide.
Reviews
It might feel overwhelming choosing the right in-home care agency for your loved one. You care about their health and wellbeing and you want to choose a company and caregiver that will provide them with the care and companionship that you would offer them. Choosing the right caregiver that not only makes you feel comfortable, but that will also fit well with your loved one is important, giving you peace of mind.
Doing your research is important as you begin the journey of choosing the right in-home care agency. Reviews are a great way to learn more about the available services and training of an agency. Reviews come from other family members who were in a similar situation and tried the agency you are considering.
Right at Home has expanded to each of the U.S. states, ensuring that each senior is safe and happy at home. We encourage anyone who has interacted with Right at Home to leave a review to assist other families when making their decision. Right at Home takes their caregiving duties to the next level, ensuring that each caregiver is well-trained and compassionate. Right at Home has even been recognized for their dedication to their clients, with a Gold Seal of approval from the Joint Commission.
Here's what people are saying about their experience with Right at Home in-home care & assistance:
"My dad has been resistant to home companions in the past so I was very nervous about how he would react to the Right at Home caregivers. They immediately put my worries to rest. They were very gentle and non-threatening and were able to get my dad up in the morning and take him to his day program, even when he did not want to go."
"Right at Home gave excellent service for my mother. As the needs increased, the agency was excellent in providing qualified caregivers."
"After dealing with an at-home caregiving company that ended up causing me more stress than relief, Right at Home has been a breath of fresh air."
"I can not say enough about the wonderful staff and caregivers we have experienced with Right at Home. Their attention to detail and true compassion for my mom has completely exceeded my expectations."
"We had tried several caregiving services, some recommended by the hospital after my mother had a broken hip. However, it was not until we began using Right at Home that we found a company that we felt comfortable with. Right at Home is professional and reliable – traits we had difficulty finding in several other companies we tried."
No matter where you're located, we are here to assist you.
We simplify the process of finding affordable, quality non-medical caregiver agencies anywhere and provide reliable information about in-home care services and helpful resources for elderly seniors wanting to live at home but needing assistance to do so safely.
Careers with Right at Home
How much does Right at Home pay their caregivers?
Right at Home pays their caregivers an average of $11.17 per hour, but hourly wages can range between $7.25- $17.70 per hour, depending on experience and location. Care team members who offer transportation to customers will also receive mileage reimbursement of $0.58 per mile, when using their own vehicle.
Hired caregivers at Right at Home will receive many benefits in addition to the fulfilling work of helping seniors with their healthcare needs. Just a few of these benefits include a 90-day referral program and caregiving awards for caregivers who demonstrate exceptional customer service in their role. Working at Right at Home, you can expect ongoing training and a rewarding job. 
The diverse needs of the customers also make for flexible scheduling. Whether you have another job or family responsibilities, chances are, Right at Home can work around your schedule needs. 
Right at Home understands how important its caregivers are to the success of the overall organization. With this, they make it a priority to recognize top caregivers with Caregiver of the Year and CareRewards programs.
What types of careers does Right at Home offer?
Right at Home utilizes different types of caregivers, ensuring that each senior's needs are being met. Just a few of the types of caregivers at Right at Home include:
Homemaker/companion: Homemaker/companions will assist seniors with housekeeping tasks, meal preparation, and emotional companionship support.

Personal care assistant: Personal care assistants assist seniors with personal care needs in their house.
In addition to the different types of caregivers that Right at Home employs, they also often have a need for certified nurses. Individuals who are interested in a corporate position with Right at Home can also view their available openings on their main webpage. Just a few of the available positions in the corporate location might include field operations, information technology, director of nursing, project manager, marketing managers, and finance and accounting professionals.
How to apply to Right at Home?
Individuals who enjoy helping others, specifically seniors in their homes, might enjoy