Every care agency is different and offers different types of care.
Here is our review of Comfort Keepers.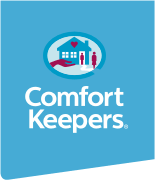 Comfort Keepers Review
"Elevating the Human Spirit- In-Home Care That Elevates the Human Spirit"
Company Details
Summary
Comfort Keepers is an international in-home care company with over 700 independently owned and operated locations. The caring caregivers at Comfort Keepers aim to provide seniors with the care they need, whether it is skilled nursing care or personal care services, to stay in the comfort of their homes.
Name:
Comfort Keepers
Website: https://www.comfortkeepers.com/
Address:
1 Park Plaza Suite 300, Irvine, CA 92614
Phone #:
(866) 202-5309
Customer Ratings
Level of Skilled Services Available – 10/10
Care Agency Customer Service – 9/10
90
Quality of Services – 9.5/10
95
Care Intended For:
Comfort Keepers offers in-home care services to seniors and other adults so they can maintain their independence and quality of life. With long-term, 24-hour, injury recovery, and specialized care, Comfort Keepers meets the needs of most seniors. Comfort Keepers are well-trained and compassionate, providing your loved one with the dignified care they deserve.
About Comfort Keepers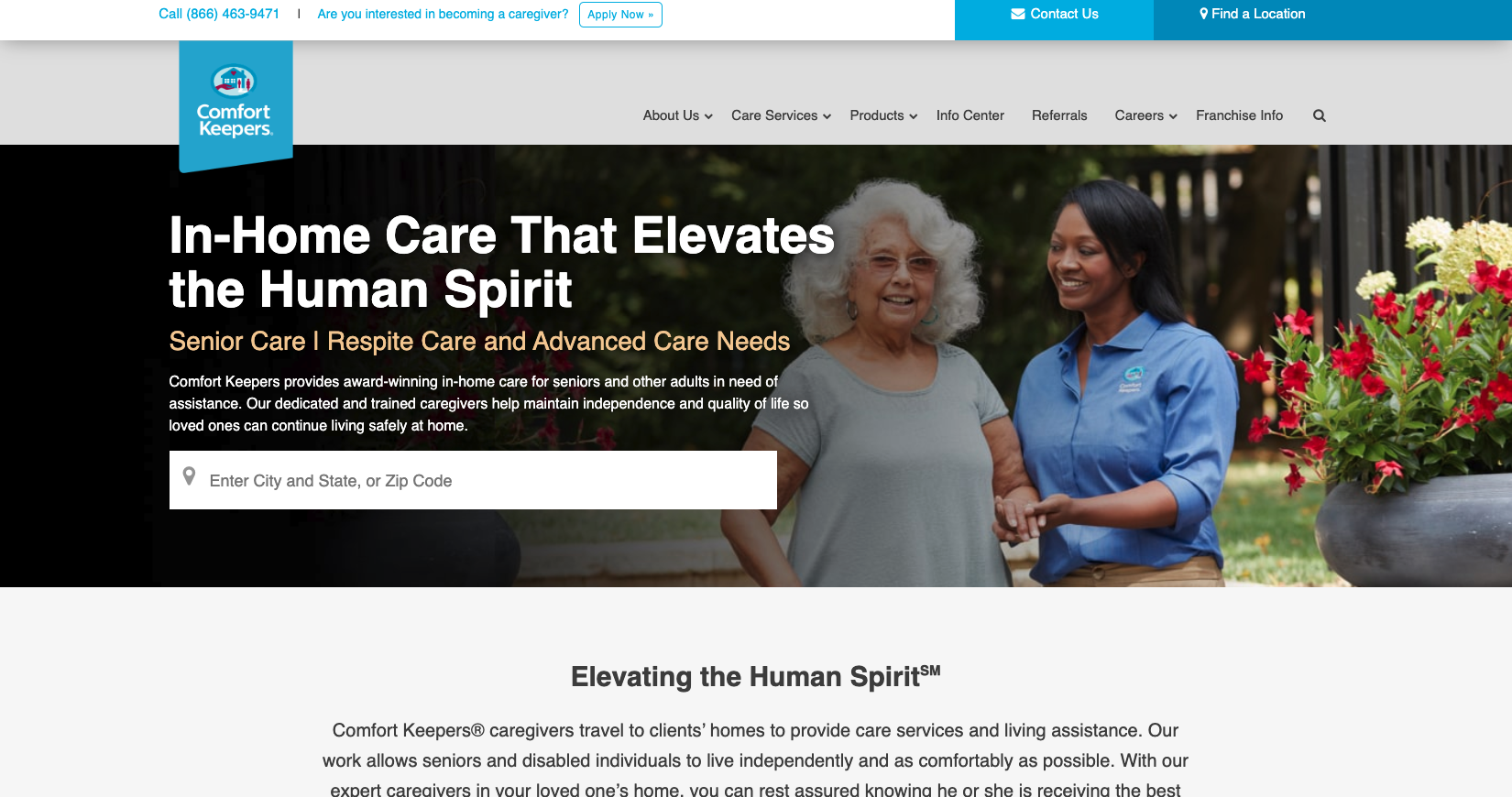 Comfort Keepers has been in the in-home care industry since 1998, quickly expanding to 12 countries worldwide. The organization has created an in-home care model that leads to award-winning medical and non-medical senior care. Each comfort keeper aims to enrich the lives of each client and their families, providing them with a safe and independent environment at home.
Comfort Keepers first began when Kris Clum, a registered nurse identified a gap in the market for seniors' who needed assistance with non-medical needs. Clum had mastered the medical side of geriatric care, but was concerned about her patients' wellbeing once they returned home after a medical treatment. Soon after, the concept of Comfort Keepers was designed and a business model was made that would keep clients comfortable in their home.
In-Home Care
Grooming & hygiene care

Mobility assistance

Transferring and positioning

Toileting and incontinence care

Nutrition & meal prep

Conversation and companionship

Laundry services

Light housekeeping

Grocery shopping/ running errands

Transportation

Medication reminders and assistance
Senior Care
Physical exercise

Puzzle assistance

Mental acuity

Caregiver companionship
Memory Care
Dementia care

Alzheimer's care
Life Care & Skilled Nursing Care
Companion Care

End of Life Care

Palliative Care

Personal Care

Fall prevention

Tracking oxygen levels

Social Care Program

GrandPad care

24-Hour Care
No matter where you're located, we are here to assist you.
What is Home Care?
More and more seniors are making the decision to age in place, where they are the most comfortable. The opportunity to live at home, despite health or memory care concerns, allows older adults to enjoy a happy and independent life, well into their senior years.
In-home care refers to any type of care that takes place within the home. This could include non-medical or skilled nursing care. Typically, in-home care refers to non-medical, personal assistance, whereas home healthcare is often used to discuss skilled nursing care within the client's home.
Home care is also getting more in-depth and assistive in nature, meeting a new generation of seniors' needs. Seniors with memory care concerns or chronic medical conditions that might have had to go to a nursing home previously can be safe in their own home with the assistance of both in-home caregivers and technological devices.
GrandPad is just one example of a device available through Comfort Keepers, which keeps your loved one connected, even when the family is far away. In addition to checking on your loved one whenever you want, you can also utilize the technology to play games, make phone calls, share images, and even video chat. Each Comfort Keeper family receives a discount on GrandPad.
Customized Services at Comfort Keepers
Comfort Keepers understands that no two senior's needs are the same. Because of this, they offer a care plan that is tailored to the needs of each client. One thing is consistent among caregiving at Comfort Keepers, and that is that each client is treated with dignity and respect.
Comfort Keepers offer a wide range of in-home care services, easily meeting the most unique of client needs. Whether your loved one requires assistance with cooking and cleaning, or a little extra companionship throughout the day, Comfort Keepers can create a care plan that works for your you and family. Caregivers assist with all types of tasks including activities of daily living including bathing, dressing, grooming, and eating. Comfort Keepers will also assist with instrumental activities of daily living, which include things like shopping, paying bills, completing chores, and preparing meals.
The Comfort Keeper brand is also a leader in the industry with useful memory care programs for seniors dealing with dementia or Alzheimer's disease. They offer 24-hour care for customers who require around-the-clock care. Many locations also have short notice and as-needed schedules, so you can easily find a schedule that works best for you.
Each Comfort Keeper client will receive an individualized written Plan of Care. You can expect your Plan of Care to be confidential and customized to best meet the needs of your loved one. When creating your Plan of Care, it is a collaborative process to ensure that everyone is in agreement on the services needed. Then, you and your Comfort Keeper caregiver will continue to re-evaluate your Plan of Care every six months to ensure that everyone's needs are continually being met.
Comfort Keepers can also assist with unique care assistance needs like transitioning from the hospital to home or interactive in-home senior care that includes both mental health care and physical well-being. Your caring caregiver can also provide additional monitoring and support during third-party visits, such as with physical therapists or speech therapy.
Many families will begin their decision-making process determining how they will cover the costs of a private caregiver. There are a few options available, which include:
Medicare and In-Home Services at Comfort Keepers
Medicare does not often cover the costs of in-home care. While it can cover some long-term costs, eligible benefits are often limited. Instead, Medicare is designed more to assist seniors following hospitalization for a few weeks. Generally, Medicare coverage is limited to short-term skilled nursing care. In some cases, Medicare might cover minimum time in a nursing home center for rehabilitation.
Private Insurance and In-Home Care Services at Comfort Keepers
Seniors who have private or long-term care insurance might have in-home care benefits available. However, the benefits and coverages available will vary from plan to plan so it is important to check with your individual provider.
Medicaid and In-Home Care Services at Comfort Keepers
Medicaid might be an option for seniors who qualify for benefits. Some Medicaid programs do cover in-home care. Chances are, if you qualify for Social Security Income (SSI), you will also qualify for Medicaid. It is important to keep in mind that Medicaid is a state program, so qualifications and coverages will vary. It is best to check your state's Medicaid requirements, as well as any other state programs that you might be eligible for.
In some cases, Medicaid will also allow family members to manage or participate in caregiving tasks. At Comfort Keepers, we can create a schedule that allows you to balance your time between caregiving duties and the services of one of our personal caregivers. Respite care is also available, allowing you to take a break when needed, knowing that your loved one is still receiving the home care services they need.
Veteran's Insurance and In-Home Care Services at Comfort Keepers
Qualified veterans and their spouses may also be eligible for in-home benefits. Individuals who qualify for Veterans Administration (VA) benefits and who have served at least 90 days on active duty with minimum of one day during wartime might be eligible. Check with your nearest VA office to learn more about eligibility requirements.
In-home care costs, fortunately, tend to be much more affordable than other care options like an assisted living or nursing home. Without the convenience of in-home care services, many families' are forced to manage caregiving on their own, losing out on necessary income. Comfort Keepers tends to be an affordable choice and can customize home care services to not only meet your seniors' needs, but also your budget.
Choosing the Right Home Care Agency
There is a lot that goes into choosing the right home care agency for you and your families' needs. Of course, the quality of care and the knowledge of the caregivers and licensed nursing professionals are important to consider, but in-home care is about much more than that. Comfort Keepers also aims to offer clients an enjoyable experience that reduces some of the inconveniences that can come with getting older. Comfort Keeper caregivers understand the risks of social isolation and in-home care companionship can help with that.
Comfort Keepers provides its customers will all the extras that truly make a difference in in-home care quality. In addition to the GrandPad technologies, Comfort Keepers has also partnered with the large, ride-share company, Lyft. Clients can easily find transportation to medical appointments or social interactions by calling their nearest Comfort Keepers location and getting a Lyft.
The available personal emergency response system can also offer you and your family added peace of mind by knowing that your loved one will receive immediate help if they fall. Other products available through Comfort Keepers include MedMinder, a device that remembers individual medication dosas and a customized, programmable pill dispenser. Comfort Keepers has always done a good job of recognizing the most common challenges of seniors and then coming up with solutions to them.
How Much Does Comfort Keepers Cost?
Because each Comfort Keepers location is independently owned and operated, the cost of in-home care services will vary. Other factors that can affect cost include the type of services needed and the scheduling needs for you and your family.
It is best to reach out to the Comfort Keepers location nearest you to learn more about the cost of in-home services.
Reviews
Your loved one's health and well-being depend on the quality of the in-home care agency that you choose. If you are feeling overwhelmed at the many in-home care options available, you are not alone. It is a big decision that should not be taken lightly when you want to best care provider for your senior. We recommend that family members do their research and read the reviews of any in-home care agencies that they are considering. 
It is important to not only choose a care agency that meets the individual needs of your loved one, but that the company employs well-trained, compassionate caregivers that will give you the peace of mind you deserve. 
Reviews are a great way to learn more about a potential in-home care company. Reviews come from other clients who have previously done business with the care agency. You can learn about their caregiver selection process, as well as the quality of the care offed through reviews.
Comfort Keepers has been a trusted name in the in-home care agency business since it first opened in 1998. Their dedication to quality, experienced comfort keepers has allowed them to expand quickly, across the country. They also offer many tools that can offer you and your family greater peace of mind, such as the GrandPad and the intuitive memory care programs. Each caregiver and staff member at Comfort Keepers shares in a common goal, to provide their clients with the highest level of quality of life possible.
The positive reviews of Comfort Keepers come from both satisfied clients and employees. Here's what people are saying about their experience with Comfort Keepers:
"I am very pleased that I chose Comfort Keepers. Their commitment to client care and integrity of staff make families of loved ones completely at ease knowing that they are being looked after the way a family member would look after them."
"I wish to acknowledge the superb contributions to my mother's safety and wellbeing made by the people of Comfort Keepers. Not only did you arrange for her care on very short notice, but every caregiver who came to the house was well prepared for her difficult work."
"This company is amazing, makes you feel like instant family, and I cannot wait to start my first shift with this beautiful company- thank you Comfort Keepers."
"I have been in healthcare for 4 years now and am very familiar with home care and other services lines. Everyone that I have had the pleasure of meeting or speaking to with Comfort Keepers has been exactly that, a complete pleasure. Everyone is so kind and compassionate and you can tell they truly care about their clients and my patients."
No matter where you're located, we are here to assist you.
Careers with Comfort Keepers
How much does Comfort Keepers pay their caregivers?
Comfort Keepers caregivers make an average of $11.68 per hour, but hourly rates can range between $7.25- $17.65 each hour. Hourly pay of Comfort Keepers employees ranges based on experience level, position type, and location. Caregivers will also receive mileage reimbursement for all work-related vehicle costs. Comfort Keepers also offers bonuses to current caregivers who refer a successful candidate. Caregivers are also eligible for promotions and bonuses throughout the year when demonstrating exceptional patient care and committing to the balanced care method.
What types of careers does Comfort Keepers offer?
Comfort Keepers is always hiring experienced, compassionate caregivers. Employees of Comfort Keepers not only enjoy the opportunity to make a difference in seniors' lives, but they can also take advantage of all types of work environments. Comfort Keepers has full-time and part-time jobs available, as well as overnight and weekend work hours.
Employees will also enjoy a flexible work environment, allowing caregivers to also attend school or meet family caregiving needs. Additionally, regardless of work schedule, Comfort Keepers takes care of each of its employees, offering them competitive pay and unique benefits. Each caregiver will receive extensive training that ensures they have the resources and knowledge available to do well.
Full-time employees can enjoy a comprehensive health care package and 401K retirement contribution. Part-time workers can expect workers' compensation coverage.
Comfort Keepers also often has a need for skilled nursing professionals. Comfort Keepers employs both licensed practical nurses (LPNs) and registered nurses (RNs). These types of caregiver jobs are focused on the health of each patient. Many Comfort Keepers locations also require supervisors. Supervisors are responsible for carefully evaluating the needs of each client and then pairing them with the comfort keeper that best meets those needs.
How to apply to Comfort Keepers?
Caregivers at Comfort Keepers are carefully screened and selected to ensure that all customers receive the highest quality of care possible. Each of the caregivers at Comfort Keepers is referred to as a "comfort keeper", because they are tasked with keeping their customers comfortable at home. In fact, Comfort Keepers only hires caregivers that they would trust with the care of our own family members.
When you apply for a caregiving position at Comfort Keepers, you can expect the following requirements:
Careful screening process during application

The completion of a national and local background check