Every care agency is different and offers different types of care.
Here is our review of Home Helpers Home Care.

Home Helpers Home Care Review
Company Details
Name:
Home Helpers Home Care
Website: homehelpershomecare.com
Address:
Headquarters Location – Cincinnati, OH | Home Helpers Home Care offers services in nearly all 50 states across the U.S.
Phone #:
(801) 990-1755
Customer Ratings
Level of Skilled Services Available – 10/10
Care Agency Customer Service – 9/10
90
Quality of Services – 9.5/10
95
Care Intended For:
Home Helpers is dedicated to providing care services to not only the elderly population, but also those with developmental and intellectual differences, and those who simply need the extra help – no matter the age. According to their website, Home Helpers provides in-home care to seniors, new & expectant mothers, working parents, those with developmental disabilities, and any individual in need of continuing and recuperative home care.
About Home Helpers Home Care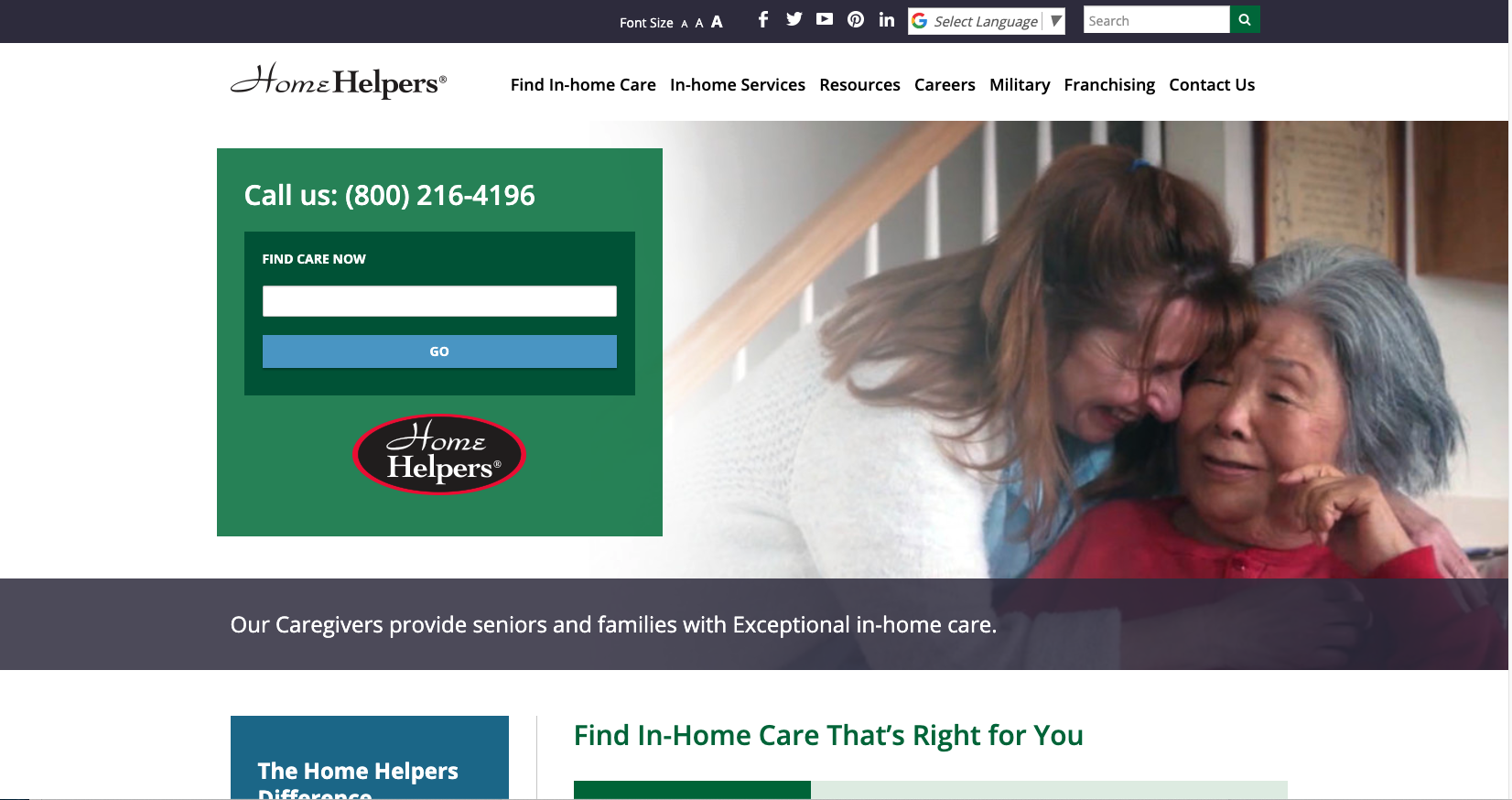 The Home Helpers Mission reads: "We strive to be the extended family when the family can't be there. Our goal is to make life easier by delivering the same exceptional care we would expect for ourselves and our families. We will provide services to support any individual, wherever they call home." Values are a major part of Home Helpers vision. Their outlook on senior in-home care is "BOLD", standing for Bring your passion every day, Own your results, Love what you do, Driven by excellence. This standard is expected and presented by all caregivers, local owners and corporate staff at Home Helpers Home Care.
Personal Care
Feeding

Bathing

Dressing

Mobility

Getting in and out of bed / Transitioning

Sitting & Standing

Navigating Stairs

Using the Restroom
Companion Care
Talking, Listening & Sharing Experiences

Playing Games & Cards

Reading Assistance

Doing Puzzles

Escorting to and from Check-Ups, Errands, Social Events, etc.

Sorting & Organizing Mail

Connecting with Friends and Family through Social Media, etc.
Homemaker Services
Laundry & Changing Bed Linens

Ironing

Grocery Shopping

Meal Preparation

Cleaning & Organizing Kitchen (including checking for expiration dates)

Cleaning & Organizing Bathroom

Vacuuming & Sweeping

Pet Care & Plant Care

Replacing Batteries in Smoke Detectors & Other Household Safety Features

Replacing Air Filters

Eliminating Tripping Hazards & Safe-Proofing the Home
Respite Care: Developmental and Intellectual Differences
Performing Light Housekeeping

Running Errands

Organizing & Sorting Mail

Shopping, Groceries, etc.

Doing Laundry

Escorting to Social Events

Monitoring Diet & Eating Habits

Assisting with Safe Bathing, Daily Grooming, and Hygiene needs

Assisting with Dressing

Organizing & Monitoring Medications

Providing Companionship & Participating in Wholesome Conversation

Entertaining (Games, Crafts, Reading, Hobbies, etc.)
Medical Care
Catheter Care

Wound Care

G-Tube Feeders

Lab Venipuncture

First Aid / CPR
Alzheimer's & Dementia Care
Skilled Nursing Care

Activities to Help Sharpen the Brain

Daily Reminder Services
Skilled Nursing Care
Support for Stroke Recovery

Skilled Nursing Care, Including Help with: Self-Care Skills (Bathing, Grooming, etc., Mobility Skills, Communication Skills, and Cognitive Skills such as Memory or Problem Solving)
Monitoring Services
Monitoring Services Available 24/7
No matter where you're located, we are here to assist you.